1967 Mustang Shelby GT500 – History of an American Muscle Car
One of the joys of building scale models is that you get to own a quality replica of the real thing, be it a plane, ship, train or car. When it comes to the latter, there are few more recognisable American muscle cars than the 1967 Mustang Shelby GT500, which we are proud to offer in 1:8 scale.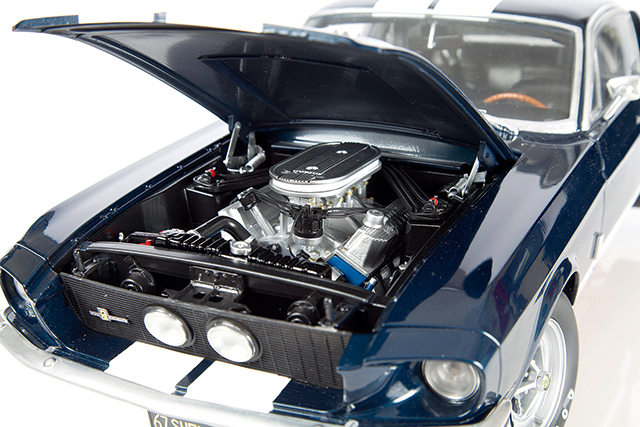 But what makes this classic car so famous, and why is it such a highly regarded piece of automobile history? Read on to see why the Mustang Shelby ranks so high on car enthusiast must-have lists.
Arrival of the Ford Mustang
The first production Ford Mustang was revealed to the public in April of 1964, at the New York World's Fair, and though it could be never considered an "exotic car", Mustang's style and power place it firmly at the centre of America's automotive folklore.
Offered as a convertible or notchback coupe, engine sizes ranged from a 2.8-litre OHV straight six capable of 101 HP, up to the "K-Code" high-compression, four-barrel 289 with a far more impressive 271 HP. Ford increased nationwide production capacity for their "pony car", selling an impressive 126,538 in the shortened 1964 model year. These numbers were exceeded in 1965, a surprise even to Ford, with a grand total of 559,451 Mustangs sold.
Carroll Shelby – the man behind the name
Chances are if you mention Ford Mustang to a car enthusiast, they may acknowledge its manufacturing importance, but little more. But add the name Shelby to that conversation? You better believe their excitement level will increase.
After piloting a flathead Ford V8 hotrod in his first competition – a quarter-mile drag race – Shelby went on to claim three U.S. national sports car championships
Hailing from Leesburg, Texas, Carroll Shelby covered more motorsport ground than most people can ever dream of, often hailed as the U.S. equivalent of Italy's Enzo Ferrari. He had a stint as a flight instructor during the Second World War, but soon enough he found himself behind the wheel of a range of racecars.
After piloting a flathead Ford V8 hotrod in his first competition – a quarter-mile drag race – Shelby went on to claim three U.S. national sports car championships, raced for Aston Martin in Europe, won the 1959 24 Hours of Le Mans in an Aston Martin DBR1, set numerous land speed records at the Bonneville Salt Flats, and was twice named Sports Illustrated "Driver of the Year."
Sadly, an ongoing heart problem forced him to retire from competitive driving in 1960, but Shelby spun this misfortune into a positive – fixing his immense talent on automotive design and manufacture.
The first Shelby Mustang
Having earlier proven himself with the success of the Shelby AC Cobra, Ford approached Shelby to create a performance car of their 1965 Mustang. His company, Shelby American, gladly accepted the job, and on January 25th, 1965, the Shelby GT350 Mustang was born. The racing version of this beast, the Shelby GT350R, secured its first SCCA race in the following month, competing with Corvettes and other well-established cars.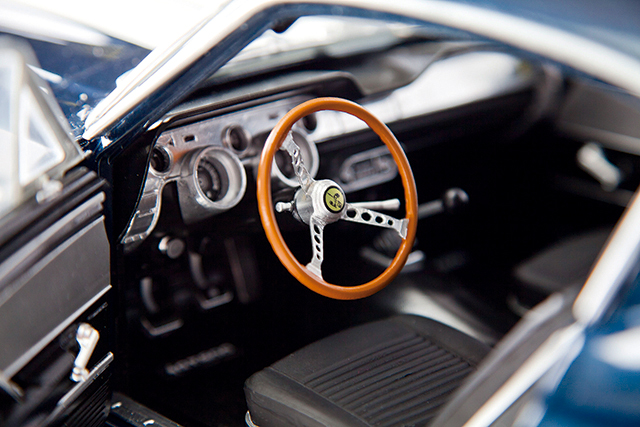 The birth of "Eleanor"
The Shelby GT350 was equipped with the K-Code 289 engine, as seen in earlier Ford Mustangs, but the 1967 GT500 model came with some major improvements, Shelby later stating, "This is the first car I'm really proud of." The engine was replaced with the "Cobra Le Mans" – based on the 427 cubic inch V8 engine that his racing team claimed the top three places with in Le Mans. In addition to this extra grunt, the Shelby Mustang GT500 featured a roll bar in the top of the cabin, a larger air scoop on the hood, and the 1966 rear quarter windows were swapped for rear-facing air scoops.
This combination of supreme power and killer style resulted in the car being featured in the 2000 Nicolas Cage film, Gone in Sixty Seconds, where she received her now famous name – Eleanor. Below is a great clip of the final chase from the film, showcasing the car's beauty and muscle (spoilers if you haven't yet seen it).
For a great visual breakdown of the Shelby Mustang's cinematic history, check out our infographic of 10 of the World's Most Iconic Mustangs!
Whether you're a motorsport fan, a muscle-car enthusiast, or film buff, it's easy to see the appeal of the 1967 Shelby Mustang GT500. Designed by one of the world's greatest automotive personalities, this is a car that generates genuine appeal and wonder at the mention of its name, and to see one in person is to lay eyes on a true American icon. Our 1:8 scale model captures the prestige of the original in 1:8 scale, and is the perfect way to keep the Shelby legend alive.