Ford GT's Success at Le Mans '66 |
 ModelSpace
When it comes to US-produced endurance cars, you'll have to drive a long way to find someone that doesn't agree that the Ford GT is a legend. The story of its Le Mans success is fuelled by competition, passion, and roll-up-your-sleeves hard work, and is captured brilliantly onscreen in the James Mangold feature film, Ford vs Ferrari. But how did the Ford GT begin, and what of its success outside of Le Mans? Read on to discover why this endurance car remains one for the ages!
Ford and Ferrari rivalry
As the legend goes, the spark that ignited Ford's desire to race in Le Mans came from revenge. It was May 1963, and Ford and Ferrari were in the final stages of a deal that would see the Italian manufacturer bought out by its US counterpart. But it all fell apart when Enzo Ferrari refused to sell, not willing to play second fiddle to Henry Ford II. When Ford's Don Frey returned to Detroit with nothing to show, the grudge was formed. Frey was told to "go to Le Mans and beat his ass." And that's exactly what they set out to do.
False starts
Once the decision was made to enter the fray of endurance racing, Ford wasted no time in bringing together a team to achieve greatness. In August of 1963, Bruce McLaren was brought in to assess the first GT prototype. With a 4.2-litre V8 inside a steel body, the car was heavy yet durable, and after further development it touched 200 mph. But with a propensity to get airborne after 170 mph, the GT's first major races resulted in DNFs at Nürburgring 1000km, Le Mans 24 hours and Reims 12 hours respectively.
Carroll Shelby's influence
Though the initial results were disheartening, a key hire in the form of motorsport icon Carroll Shelby offered a much-needed boost. A legendary driver and automotive designer, Shelby's involvement saw the Ford GT achieve its first major win at Daytona in 1965, where it was driven by Lloyd Ruby and Ken Miles. Ford's next Le Mans outing saw further failure, with all five cars recording DNFs, but 1966 marked a turn of luck for the American manufacturer. Miles and Lloyd claimed first place at Daytona again, and Miles also won at Sebring International Raceway. This set up him and the Ford GT for their shot at Le Mans glory.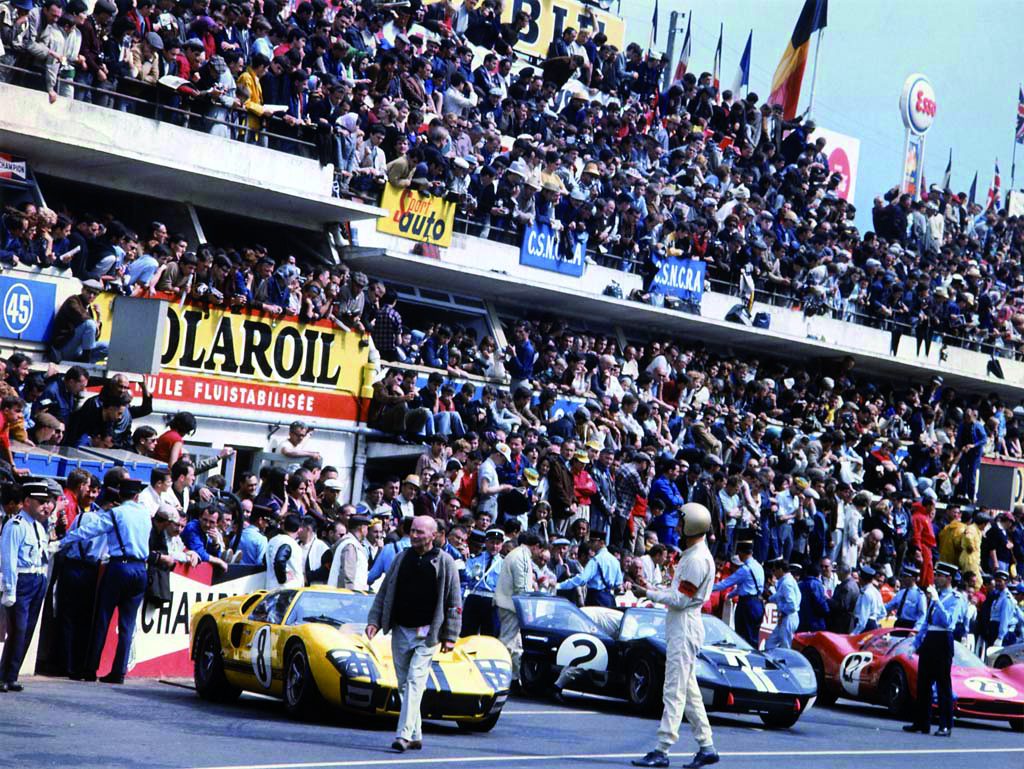 Le Mans 66
Ford spared no expense for their third shot at 24 Hours of Le Mans glory, with nine cars, seven extra engines, and a team of 100. With Ken Miles behind the wheel, and with wet weather playing its part, Ford blew away their Ferrari competition to claim a famous 1-2-3 finish. Though triumphant, the team's success had a touch of controversy after the three GTs lined up for a photo finish. A cynical technicality meant that Bruce McLaren took first place ahead of Miles, who had led their team for the longest part of the race.
Sadly, Miles passed away months after his iconic achievements at Le Mans, while testing another Ford car in California. He went on to be inducted into the Motorsports Hall of Fame, in recognition of his contributions and success throughout a fine racing career.
If you haven't already, we highly recommend seeing James Mangold's 2019 film Ford v Ferrari (also called Le Mans '66), an adrenaline-fuelled retelling of this famous story. The triumph at the 1966 24 Hours of Le Mans sparked a string of dominance for Ford, which went on to win the next three years. Combining savvy engineering with a never say die attitude, it's easy to see why the Ford GT reached such incredible heights. If you're keen to capture the same glory in your next scale model, order our brand new Ford GT model today!