Sky Rider Drone
BUILD & FLY THE SKY RIDER DRONE.

Get a new point of view on the world!

With this innovative new series, you will be able to construct and fly a remarkable aircraft – your own personal quadcopter that can be used to take incredible pictures and make movies with a HD 720p camera built-in, or you can just fly it for fun and practice your piloting skills!

CHOOSE ONE OF OUR TWO OPTIONS AND GET YOUR FIRST MONTH AT HALF PRICE!

Discount will apply on the checkout - just add to your basket and we'll do the rest!
Key Features SKY RIDER DRONE
Maximum speed (up/down) 5 metres per second (16.4 Feet)
Maximum speed (forward) 20 metres per second
Yaw rate 220° per second
Maximum inclination 45° with tilt function
Integrated GPS Sensor with "Home" option
Flight Mode Manual and assisted with "headless" function
Stability on three axes with gyroscopes, magnetometer, and accelerometer
Video camera built in, photo resolution: 1MG, Video resolition: 1280/720 pixel in .AVI Format, set up for Action Cam
Technology and design: A truly remarkable quadcopter! A unique design, made to the highest technical specifications – easy to assemble and easy to fly!
Polycarbonate shell – ultralight PVC! The frame has enormous strength but is still surprisingly light – the result is a medium-sized drone with a take-off weight of only 1.53 kilograms (3.37lb)
Latest generation of brushless electric motors. The four brushless motors are powerful and silent. With less friction than conventional motors, they give a higher rotation speed and optimise battery consumption.
Photos and video. You'll get an integrated camera for photos and videos (1280x720 avi, 720p), plus the drone is also ready for you to connect your own action camera if you wish.
A professional remote control. The eight-channel digital radio remote control for the Sky Rider Drone will be given FREE as part of the series. It is a special transmitter operating in the 2.4 GHz band, which prevents external interference, even from other drones in the same airspace. The number of channels makes it much easier to fly the drone, and allows you to access special functions.
State of the art electronics. With accelerometer, barometric altimeter, gyroscopes, GPS sensor and magnetometer all included in the basic equipment.
Multicoloured LEDs. Among the Sky Rider Drone's many charms are the multicoloured LEDs located under the engine arms. In addition to creating a striking visual effect, these lights enable the pilot to see the orientation of the model during flight.
Lipo batteries. Compared with traditional nickel-cadmium batteries, lithium polymer batteries are lighter and provide greater flying range. The flight time with the 5000 mA battery will be between 10 and 12 minutes. High winds or aggressive flying will shorten the flight time. Please start with flights no longer than 10 minutes. Spare battery will be available soon to purchase. ~
For the Sky Rider Drone's PC interface you will need to download the latest PC Interface Q App and driver onto a PC using Windows 7 or newer. This will not work with Mac OSX.
If you have a Mac, you can run Windows by using the Boot Camp Assistant and installing Windows. You may need to pay for a code for Windows if you do not have the rights to it.
Model Content
• 1 Quadcopter
• 4 props with nuts - 2 CW & 2CCW
• 4 prop guards - 2 red & 2 black
• Tools - 3.0 Hex wrench
• 5000mA lipo
• Lipo charger
Model Details
Maximum speed (up/down) 5 metres per second (16.4 Feet) | Maximum speed (forward)20 metres per second | Yaw rate 220° per second | Maximum inclination 45° with tilt function | Integrated GPS Sensor with "Home" option | Flight Mode Manual and assisted with "headless" function | Stability on three axes with gyroscopes, magnetometer, and accelerometer | Video camera built in, photo resolution: 1MG, Video resolution: 1280/720 pixel in .AVI Format, set up for Action Cam
Overall Dimensions
Dimensions 45 x 39 x 19.5cm/17.7 x 15.3 x 7.6 inches | Weight 1.53 kg/3.37lb
Clear step-by-step instructions show how to assemble and finish the parts - every step of the way. Even if you've never tried this type of project before, you'll be able to put your Sky Rider Drone together in easy stages, learning the skills as you go.The Flying School guide will give you all the technical information and practical advice you need to become a skilled drone pilot. We'll show you how to get the best performance from your Sky Rider, how to take aerial pictures and videos like you've never seen before.The Assembly Guide will take you through the construction process with clear pictures of each stage of assembly and invaluable technical advice in the creation of your Sky Rider Drone!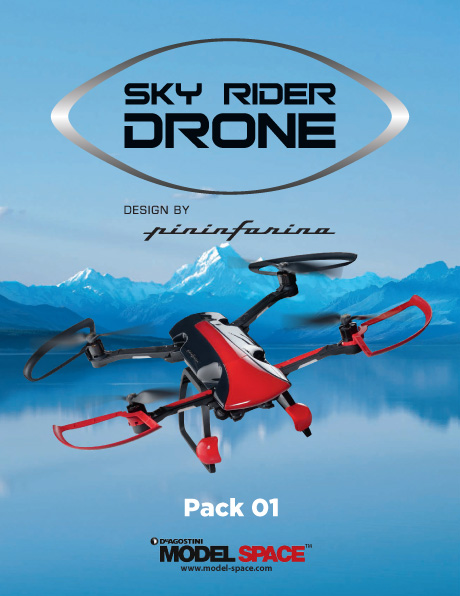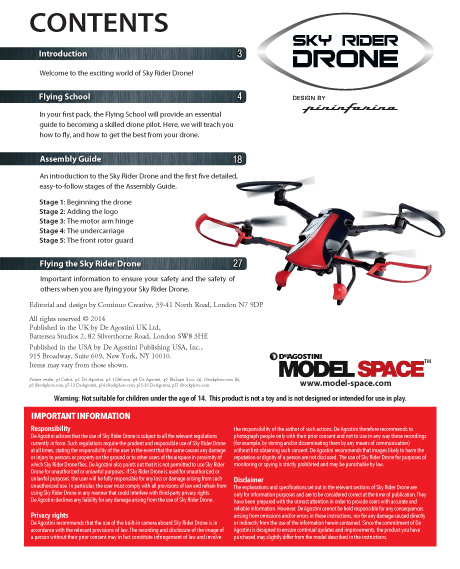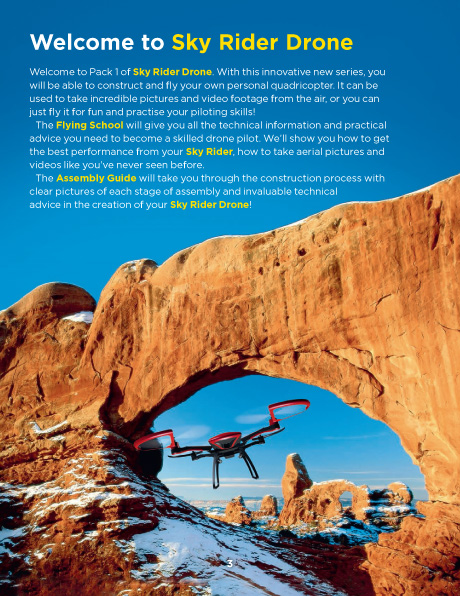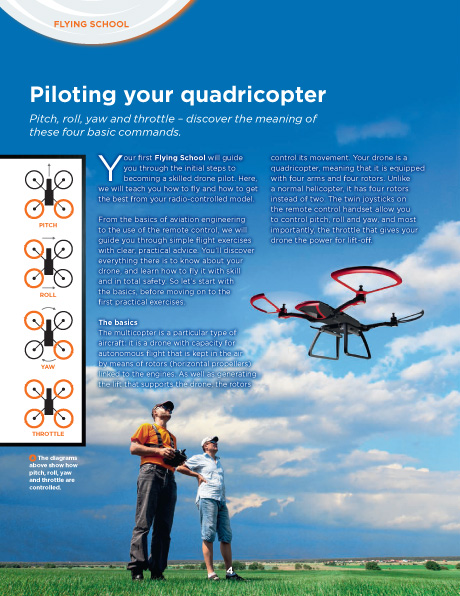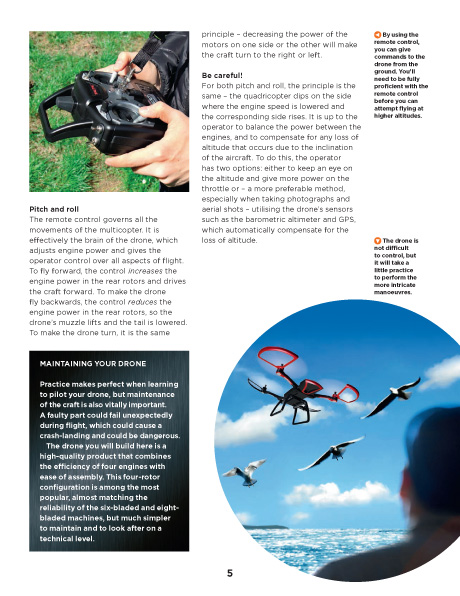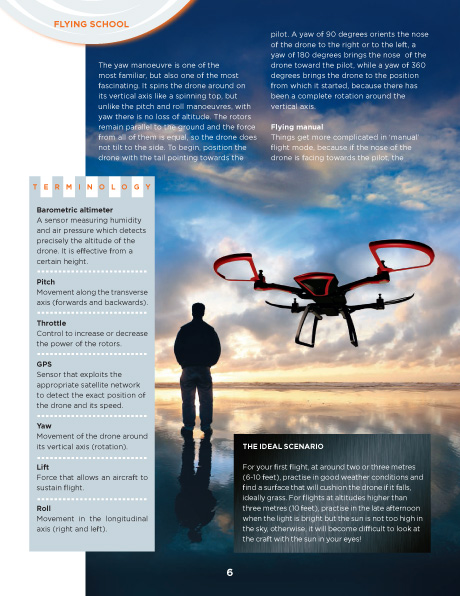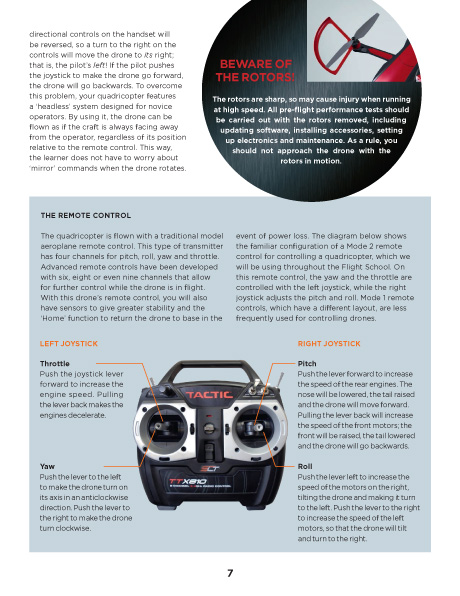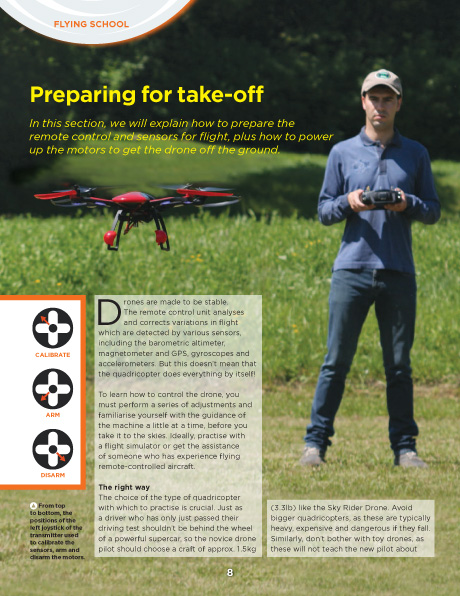 Through your building experience, you will have help from our experts with the easy-to-follow step-by-step assembly guide. You can also watch our Official Video Build Diary on Youtube or take a look also at our exclusive Sky Rider Drone Forum and discuss with fellow modelers. Even as a model-making novice, you can build this unique quadcopter model together in easy stages, learning the skills as you go.
Sky Rider Drone pre-flight checklist video is available HERE.
The Sky Rider Drone Control Software is available as a download below.
Build the Sky Rider Drone
Build Diary, Pack 1, Stage 1
Build Diary, Pack 1, Stage 2
Build Diary, Pack 1, Stage 3
Build Diary, Pack 1, Stage 4
Your Build consists of 12 Packs. Each Pack has either 4 or 5 stages. CLICK HERE for more details.

Download Step by step guide
2016-04-03 21:17:38

I have to say after owning and flying a number of other drones, having the opportunity to actually build one and then fly it is just amazing. The attention to detail and build quality of this drone is second to none and would recommend it to anyone thinking of owning a drone.

2015-03-21 16:33:58

With drones being the next top tech to have, this has to be one of the best looking ones so far. Designed by one of the biggest automotive styling companies out there this Drone oozes style and speed. Perfect to take on your camping holidays for that perfect view.

2015-03-20 19:13:13

Just put the first parts together. So good. Easy to follow instruction and reasonably easy to do. Cant wait to get the remaining 11 parts. Would recommend.

2015-02-27 18:44:07

The styling is no doubt one of the best looking quads out there with tech specs to match anything currently on the shelf,very high quality with real attention to detail,everything has been clearly thought out prior to production.

2015-01-21 22:44:03

To have a drone designed by Pininfarina, one of Italy's leading car design firms speaks volumes about the care and attention that has gone into creating this kit. Think this will be fun to build, fun to fly and it opens the door for anyone interested in creating their own unique video footage from the air..... The skies the limit.....

2015-01-20 15:59:41

Never thought this sort of thing would interest me but the more I read about it the more I want one! Beautifully designed, it just looks like quality when compared to other drones I have seen. I'd love to take one of these on one of my breaks to the Cornish coast and see the world from the air and record it too!

2015-01-13 13:25:10

GREAT!
The first pack of your order / complete kit will be delivered to you FREE of charge within approximately 5 working days from the date your order has been confirmed. If you don't like your first pack/complete kit, you can return within 14 working days of receiving the first delivery from us with any seals and shrink-wrap intact. Please contact us to find out our return address and how to send your first pack back to us for a refund
We believe that you will be 100% satisfied with your scale model but in some cases, you might need to cancel your subscription. There is no commitment and so no obligation to continue your subscription. If you wish to cancel your subscription at any time after the 14 working days following receipt of your first pack, you are free to do so at any time. However, we would advise that you provide us with 28 days notice of cancellation as otherwise pack/s may already be on their way to you and we will be unable to prevent the delivery. Please let us know by contacting us for cancellation of your subscription.