D51 200 Locomotive | 1:24 Model | Full Kit
D51 200 Locomotive | 1:24 Model | Full Kit
Experience one of the 20th Century's most iconic locomotives. Build your own 1:24 scale model 2-8-2 D51 locomotive, Japan's classic standardized modern engine. Made in 1938 by the Japanese National Railways (JNR) & Japanese Government Railways, the D51 was built in larger numbers than any other locomotive made in Japan. This is a truly stunning model made from high-quality brass & steel.

The D51 is available as full kit.


Key Features of the D51 steam locomotive
A short length of track and base for display
Built from solid brass with white-metal die-castings
Completed model is 880mm long and weighs more than 5 lbs
Working lights, whistle and steam sound effects
Choose to paint your D51 black to resemble the original locomotive, or leave a bare finish to highlight the metalwork
Model Detail
Brass boiler and firebox parts | Steel chassis and wheels | Die-cast, turned and sheet metal components | Simply assembled with screws, rivets and adhesives (no soldering or brazing required) | Rail track: 25mm (2 inches)
Overall Dimensions
Length: 880mm (34.65") | Height: 165mm (6.49") | Width: 112mm (4.41") | Weight: 10.4 kgs (22.9 lbs) | Scale: 1:24
Clear step-by-step instructions show how to assemble and finish the parts - every step of the way. Even if you've never tried this type of project before, you'll be able to put your D51 Locomotive together in easy stages, learning the skills as you go.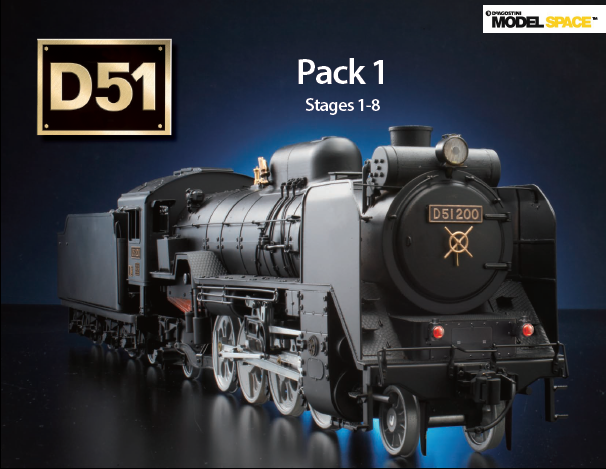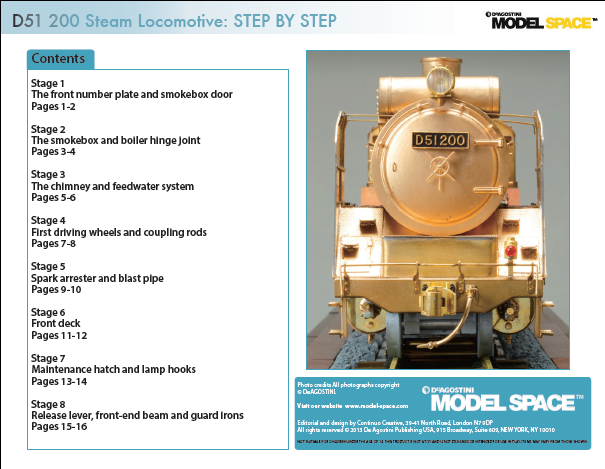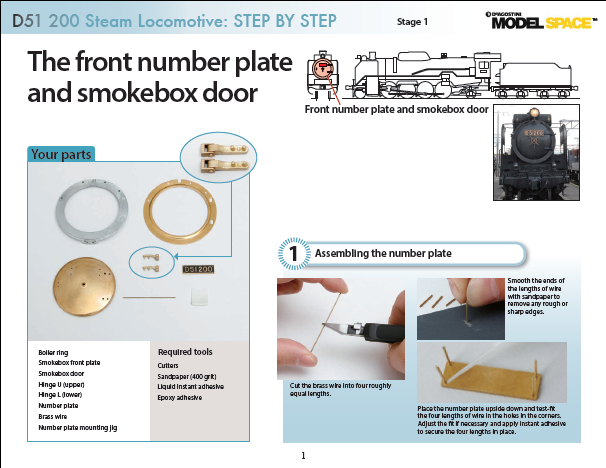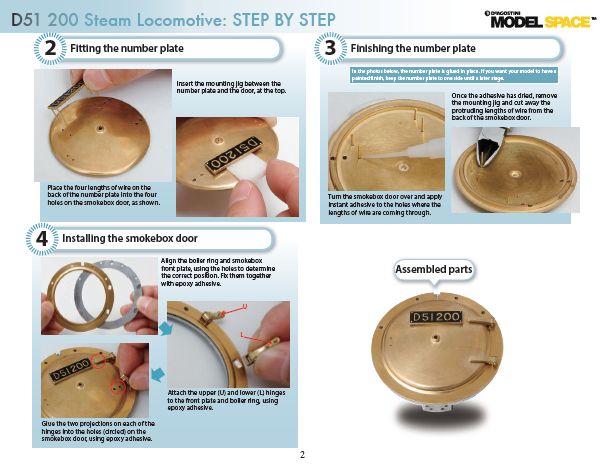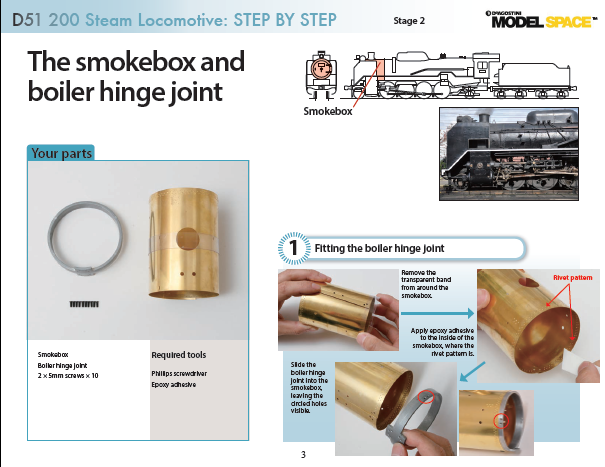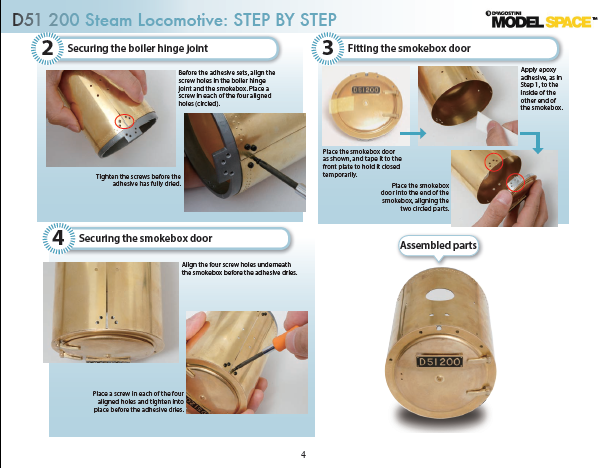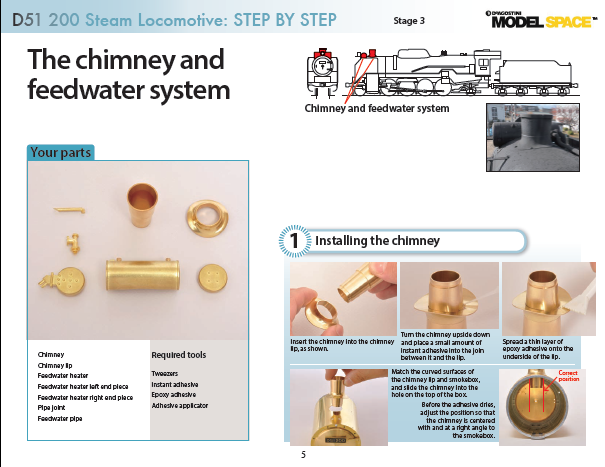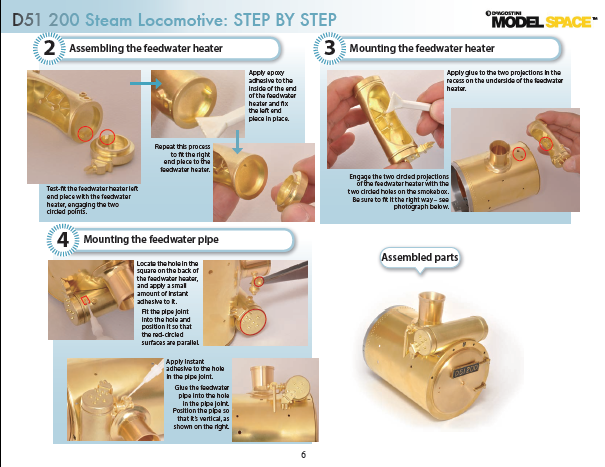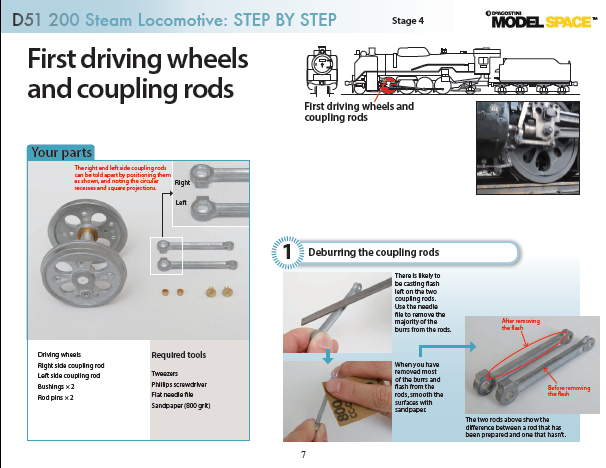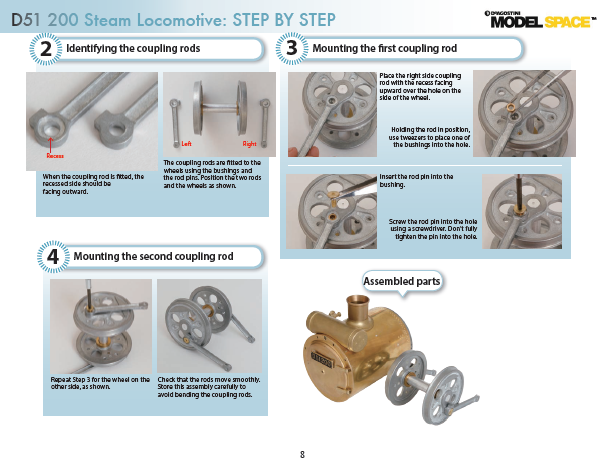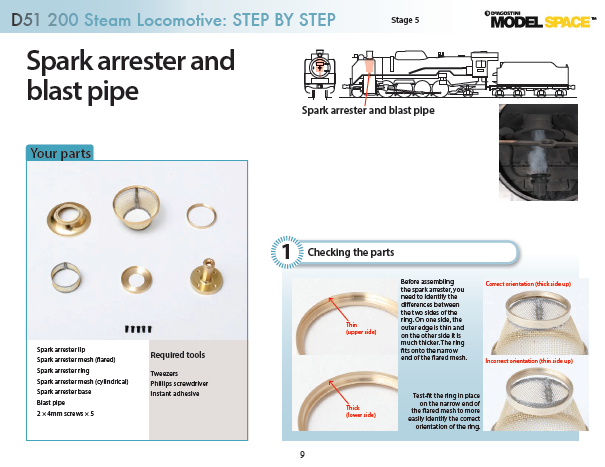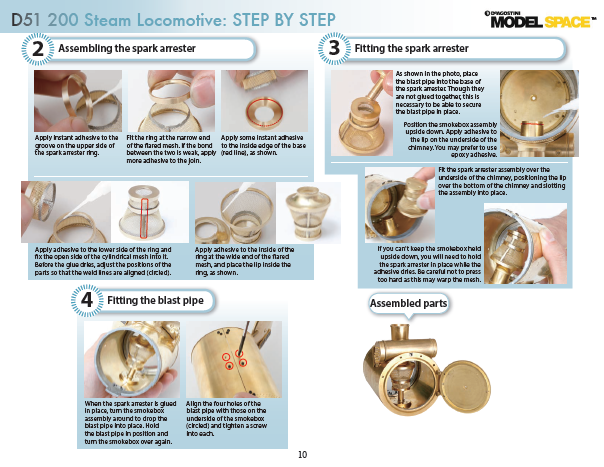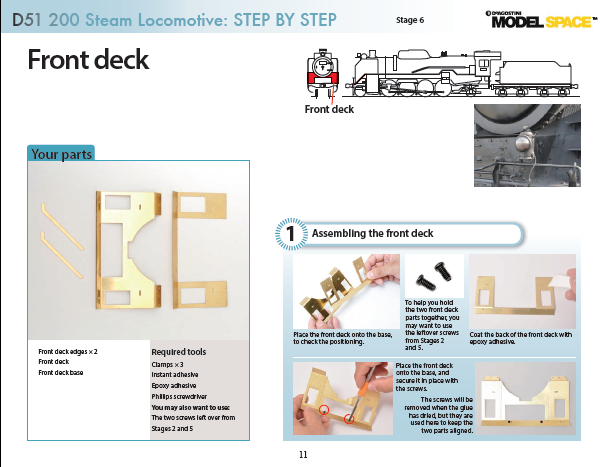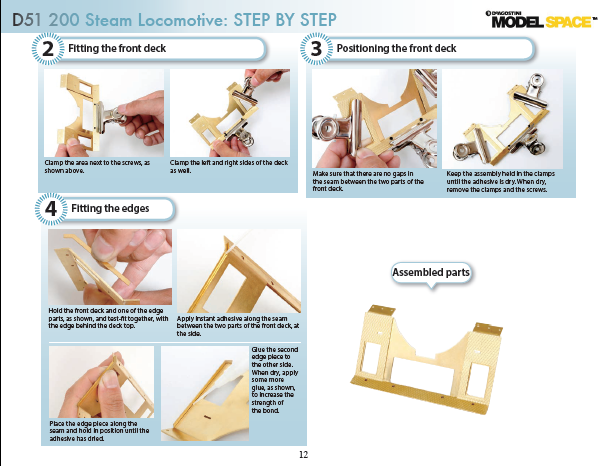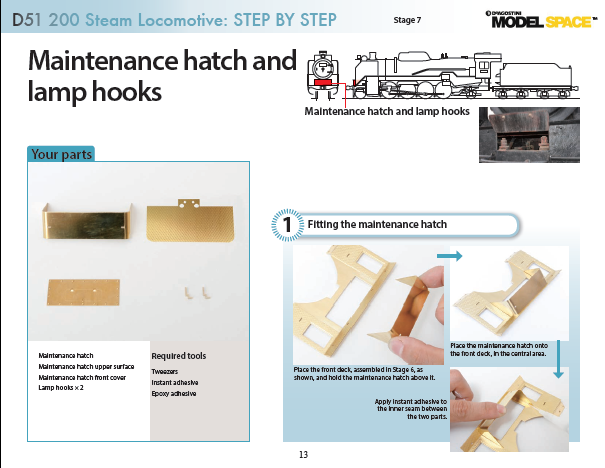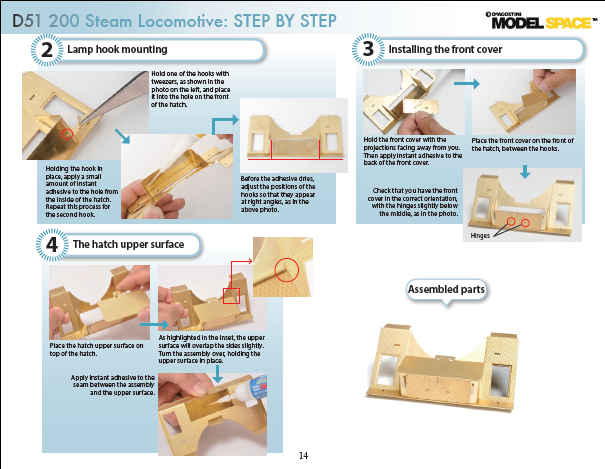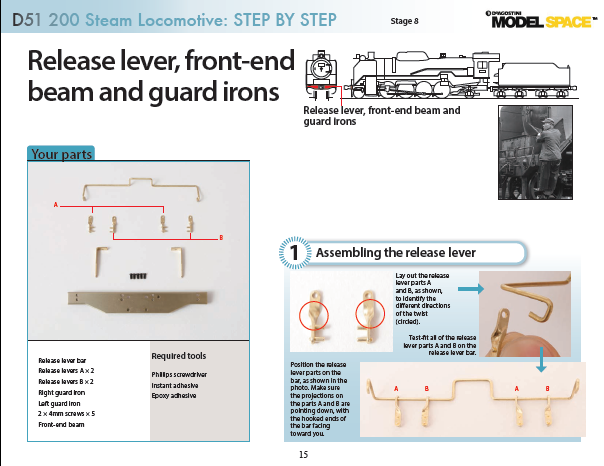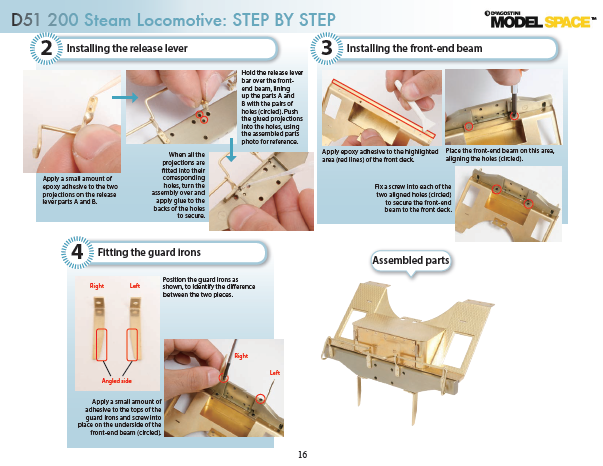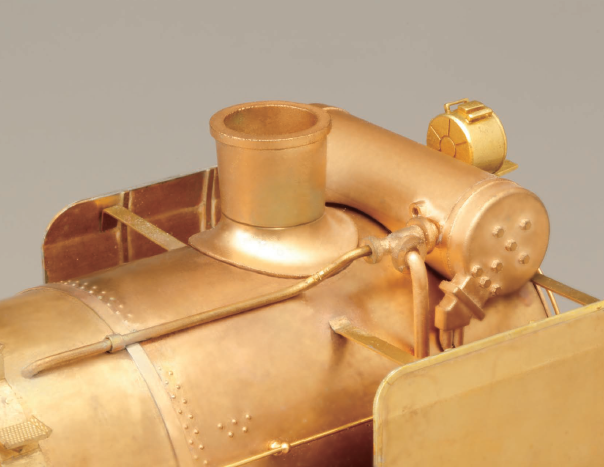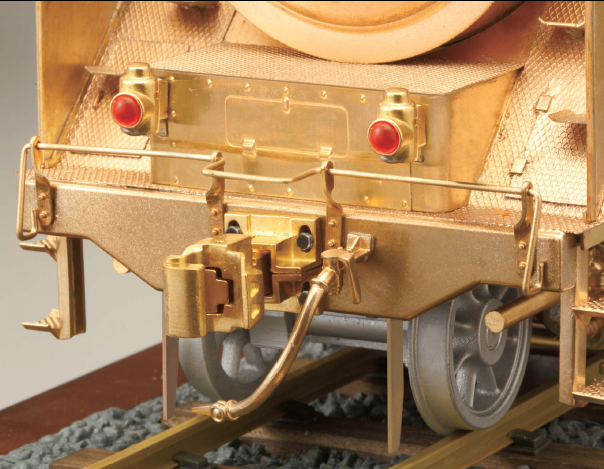 2017-02-13 20:26:54

Having spent the last two years building this kit, the finished model is absolutely stunning and enormous. Standing almost a metre long it is an imposing centrepiece on my dining table. The instructions are fairly clear and do give an indication of how to Put the kit together though there are times when it causes some trouble with later stages, requiring you to assemble some component only to find that it has to be removed because it has obstructed the next step. Also, none of the components are labelled so you have to spend a while trying to figure out which part is a and which is b. I personally found this lack of detail to be challenging and made the build even more enjoyable. If you've built plastic kits before, you should find this kit as easy to put together and just as satisfying. The end result is impressive and I get a great deal of pleasure enjoying the fruit of my labour. I highly recommend taking your time and make sure you keep part assemblies covered to avoid tarnishing and Wear gloves, fingerprints are annoying to remove at the end! In summary, the best kit I've ever had the pleasure to put together from a great supplier, very nice people always ready to help. Now I'm looking at getting the C57!

2016-11-07 13:05:48

This model is beautiful, the parts and details are amazing! Thanks ModelSpace!

2016-11-07 13:00:39

This is a beautiful kit. All parts are cast - brass and white metal and pre-formed/bent/shaped brass, all the pieces so far are fantastic. This is a very well thought out and produced kit. All you have to do is bolt/screw, super glue/epoxy the parts together, really easy, or for the advanced modeler, soldering. The potential for mild detailing or super detailing is great. Just study the video/picture links here; http://forum.model-space.co.uk/default.aspx?g=posts&t=10862 So far, I'm up to pack three, every part so far is awesome. Everything so far is so well engineered/produced/manufactured that the price is quite reasonable. If you're a steam locomotive fan, with the means, but not the expert modeling skills, you can handle this kit. Join up, follow the members builds and you will have an impressive locomotive model. Take the plunge, as I did, and enjoy. Best regards, mwb

2016-11-07 12:57:29

This is my second DeAgostini build, after the Zero. I was expecting nothing short of fantastic, and I was not in the least disappointed! The brass is perfectly cut and cast, and the zinc parts are cast perfectly as well. I am only on despatch 4, and am eagerly awaiting all the rest. Thank you DeAgostini, for another great model!

2016-11-07 12:56:47

A monster of a kit with high detail and easy to follow instructions,easily made as the brass version or painted and should please anyone who builds her.

2016-11-07 12:56:02

I was not sure what to expect when I subscribed to this, but the build is fantastic. DeAgostini have excelled themselves with this kit. the quality of parts and the instructions are outstanding. This is a pure construction project with all the parts preformed and ready for assembly. This complex and detailed kit builds up easily thanks to the very detailed instructions and the results are breathtaking. More Kits like this please!

2016-11-07 12:54:17

this has got to be the model of the year.The engineering is out of this world,making it has been a real dream,I fully recommend it as a first and last model to make before you die.motorized and lit,with working furnace doors and even a fire under the boiler!.best value ever for the monthly issues. go for it,warning, it is BIG.

2016-11-07 12:53:39

Awesome model

2016-11-07 12:52:45

Got my first 4 issues.They are muth over my expectations in both material,finish and thickness. Totaly a great model and great fittings.Im tough not going to have it static as I have garden rail and it fits the Piko rail wonderful.Im very satisfied so far and am happy to get it in an subscription as i cant get £799 in 1 go . Perfect solution.
The first pack of your order / complete kit will be delivered to you FREE of charge within approximately 5 working days from the date your order has been confirmed. If you don't like your first pack/complete kit, you can return within 14 working days of receiving the first delivery from us with any seals and shrink-wrap intact. Please contact us to find out our return address and how to send your first pack back to us for a refund
We believe that you will be 100% satisfied with your scale model but in some cases, you might need to cancel your subscription. There is no commitment and so no obligation to continue your subscription. If you wish to cancel your subscription at any time after the 14 working days following receipt of your first pack, you are free to do so at any time. However, we would advise that you provide us with 28 days notice of cancellation as otherwise pack/s may already be on their way to you and we will be unable to prevent the delivery. Please let us know by contacting us for cancellation of your subscription.