Harley Davidson Fat Boy | 1:4 Model | Full Kit
Harley Davidson Fat Boy | 1:4 Model | Full Kit
Build this magnificent 1:4 scale replica of the original 1990 Harley-Davidson Fat Boy and bring the legend to life - the realism is amazing. The Fat Boy is a major piece of Harley-Davidson history, retaining the company's traditional values while making use of the latest technology.
Key Features of the Harley-Davidson FLSTF Fat Boy
Working parts including lights, sounds and indicators
Backlight speedometer
More than three-quarters of the parts being solid die-cast metal
Ignition and switches on the instrument panel
Throttle and horn on the handlebars
The materials and colours are as close as is practical in a model to those of the original Fat Boy
Officially approved by Harley-Davidson
Model Details
1:4 scale | Made of die-cast metal, ignition wiring and rubber | High-quality parts | Officially licensed replica | Weighs 6.8kg.
Overall Dimensions
Length 597mm | Height at Seat 166mm | Height at Handlebars 270mm| | Width at Handlebars 255mm
The Assembly Guide section shows how to build your model from the parts provided. The detailed step-by-step instructions will give beginners and experienced modellers alike a clear and easy-to-follow guide to assembling the Fat Boy. The Harley-Davidson Archive gives you all the fascinating history and technical details of the most famous Harley-Davidson motorcycles, starting with the FLSTF Fat Boy.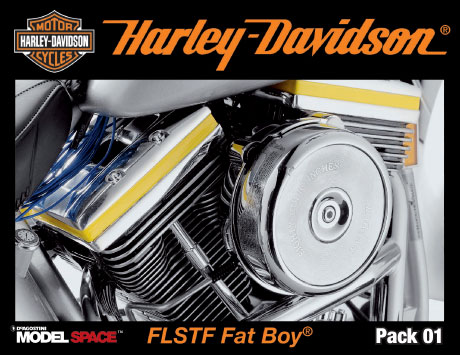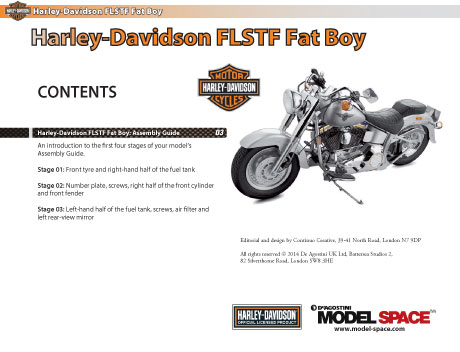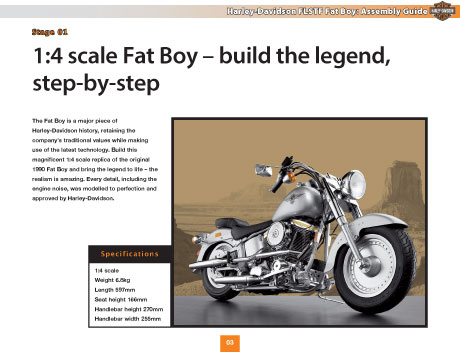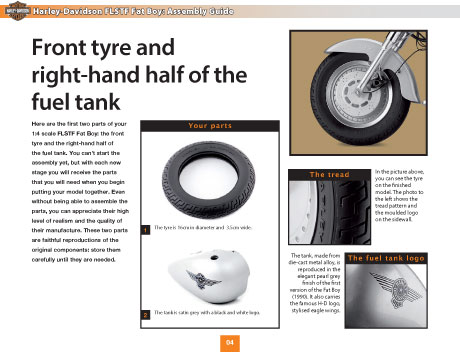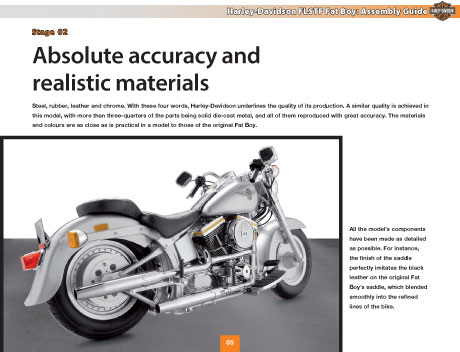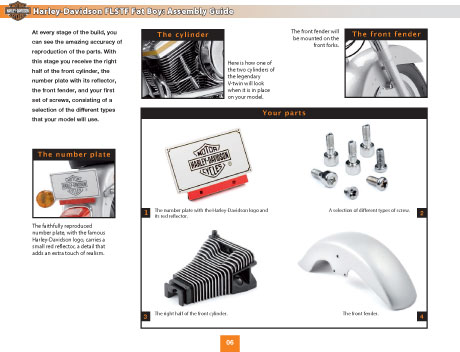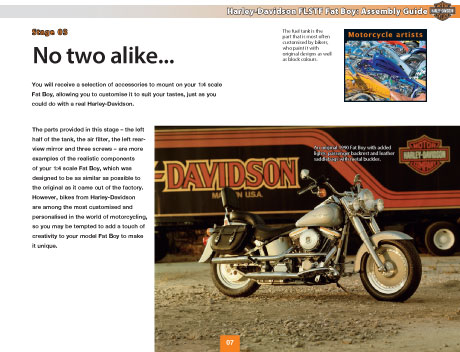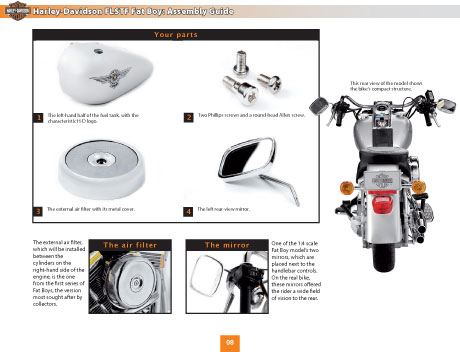 Through your building experience, you will have help from our experts with the easy-to-follow step-by-step assembly guide. You can also watch our Official Video Build Diary on Youtube or take a look also at our exclusive Harley-Davidson Fat Boy Forum and discuss with fellow modelers.
Even as a model-making novice, you can build this unique 1:4 scale model together in easy stages, learning the skills as you go.
Build the Harley-Davidson Fat Boy
Build Diary, Pack 1, Stages 1-3
Build Diary, Pack 2, Stages 4-7
Build Diary, Pack 3, Stages 8-10
Build Diary, Pack 4, Stages 11-13
Your Build consists of 77 stages/issues. CLICK HERE for more details.

2017-02-17 12:28:38

I jumped in a bit early on this build and subscribed to the monthly deliveries rather that waiting for the full kit to be available at a substantially reduced price. As it turned out I waited for 2 years to collect all the parts and then spent about a week putting it together. Probably won't make that mistake again on other builds that I have my eye on. It is a superb kit but not without its flaws. The actual quality of the parts cannot be faulted but it does seem that the wiring was an afterthought to the model and not enough design has gone into the routing of the wires through the fuel tank. It is a bit of a mess which prevents, on my build, the fuel talk sitting correctly on its base. Also little irritations like providing only 3 mini cable ties to tidy up said wiring when at least 6 are needed. Come on DeAg these things are a penny each! I am a fan of this bike and I am still very happy with this model which will now go proudly on display and I hope I haven't put anyone off buying it but I have given it an honest review which I hope is taken in the spirit it's intended.

2016-11-29 20:19:43

The quality of this kit is superb, all the parts are finished to a very high standard and well packed to prevent damage in transit. assembly is fairly easy given the mostly clear instructions and photos although one or two photos are not very clear. The only downside, if its purchased as a full kit ( which is the only way as far as I'm concerned!) is that you will need a lot of room, it's impossible to sort all the parts out in the box they arrive in so I laid all mine out on the dining room table, I'm fortunate enough to have an understanding wife! The kit goes together very well and makes a detailed and substantial model, if you decide to buy it you won't be disappointed.
The first pack of your order / complete kit will be delivered to you FREE of charge within approximately 5 working days from the date your order has been confirmed. If you don't like your first pack/complete kit, you can return within 14 working days of receiving the first delivery from us with any seals and shrink-wrap intact. Please contact us to find out our return address and how to send your first pack back to us for a refund
We believe that you will be 100% satisfied with your scale model but in some cases, you might need to cancel your subscription. There is no commitment and so no obligation to continue your subscription. If you wish to cancel your subscription at any time after the 14 working days following receipt of your first pack, you are free to do so at any time. However, we would advise that you provide us with 28 days notice of cancellation as otherwise pack/s may already be on their way to you and we will be unable to prevent the delivery. Please let us know by contacting us for cancellation of your subscription.