Harley Davidson Fat Boy | 1:4 Model
Key Features of the Harley-Davidson FLSTF Fat Boy
Working parts including lights, sounds and indicators
Backlight speedometer
More than three-quarters of the parts being solid die-cast metal
Ignition and switches on the instrument panel
Throttle and horn on the handlebars
The materials and colours are as close as is practical in a model to those of the original Fat Boy
Officially approved by Harley-Davidson
Model Details
1:4 scale | Made of die-cast metal, ignition wiring and rubber | High-quality parts | Officially licensed replica | Weighs 6.8kg.
Overall Dimensions
Length 597mm | Height at Seat 166mm | Height at Handlebars 270mm| | Width at Handlebars 255mm
With every pack, you will receive a full colour magazine with articles to help you to build and learn about your Harley-Davidson Fat Boy. Each pack includes these two regular sections, the Assembly Guide and the Harley-Davidson Archive. The Assembly Guide section shows how to build your model from the parts provided. The detailed step-by-step instructions, accompanied by close-up photographs and features about the parts, will give beginners and experienced modellers alike a clear and easy-to-follow guide to assembling the Fat Boy. The Harley-Davidson Archive gives you all the fascinating history and technical details of the most famous Harley-Davidson motorcycles, starting with the FLSTF Fat Boy.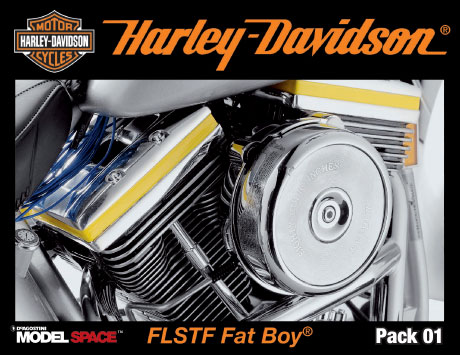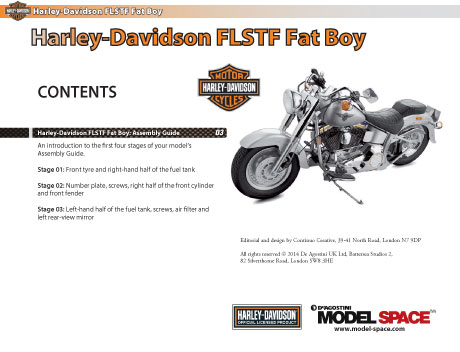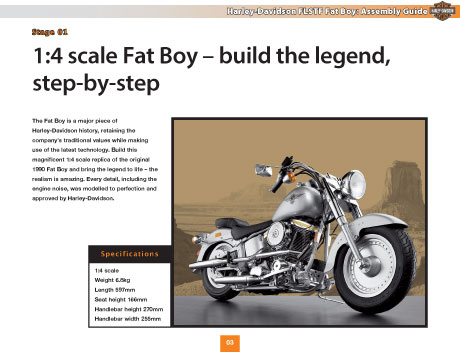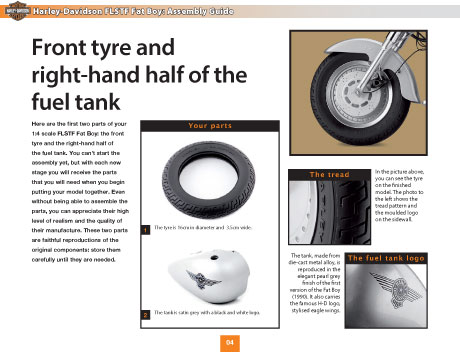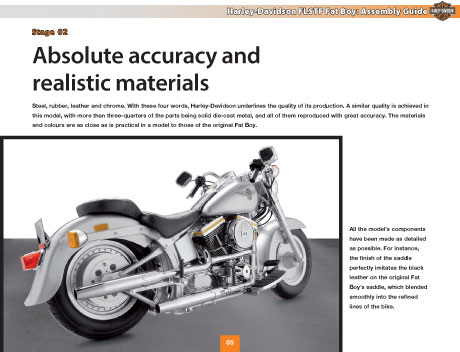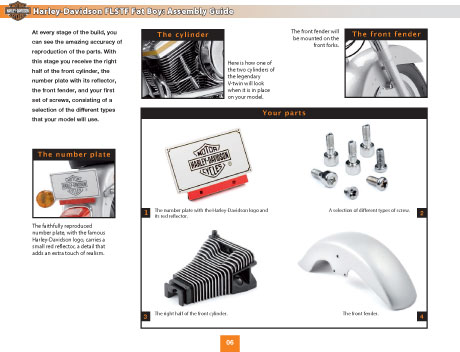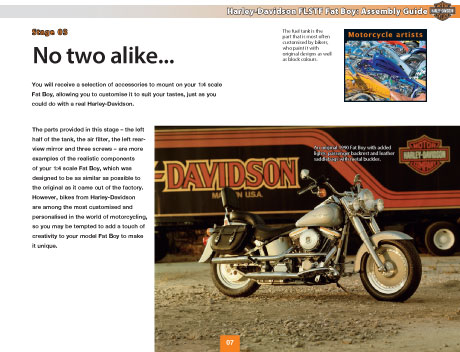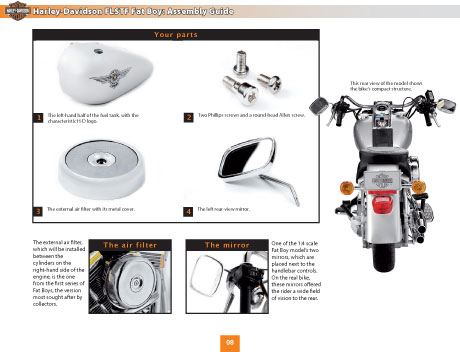 Through your building experience, you will have help from our experts with the easy-to-follow step-by-step assembly guide. You can also watch our Official Video Build Diary on Youtube or take a look also at our exclusive Harley-Davidson Fat Boy Forum and discuss with fellow modelers.
Even as a model-making novice, you can build this unique 1:4 scale model together in easy stages, learning the skills as you go.
Build the Harley-Davidson Fat Boy
Build Diary, Pack 1, Stages 1-3
Build Diary, Pack 2, Stages 4-7
Build Diary, Pack 3, Stages 8-10
Build Diary, Pack 4, Stages 11-13
Your Build consists of 24 Packs. Each Pack has either 3 or 4 stages. CLICK HERE for more details.

2018-04-27 20:17:22

one of the best models I have ever built but the instruction book never came with the model hence I had to down load.so I had to take the computer to my shed.

2015-03-20 16:06:56

Another iconic masterpiece and one that will get people talking when they see the size of it. If your a big fan of the Terminator films and the Harley then you have to get this. It's a stunning kit and a must to add to any collection.

2014-10-21 18:43:16

Another classic bike to get your hands on, quarter scale making it an imposing size and talking piece in any ones home. Simple a must for any Harley fan.
The first pack of your order / complete kit will be delivered to you FREE of charge within approximately 5 working days from the date your order has been confirmed. If you don't like your first pack/complete kit, you can return within 14 working days of receiving the first delivery from us with any seals and shrink-wrap intact. Please contact us to find out our return address and how to send your first pack back to us for a refund
We believe that you will be 100% satisfied with your scale model but in some cases, you might need to cancel your subscription. There is no commitment and so no obligation to continue your subscription. If you wish to cancel your subscription at any time after the 14 working days following receipt of your first pack, you are free to do so at any time. However, we would advise that you provide us with 28 days notice of cancellation as otherwise pack/s may already be on their way to you and we will be unable to prevent the delivery. Please let us know by contacting us for cancellation of your subscription.