Honda CB750 | 1:4 Model | Full Kit
Honda CB750 | 1:4 Model | Full Kit
Build every rider's Dream, the Honda CB750 in 1:4 scale. This superbly finished scale model is a perfect miniature replica of the Honda Dream CB750 FOUR, made in stunning detail with features including stainless-steel wire, die-cast metal parts and lighting functions.


Key Features of the Honda CB750
Exhaust pipes
The four exhaust pipes are chrome-plated, just like those of the real bike.
Crankcase
Die-cast metal parts faithfully reproduce the texture of the sand-moulded crankcase.
Disc brake
The model accurately replicates the front disc brake rotor and caliper.
Chain and sprocket
A view of the rear sprocket and chain that drive the rear wheel. Chain links and sprocket teeth are accurately reproduced to give the model authenticity.

Light and sound - two styles of effect
The model's keys operate two effects switches for the bike, one for lighting and the other for sound. These functions can be controlled by an infrared remote, making it possible to operate the effects from a distance.

MODEL DETAILS
1:4 scale | High-quality stainless steel and die-cast metal parts | Large-displacement engine | 5-speed gearbox |Sand-moulded crankcase
OVERALL DIMENSIONS
Length: 520mm | Height: 270mm | Width: 200mm | Seat height: 220mm
Clear step-by-step instructions show how to assemble and finish the parts - every step of the way. Even if you've never tried this type of project before, you'll be able to put your Honda CB750 together in easy stages, learning the skills as you go.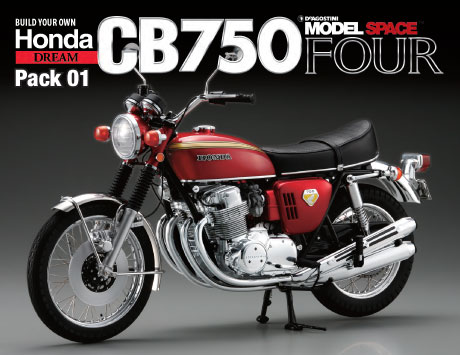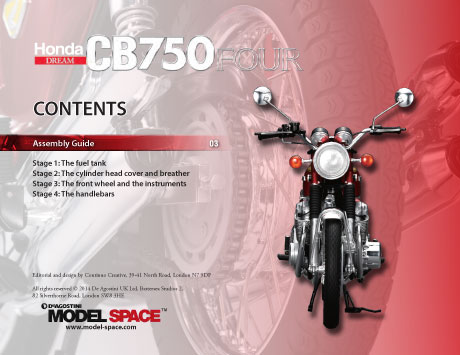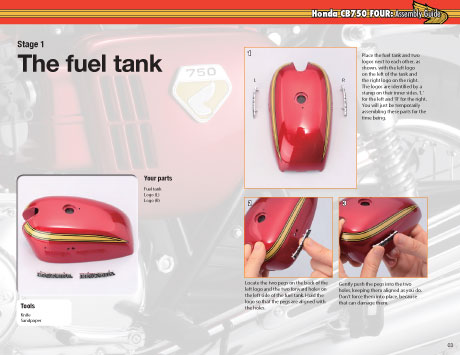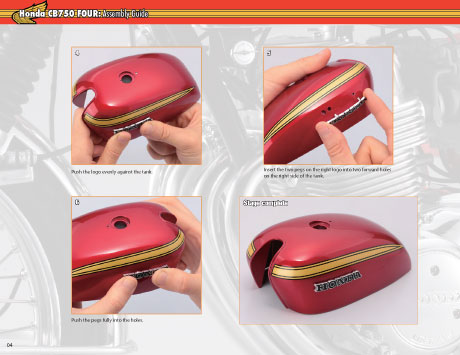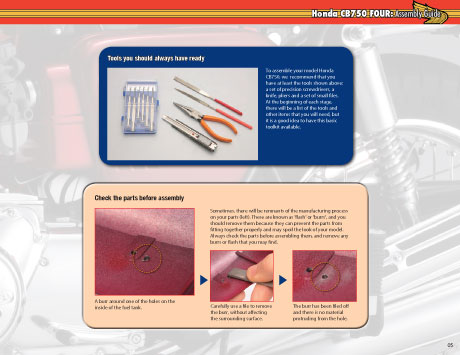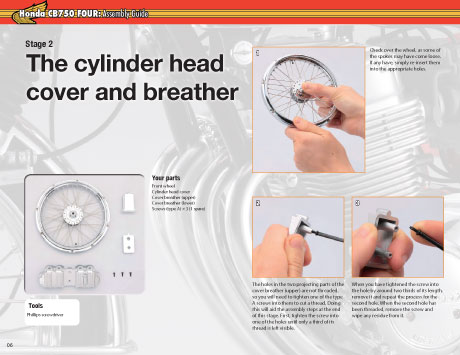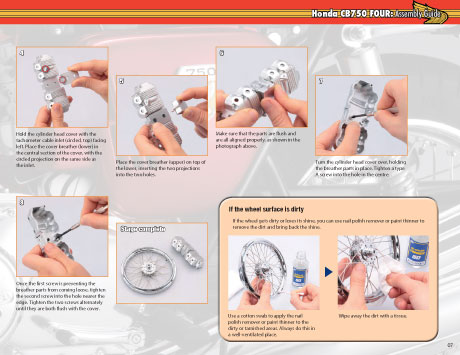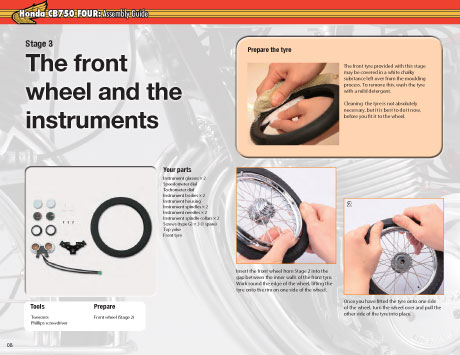 Through your building experience, you will have help from our experts with the easy-to-follow step-by-step assembly guide. You can also watch our Official Video Build Diary on Youtube or take a look also at our exclusive Honda CB 750 Forum and discuss with fellow modelers.
Even as a model-making novice, you can build this unique 1:4 scale model together in easy stages, learning the skills as you go.
Build Diary, Pack 1, Stage 1
Build Diary, Pack 1, Stage 2
Build Diary, Pack 1, Stage 3
Build Diary, Pack 1, Stage 4
Your Build consists of 80 Stages/issues. You can find the build instructions as Download PDFs HERE.

2017-07-05 09:03:46

Having been a fan of the original bike I saw as a young man in the 70's, meant this was a must build, as soon as I could afford the kit. What an absolute joy to build, clear instructions and fantastic quality. The real kick start for starting the engine sound effects was inspirational thinking! Getting hard to get a full kit these days, as it is selling out fast, is testament to the quality of the parts used. Well done Model Space keep up the good work and more motorbikes please.
The first pack of your order / complete kit will be delivered to you FREE of charge within approximately 5 working days from the date your order has been confirmed. If you don't like your first pack/complete kit, you can return within 14 working days of receiving the first delivery from us with any seals and shrink-wrap intact. Please contact us to find out our return address and how to send your first pack back to us for a refund
We believe that you will be 100% satisfied with your scale model but in some cases, you might need to cancel your subscription. There is no commitment and so no obligation to continue your subscription. If you wish to cancel your subscription at any time after the 14 working days following receipt of your first pack, you are free to do so at any time. However, we would advise that you provide us with 28 days notice of cancellation as otherwise pack/s may already be on their way to you and we will be unable to prevent the delivery. Please let us know by contacting us for cancellation of your subscription.