Honda CB750 | 1:4 Model
Build every rider's Dream, the Honda CB750 in 1:4 scale. This superbly finished scale model is a perfect miniature replica of the Honda Dream CB750 FOUR, made in stunning detail with features including stainless-steel wire, die-cast metal parts and lighting functions.

Choose your option:
Pay-as-you-build or buy the Full Kit!
Key Features of the Honda CB750
Exhaust pipes
The four exhaust pipes are chrome-plated, just like those of the real bike.
Crankcase
Die-cast metal parts faithfully reproduce the texture of the sand-moulded crankcase.
Disc brake
The model accurately replicates the front disc brake rotor and caliper.
Chain and sprocket
A view of the rear sprocket and chain that drive the rear wheel. Chain links and sprocket teeth are accurately reproduced to give the model authenticity.

Light and sound - two styles of effect
The model's keys operate two effects switches for the bike, one for lighting and the other for sound. These functions can be controlled by an infrared remote, making it possible to operate the effects from a distance.

MODEL DETAILS
1:4 scale | High-quality stainless steel and die-cast metal parts | Large-displacement engine | 5-speed gearbox |Sand-moulded crankcase
OVERALL DIMENSIONS
Length: 520mm | Height: 270mm | Width: 200mm | Seat height: 220mm
Clear step-by-step instructions show how to assemble and finish the parts - every step of the way. Even if you've never tried this type of project before, you'll be able to put your Honda CB750 together in easy stages, learning the skills as you go.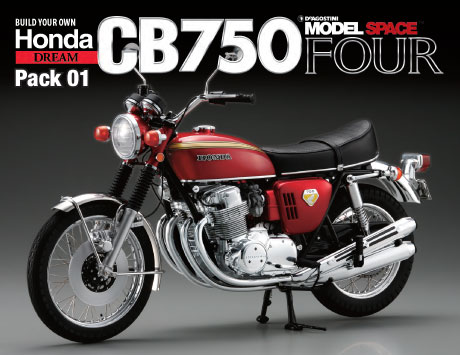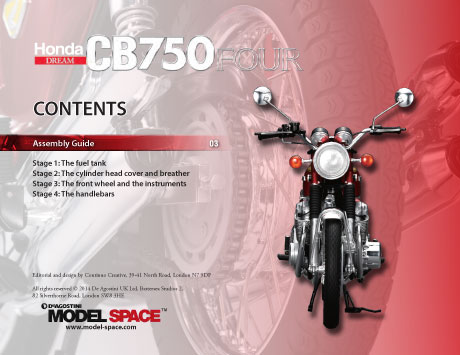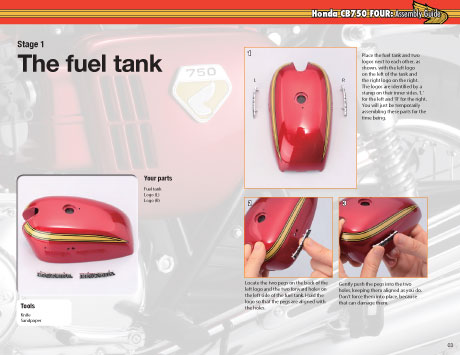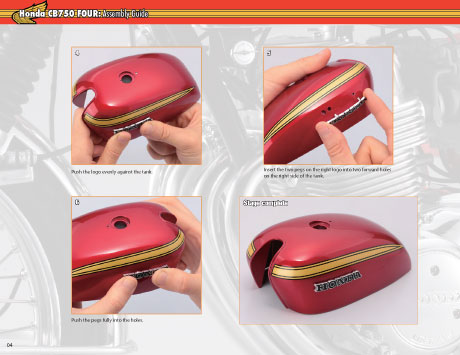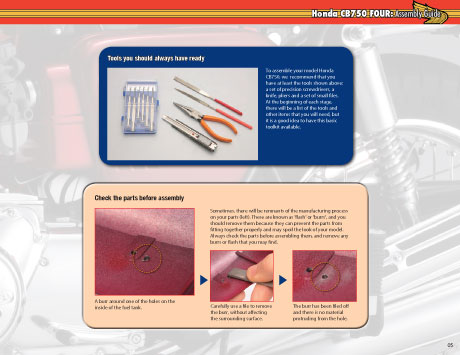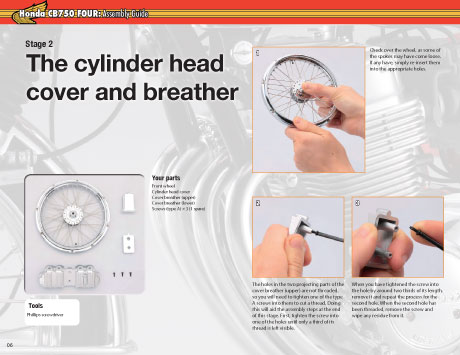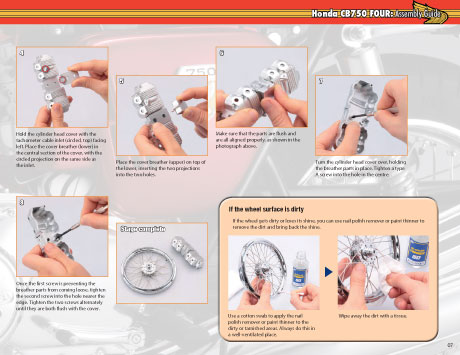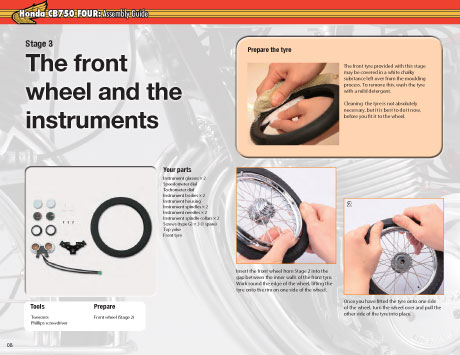 Through your building experience, you will have help from our experts with the easy-to-follow step-by-step assembly guide. You can also watch our Official Video Build Diary on Youtube or take a look also at our exclusive Honda CB 750 Forum and discuss with fellow modelers.
Even as a model-making novice, you can build this unique 1:4 scale model together in easy stages, learning the skills as you go.
Build Diary, Pack 1, Stage 1
Build Diary, Pack 1, Stage 2
Build Diary, Pack 1, Stage 3
Build Diary, Pack 1, Stage 4
Your Build consists of 24 Packs. Each Pack has either 3 or 4 stages. CLICK HERE for more details.

2017-11-06 18:28:55

This is a great looking model, the build is straight forward, the parts are of the highest quality, and the finished product will please any modellers collection.

2016-09-20 13:00:05

With good quality parts that have a great fit and finish, this weighty replica has the added bonus of sound, lights and working features. In this scale you have an imposing model that will stand out wherever you display it.

2014-10-04 13:03:02

Top detail and finish make this a kit to have, one of the most popular bikes from years gone by with sound and working lights, it even has the tool kit under the seat like the real one. Easy to follow instructions make this a joy to build.

2014-10-04 11:52:19

What a great looking release of a classic bike. This one is definitely on my wish list. Top notch quality again from DeAgostini with another kit that will make a fantastic finished build. Love to see a classic Kawasaki too!

2014-10-03 18:15:16

Any admirer of motorcycles would love to have the CB750 as a centrepiece to their collection. The kit contains parts with amazing detail that are simply assembled using a screwdriver from the easy to follow instructions. Electronics include working indicators, lights and sound that bring this stunning model to life. At 1/4 scale it is also big enough to admire the fine details down to the authentic spoked wheels and speedo assembly. Working suspension and rubber tyres make the Honda CB750 stand out from the crowd. If your into bikes then this is one for you! Outstanding quality in every way.

2014-10-02 19:49:02

A blast from the past, this model for me is the best and fully detailed replica of a truly iconic and ground breaking motorbike on the market. Motorcycle enthusiasts who remembered or owned the CB750 I think would love to put this together to end up with a beautiful display piece. Top quality parts, easy to follow instructions makes the building of this kit achievable for beginners and experienced modellers alike.... Don't think this model would disappoint..... Alan
The first pack of your order / complete kit will be delivered to you FREE of charge within approximately 5 working days from the date your order has been confirmed. If you don't like your first pack/complete kit, you can return within 14 working days of receiving the first delivery from us with any seals and shrink-wrap intact. Please contact us to find out our return address and how to send your first pack back to us for a refund
We believe that you will be 100% satisfied with your scale model but in some cases, you might need to cancel your subscription. There is no commitment and so no obligation to continue your subscription. If you wish to cancel your subscription at any time after the 14 working days following receipt of your first pack, you are free to do so at any time. However, we would advise that you provide us with 28 days notice of cancellation as otherwise pack/s may already be on their way to you and we will be unable to prevent the delivery. Please let us know by contacting us for cancellation of your subscription.