Hummer H1 | 1:8 Model
Experience the world's most powerful off-road civilian vehicle. Build and drive a 1:8 scale replica of the remarkable Hummer H1 SUV in a superbly detailed model designed by Kyosho.

Choose your option:
Pay-as-you-build or buy the Full Kit!

START FOR JUST £9.99 with the pay-as-you-build option.
Free Gifts
KT-3HS Radiotransmitter

2-channel, wheel-type transmitter. Frequency 27 MHz band. Modulation method AM. 12v. Max. 150 mA. Free with your last shipment.
Key Features of the Hummer H1
The Hummer engine is powered by Kyosho's mighty GX21 engine unit.
Shaft drive 4WD for all-out driving over any terrain.
A unique body frame – also made of HIPS – has been designed to support the exterior components.
Strength and quality are assured by the use of a separate frame and body panel structure. By putting body panels on the frame, the model both mimics the real-life vehicle and achieves a display-case level of detail.
Model Detail
1:8 Scale | Engine: GX21 Nitro | Engine capacity: 3.46cc | Ground clearance: 50mm (1.96")
Overall Dimensions
Length: 570mm (22.44") | Width: 275mm (10.82") | Wheelbase: 390mm (15.35") | Height: 220mm (8.66")
Clear step-by-step instructions show how to assemble and finish the parts - every step of the way. Even if you've never tried this type of project before, you'll be able to put your Hummer H1 together in easy stages, learning the skills as you go.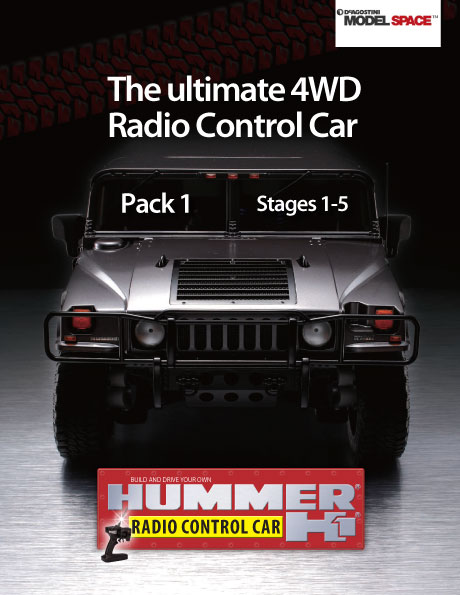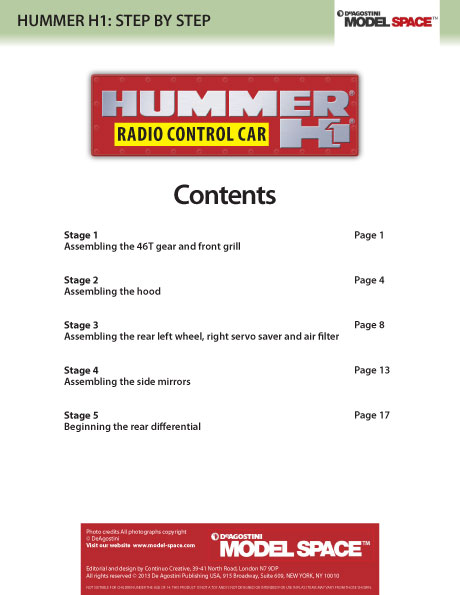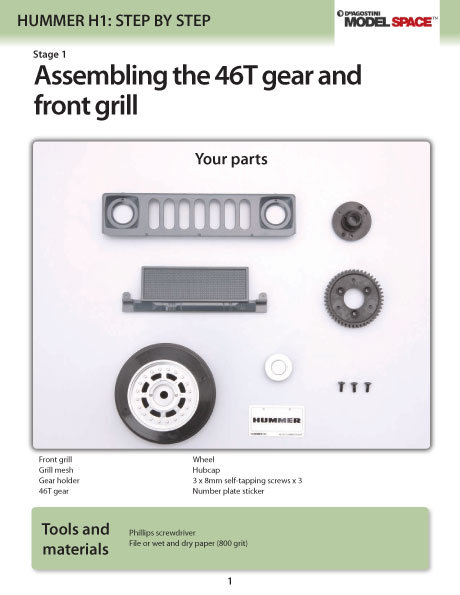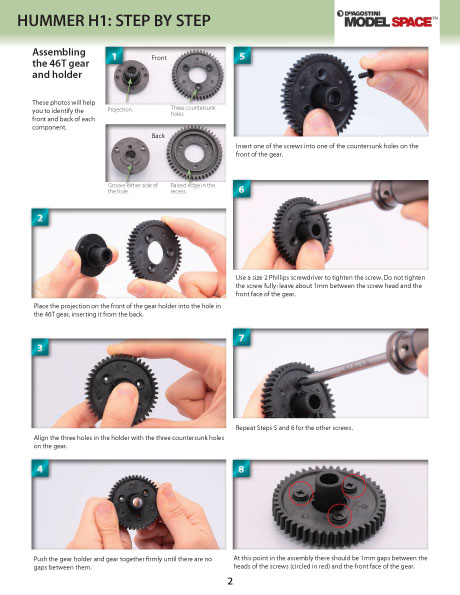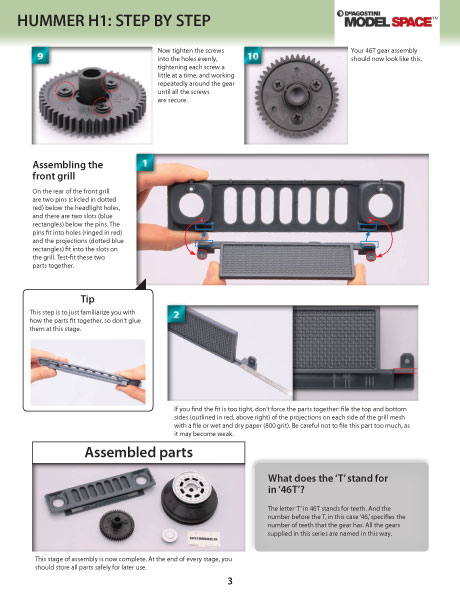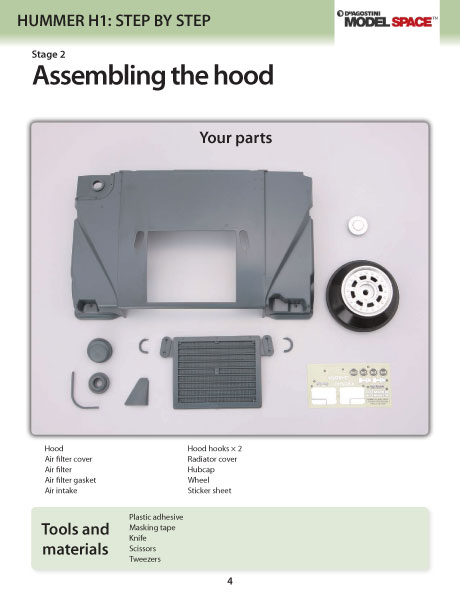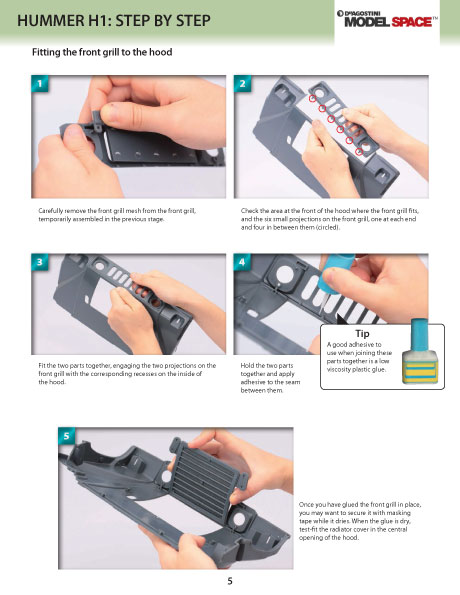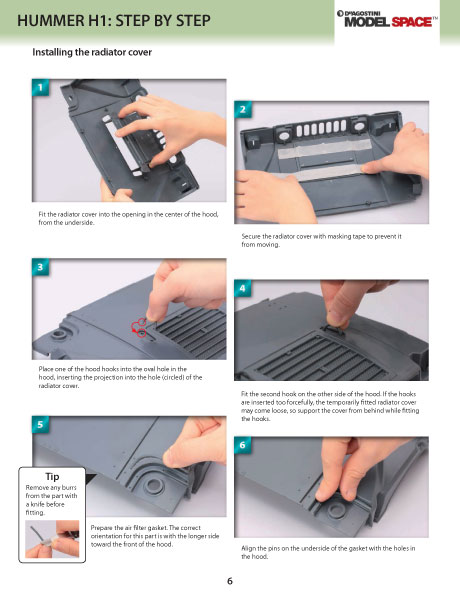 Through your building experience, you will have help from our experts with the easy-to-follow step-by-step assembly guide. You can also watch our Official Video Build Diary on Youtube or take a look also at our exclusive Hummer 1 Forum and discuss with fellow modelers.
Even as a model-making novice, you can build this unique 1:8 scale model together in easy stages, learning the skills as you go.
Build and Drive the Hummer H1
Build Diary, Pack 1, Stage 1
Build Diary, Pack 1, Stage 2
Build Diary, Pack 1, Stage 3
Build Diary, Pack 1, Stage 4
Your Build consists of 17 Packs. Each Pack has 4 stages. CLICK HERE for more details.

Download Step by step guide
2017-03-20 23:09:26

Excellent detail love the build But only issue I had was they didn't send the CD instructions with the full kit

2015-02-22 18:19:41

Awesome kit. It was very easy to build and everything is very robust. I was however very disappointed to receive a crystal transmitter and receiver, why no 2.4ghz ??? Overall fantastic kit but for what it cost it should at least feature 2.4ghz.

2014-10-04 12:02:22

Great partwork, no expense spared on the components either, all the best quality Kyosho parts supplied. Although this comes pre-painted you can have some fun with this and customize it, Operation Desert Storm...Camo...or even pimped with a Neon Pink and gold wheels :-)

2014-10-04 07:23:51

This is a great Nitro kit yet again from DeaGostini and perfect for those that want to take this beast of a machine out on all types of hard hard surfaces.. A 4x4 drive system combined with a powerful nitro engine that will have you grinning from ear to ear. Easy to follow step by step instructions and everything you need to know about RC Nitro cars and how to maintain your RC Hummer Keeping it in tip top condition between runs. Great fun to play with and a joy to build for any novice or experienced modeller..
The first pack of your order / complete kit will be delivered to you FREE of charge within approximately 5 working days from the date your order has been confirmed. If you don't like your first pack/complete kit, you can return within 14 working days of receiving the first delivery from us with any seals and shrink-wrap intact. Please contact us to find out our return address and how to send your first pack back to us for a refund
We believe that you will be 100% satisfied with your scale model but in some cases, you might need to cancel your subscription. There is no commitment and so no obligation to continue your subscription. If you wish to cancel your subscription at any time after the 14 working days following receipt of your first pack, you are free to do so at any time. However, we would advise that you provide us with 28 days notice of cancellation as otherwise pack/s may already be on their way to you and we will be unable to prevent the delivery. Please let us know by contacting us for cancellation of your subscription.