Lamborghini Countach LP 500S | 1:8 Model | Full Kit
Lamborghini Countach LP 500S | 1:8 Model | Full Kit
The Lamborghini Countach LP 500S is BACK IN STOCK!

Build an amazing 1:8 scale model replica of the Lamborghini Countach LP 500S, built exclusively for Walter Wolf. The model has a number of movable parts, including the Countach's iconic scissor doors.
Order your Lamborghini Countach LP 500S model kit online today!


Key Features of the Lamborghini Countach LP 500S
Movable parts
The model has a number of movable parts, including the Countach's iconic scissor doors.
Rear wing
The rear wings is finished in the official red and black livery or the LP 500S.
Equipped with working lights and realistic sound effects
The complete model will feature working headlights, interior lights and brake lights, and will even be able to reproduce the sound of the real car's engine.
Powerful 5-litre engine
The model shows the 1:8 scale engine in impressive realistic detail.
Open bonnet
The bonnet opens to reveal the engine.
Exhaust system
The exhaust system exactly replicates the car's two sets of twin tailpipes.
Pirelli P7 tyres
Fitted with low-profile Pirelli P7 tyres featuring the tread pattern used by Walter Wolf.
Model Details
1:8 scale | Made of die-cast metal, ignition wiring and rubber | High-quality parts | Officially licensed replica | Weighs over 7kg.
Overall Dimensions
Length 517.5mm | Height 128mm | Width 249mm
The trademarks, copyrights and design rights in and associated with the following Lamborghini vehicles Countach LP500S are used under licence from Automobili Lamborghini S.p.A, Italy.
Clear step-by-step instructions show how to assemble and finish the parts - every step of the way. Even if you've never tried this type of project before, you'll be able to put your Lamborghini Countach LP 500S together in easy stages, learning the skills as you go.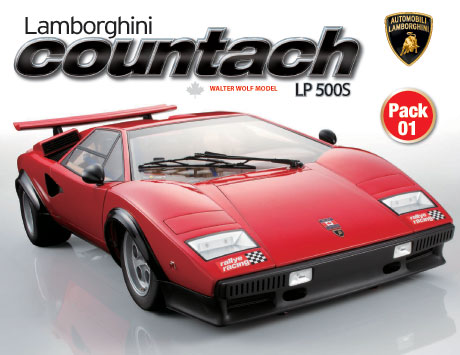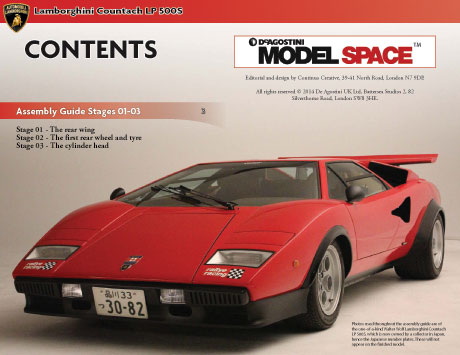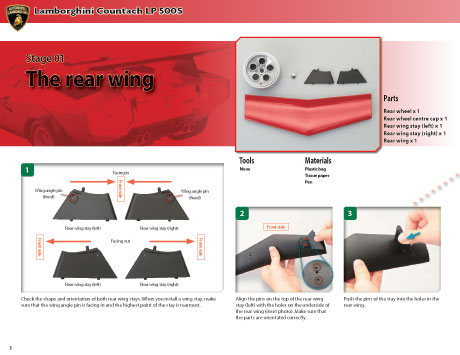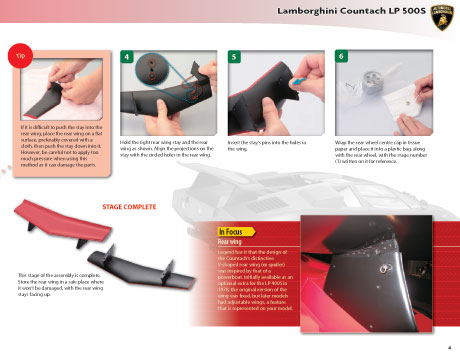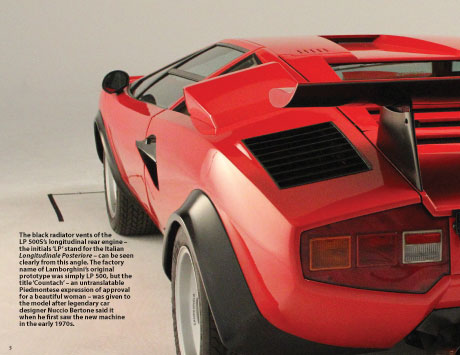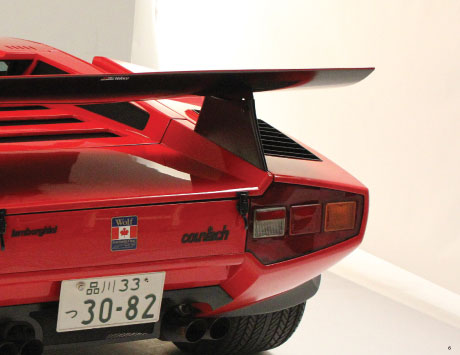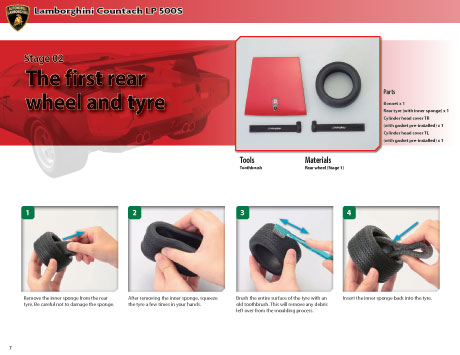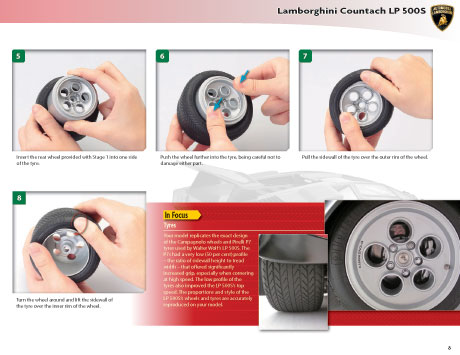 Through your building experience, you will have help from our experts with the easy-to-follow step-by-step assembly guide. You can also watch our Official Video Build Diary on Youtube or take a look also at our exclusive Lamborghini LPS500 Forum and discuss with fellow modellers.
Even as a model-making novice, you can build this unique 1:8 scale model together in easy stages, learning the skills as you go.
Build the Lamborghini Countach LP 500S
Build Diary, Pack 1, Stage 1
Build Diary, Pack 1, Stage 2
Build Diary, Pack 1, Stage 3
Build Diary, Pack 2, Stages 4-7
Your Build consists of 24 Packs. Each Pack has either 3 or 4 stages. CLICK HERE for more details.
Your step-by-step instructions are available to download directly here:
2017-02-08 14:00:15

This was my child hood dream car so when it was released I had to have it. I went the subscription route and am just about finished. I was not disappointed, the quality is outstanding with fantastic details. I was more and more impressed each month the parts arrived. It is a really enjoyable build that comes with very nice instructions booklet with clear and easy to follow instructions. Now this is available as a while kit is even better. You will not be disappointed with this kit.

2017-01-26 21:20:34

A cool car from my past and a great build that certainly is a show stopper
The first pack of your order / complete kit will be delivered to you FREE of charge within approximately 5 working days from the date your order has been confirmed. If you don't like your first pack/complete kit, you can return within 14 working days of receiving the first delivery from us with any seals and shrink-wrap intact. Please contact us to find out our return address and how to send your first pack back to us for a refund
We believe that you will be 100% satisfied with your scale model but in some cases, you might need to cancel your subscription. There is no commitment and so no obligation to continue your subscription. If you wish to cancel your subscription at any time after the 14 working days following receipt of your first pack, you are free to do so at any time. However, we would advise that you provide us with 28 days notice of cancellation as otherwise pack/s may already be on their way to you and we will be unable to prevent the delivery. Please let us know by contacting us for cancellation of your subscription.