Star Wars Millennium Falcon | 1:1 Model
Star Wars Millennium Falcon | 1:1 Model
Intro Offer: Get your FIRST MONTH of the Star Wars Millennium Falcon for only £9.99!

This official model of the iconic Millennium Falcon is a 1:1 replica of the original Empire Strikes Back movie prop, and also features unique internal details, lighting and movable parts.

Your magazine will include easy-to-follow detailed Assembly Guide plus a fascinating look inside the Star Wars archive with The Starship Fact File, The Guide to the Galaxy and The Secrets of Spaceflight.

Easy to construct but with an unprecedented level of realism, it really is the ultimate Millennium Falcon model.

Pay-as-you-build!

Each following month is priced as follows:
12 month option = £79.99 per month
24 month option = £39.99 per month
Free Gifts
Millennium Falcon binder

Keep your magazines in pristine condition with this specially-designed binder, FREE with your 2nd delivery
Key Features of the Millennium Falcon
Era: THE EMPIRE STRIKES BACK (3 ABY)
Scale: 1:1
Length: 808mm
Width: 596mm
Height: 192mm
Weight: Approx. 24 pounds
Power Required: 6 AA batteries or external 9V adapter sold separately
Your magazine will include easy-to-follow detailed Assembly Guide plus a fascinating look inside the Star Wars archive with The Starship Fact File, The Guide to the Galaxy and The Secrets of Spaceflight.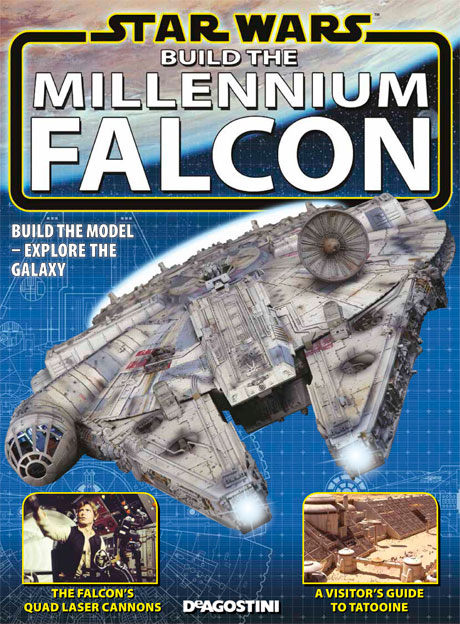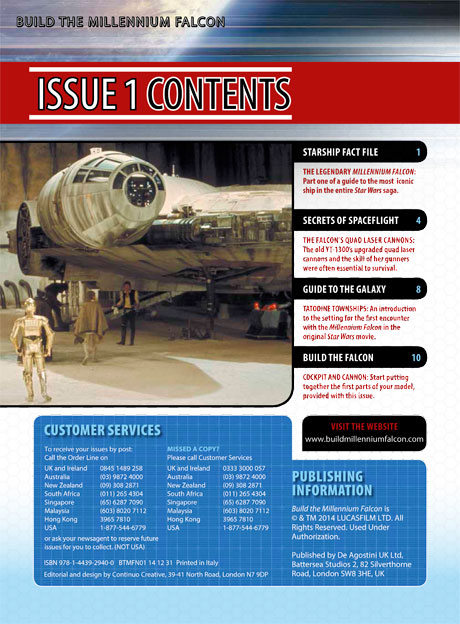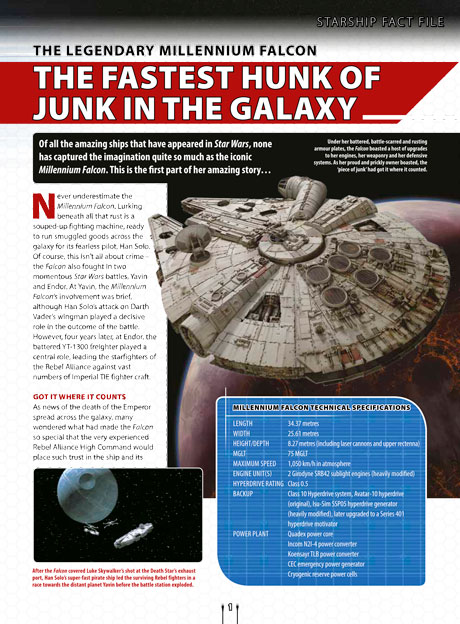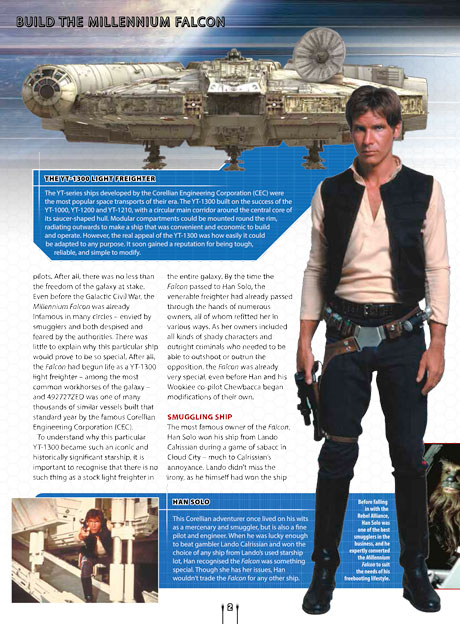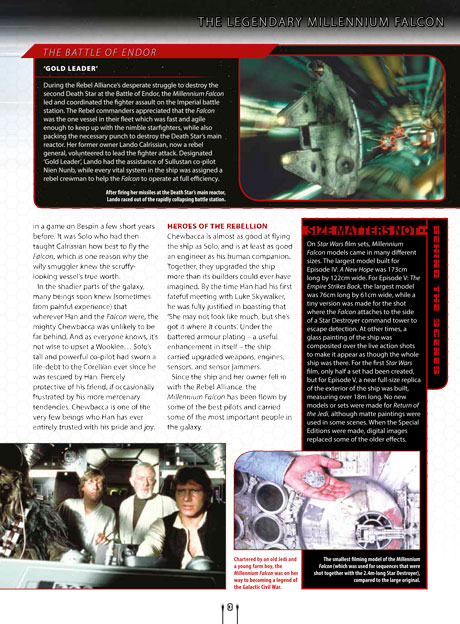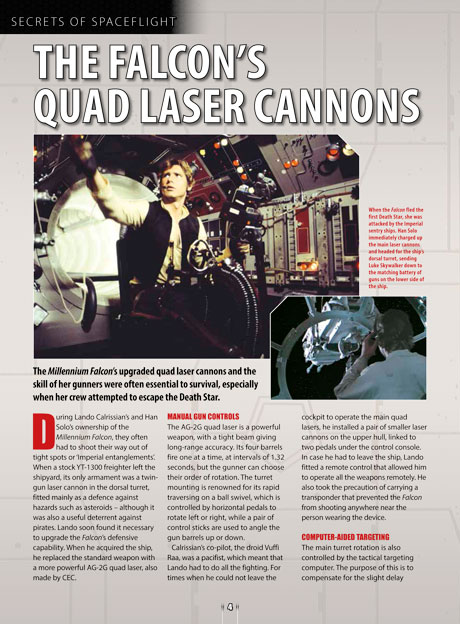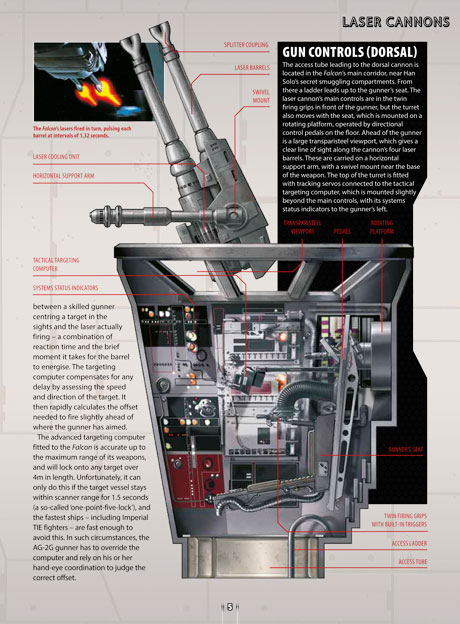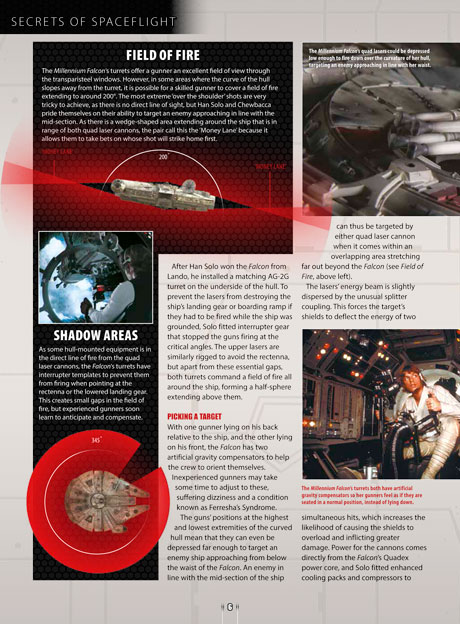 Through your building experience, you will have help from our experts with the easy-to-follow step-by-step assembly guide. You can also watch our Official Video Build Diary on Youtube or take a look also at our exclusive Millennium Falcon Forum and discuss with fellow modelers.
Even as a model-making novice, you can build this unique replica model of the Millennium Falcon together in easy stages, learning the skills as you go.
Creating a replica of the Empire Strikes Back Movie prop
Official Build Diary - Issue 1
Official Build Diary - Issue 2
Official Build Diary - Issue 3
Official Build Diary - Issue 4

Download more information about the Millennium Falcon
2018-07-21 15:04:03

What a cracking model and a fantastic build. If you are thinking of getting one do so as you will not be disopointed get yours now.

2018-04-26 17:00:36

After being out of modelling for a number of years, I decided to take a look and purchase this build. I was not disappointed, the quality and the detail of all the parts are superb. Easy step by step guide for the most novice builders, and yet lends itself to an abundance of custom options for those modellers who want to take it to the next level. It certainly got me back into modelling and gave me great pleasure seeing it transform into one of the most iconic space ships around.
The first pack of your order / complete kit will be delivered to you FREE of charge within approximately 5 working days from the date your order has been confirmed. If you don't like your first pack/complete kit, you can return within 14 working days of receiving the first delivery from us with any seals and shrink-wrap intact. Please contact us to find out our return address and how to send your first pack back to us for a refund
We believe that you will be 100% satisfied with your scale model but in some cases, you might need to cancel your subscription. There is no commitment and so no obligation to continue your subscription. If you wish to cancel your subscription at any time after the 14 working days following receipt of your first pack, you are free to do so at any time. However, we would advise that you provide us with 28 days notice of cancellation as otherwise pack/s may already be on their way to you and we will be unable to prevent the delivery. Please let us know by contacting us for cancellation of your subscription.