Red Bull Racing RB7 | 1:7 Model | Full Kit
Red Bull Racing RB7 | 1:7 Model | Full Kit
Build and drive this 1:7 scale radio-controlled nitro model of Red Bull Racing's RB7.
Made famous by Formula One driver Sebastian Vettel, our RB7 model is precision engineered to replicate every detail of the original.

Order the Full Kit now.
Key Features of the RC Red Bull RB7
The Engine & Transmission
3.5cc nitro motor, with a powerful 1.8 horsepower Kyosho GX21 engine
The Chassis
Race-proven chassis that adjusts to match a driver or specific track
Dampers
Four hydraulic dampers; the front dampers open diagonally via pushrods
The Bodywork
The Red Bull Racing RB7 model is 689 x 250 x 150mm (27.13 x 9.84 x 5.90 inches) with its bodywork fitted
The Remote Control System
Designed to work with a Kyosho Syncro digital remote system, the handset operates the model's steering, throttle and brake, transmitting through an integrated antenna
Modern Electronics
An RC receiver on the chassis converts radio signals into electrical pulses and passes them on to the car's control servos, which operate the throttle, brake and steering
On the Track
After you finish the build, the final magazine will illustrate how to prepare and run your model
Model Detail
1:7 scale - 3.5cc nitro motor - Powerful Kyosho GX21 engine - 1.8 horsepower - Four hydraulic dampers - Kyosho Syncro digital remote system - Fuel tank: approx 95cc
Overall Dimensions
Length 689mm – Width 250mm – Wheelbase 452 mm
Clear step-by-step instructions show how to assemble and finish the parts - every step of the way. Even if you've never tried this type of project before, you'll be able to put your Red Bull Racing RB7 together in easy stages, learning the skills as you go.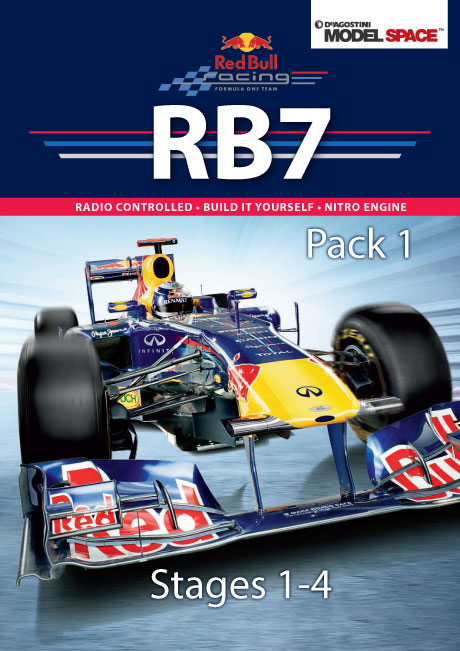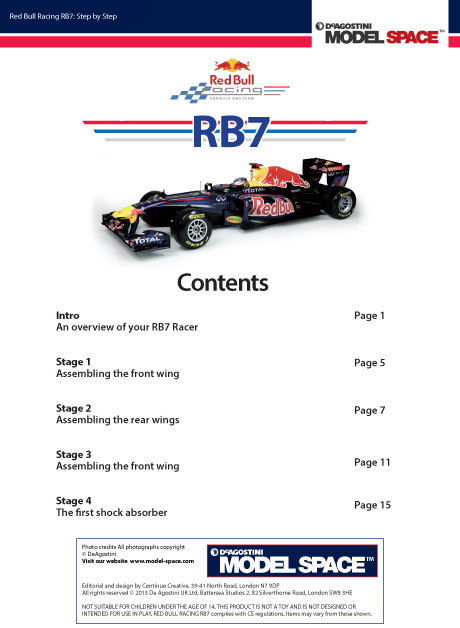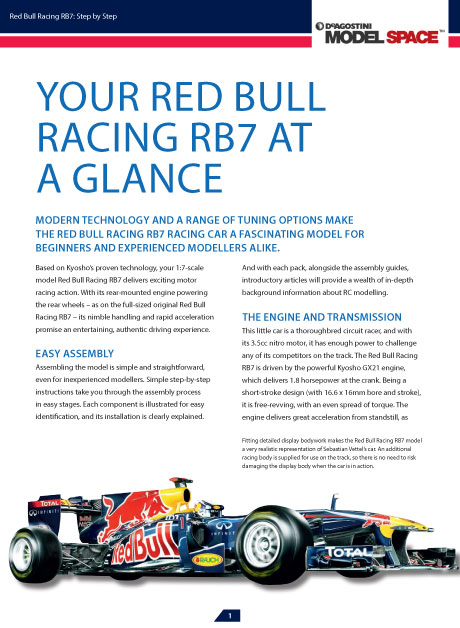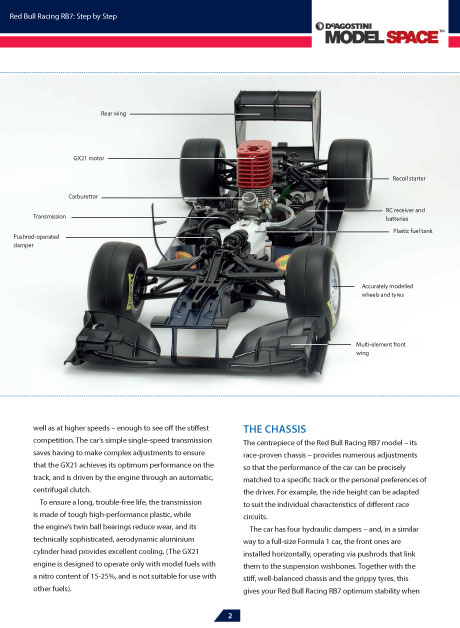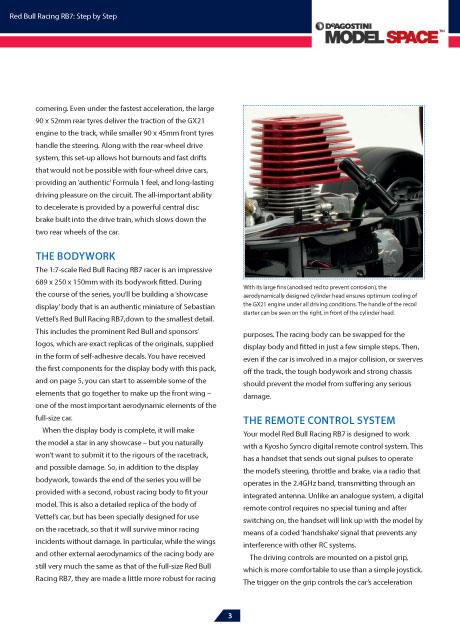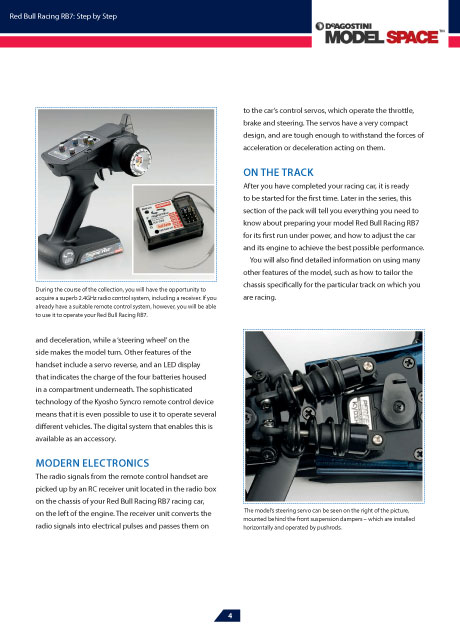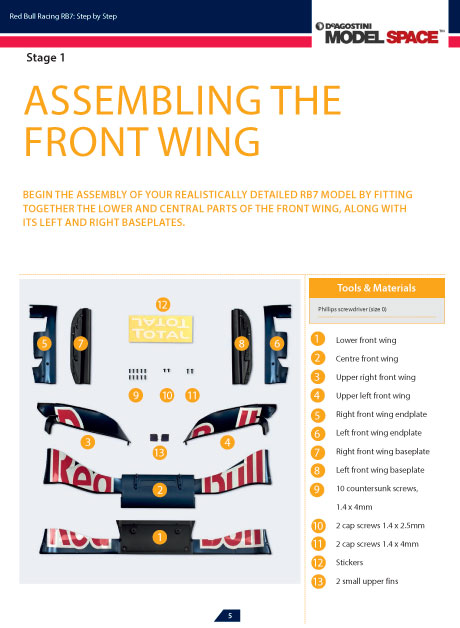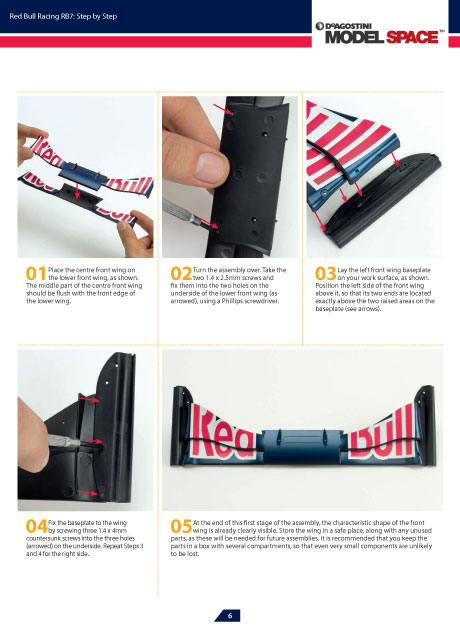 Through your building experience, you will have help from our experts with the easy-to-follow step-by-step assembly guide. You can also watch our Official Video Build Diary on Youtube or take a look also at our exclusive RB7 Forum and discuss with fellow modelers.
Even as a model-making novice, you can build this unique 1:7 scale model together in easy stages, learning the skills as you go.
Build and Drive the Red Bull Racing RB7
Build Diary, Pack 1, Stage 1 and 2
Build Diary, Pack 1, Stage 3
Build Diary, Pack 1, Stage 4
Build Diary, Pack 2, Stages 5 and 6
Your Build consists of 100 stages.

Download Step by step guide
The first pack of your order / complete kit will be delivered to you FREE of charge within approximately 5 working days from the date your order has been confirmed. If you don't like your first pack/complete kit, you can return within 14 working days of receiving the first delivery from us with any seals and shrink-wrap intact. Please contact us to find out our return address and how to send your first pack back to us for a refund
We believe that you will be 100% satisfied with your scale model but in some cases, you might need to cancel your subscription. There is no commitment and so no obligation to continue your subscription. If you wish to cancel your subscription at any time after the 14 working days following receipt of your first pack, you are free to do so at any time. However, we would advise that you provide us with 28 days notice of cancellation as otherwise pack/s may already be on their way to you and we will be unable to prevent the delivery. Please let us know by contacting us for cancellation of your subscription.