Santisima Trinidad | 1:90 Model
Santisima Trinidad | 1:90 Model
For more than 20 years following her launch at Havana in 1769, the 5,000-ton Spanish first-rate ship of the line, Santísima Trinidad, ('Most Holy Trinity') was the largest vessel afloat. When her 112-gun armament was increased to 136 guns, and later to 140, the Santísima Trinidad became the most heavily armed ship of the Age of Sail. 1:90-scale model of the mighty Spanish flagship.

Choose your option: Pay-as-you-build or buy the full kit!

The SantisimaTrinidad kit, also contains a cross-section kit, which provides an amazing close-up view of the interior workings of the Santisima Trinidad
Key Features of the Santisima Trinidad
The hull uses plank-on-frame construction with pre-cut pieces for easy assembly, and various types of wood for a more natural coloured finish.
The model is also fully rigged, including a full set of cloth sails and flags.
The guns are modelled in metal and there are many other small details in brass and die-cast white metal.
Suitable for novices or more experienced builders.
Overall Dimensions
Scale 1:90 | Height: 810mm | Width: 415mm | Length 1060mm
Clear step-by-step instructions show how to assemble and finish the parts - every step of the way. Even if you've never tried this type of project before, you'll be able to put your Santisima Trinidad together in easy stages, learning the skills as you go.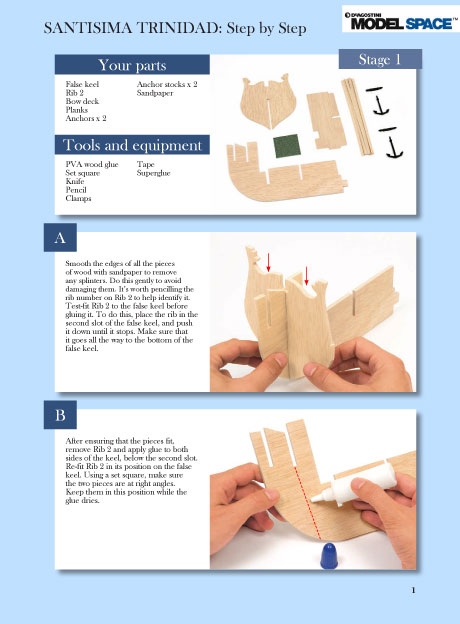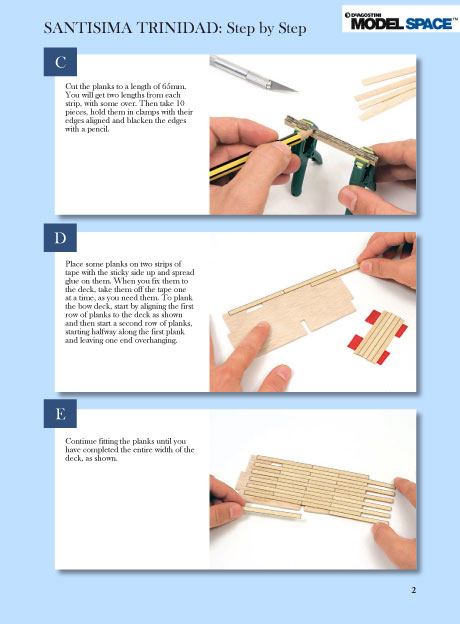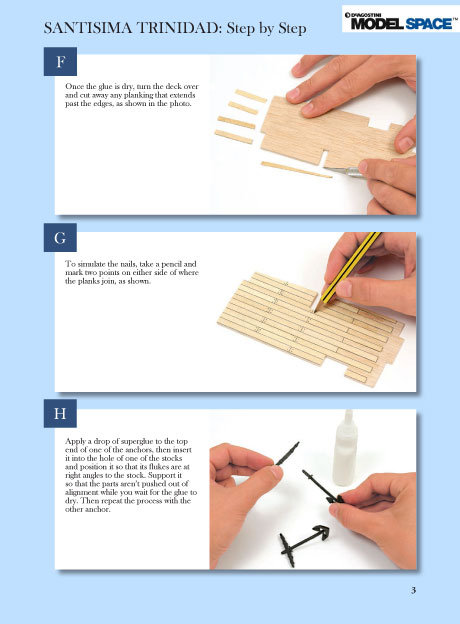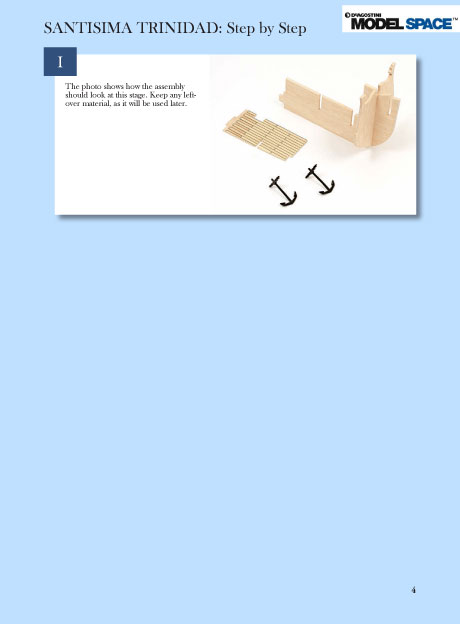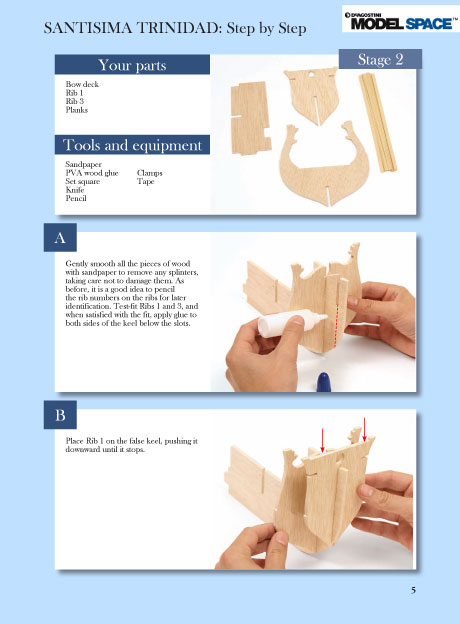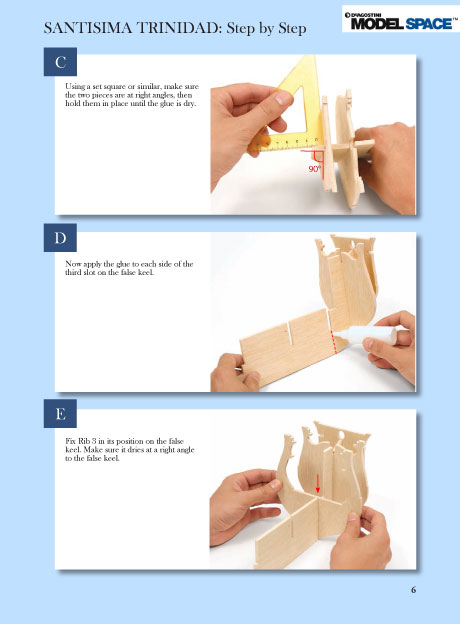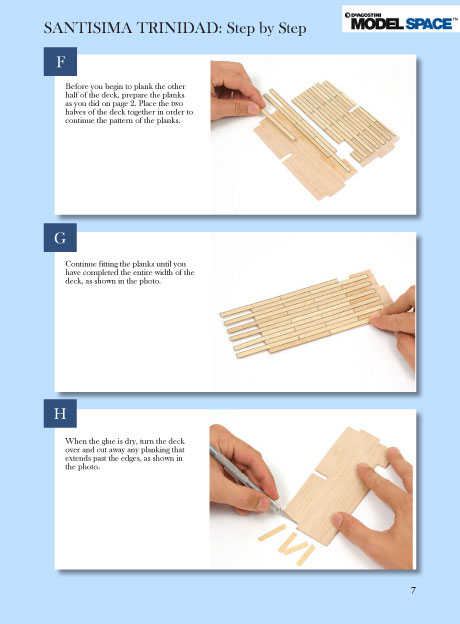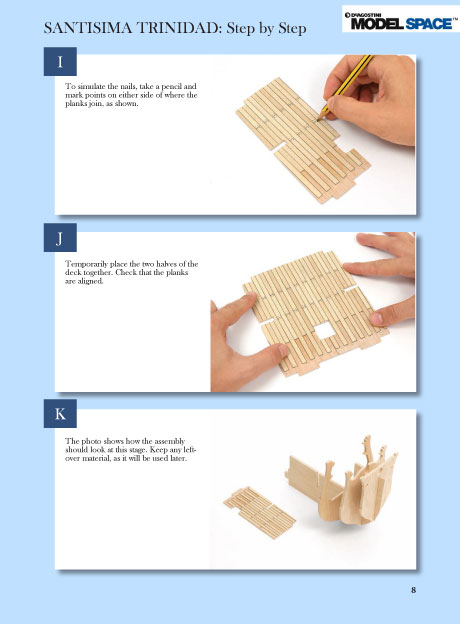 Through your building experience, you will have help from our experts with the easy-to-follow step-by-step assembly guide. You can take a look also at our exclusive Santisima Trinidad Forum and discuss with fellow modelers.
Even as a model-making novice, you can build this unique 1:90 scale model together in easy stages, learning the skills as you go.
Your Build consists of 33 Packs. Each Pack has 5 stages. CLICK HERE for more details.

Download Step-by-Step Assembly Guide
2015-03-12 06:41:48

This is my first plank on frame ship build, I choose a Model Space kit as I can pay for it monthly and they provide detailed step by step instructions aimed at the novice like myself. The detailing and materials on this ship are amazing, lots of dark hard wood being used to really help the detail stand out right down to the tiny cannons. With the inclusion of the X section this was the obvious choice for my first plank on frame build as I will now have two models to display. I would highly recommended this, the most poserful warship of the age of sail

2014-08-25 18:13:00

Even though at the time of writing I am very early on in this build it is clear even now that this is going to be a real beauty! No expense has been spared on the materials used in this partwork including some lovely hardwoods which will add amazing colour contrast should you choose not to paint it. There is also a cross section build included in the delivery and this is built alongside the main build over the weeks and months, and not as an add-on at the end as in the Victory build. This provides a nice change in the build routine and keeps the interest up along the way. Fantastic kit of a beautiful ship!

2014-08-25 17:33:49

I have been building this ship for a while now and must say its a joy to build and the instructions are clear and precise. The selection of hardwoods provided are well chosen and give a good contrast to the build that can be built painted or unpainted. The inclusion of the X-Section as part of the main build sequence gives a welcome break as you progress. All in all a great kit and build I would reccomend to any avid ship builder
The first pack of your order / complete kit will be delivered to you FREE of charge within approximately 5 working days from the date your order has been confirmed. If you don't like your first pack/complete kit, you can return within 14 working days of receiving the first delivery from us with any seals and shrink-wrap intact. Please contact us to find out our return address and how to send your first pack back to us for a refund
We believe that you will be 100% satisfied with your scale model but in some cases, you might need to cancel your subscription. There is no commitment and so no obligation to continue your subscription. If you wish to cancel your subscription at any time after the 14 working days following receipt of your first pack, you are free to do so at any time. However, we would advise that you provide us with 28 days notice of cancellation as otherwise pack/s may already be on their way to you and we will be unable to prevent the delivery. Please let us know by contacting us for cancellation of your subscription.