Spitfire | 1:12 Model
Build a fabulous model of the Supermarine Spitfire Mk Vb in 1:12 scale, the most famous fighter plane of World War II. This detailed reproduction is constructed from high-quality aluminium and wooden parts. The Spitfire will delight every model aircraft enthusiast, from the beginner to the expert alike.
Choose your option:
Pay-as-you-build or buy the Full kit!
Free Gifts
LIGHT KIT -This light set is a reproduction of the original Spitfire detail. Set includes: Flashlight, Connections, Switch, Battery holder compartment - with your 10th (tenth) delivery.
Key Features of the Supermarine Spitfire Mk Vb
Year of manufacture
1941
Type
Fighter/interceptor monoplane
Engine
12-cylinder 'V' Rolls-Royce Merlin
Performance
Maximum speed 597km/h at an altitude of 6,096m: ceiling altitude 11,200m
Flying range
760km
Weapons
Two Hispano Mk I/II 20mm cannons; four Browning 7.7mm machine-guns mounted in the wings
Model Details
Aluminium and wooden parts | Signal lights and landing gear lights | High-quality material | Officially Licensed through the Royal Air Force (RAF)
Overall Dimensions
Length: 760mm | Wingspan: 935mm | Scale: 1:12
Clear step-by-step instructions show how to assemble and finish the parts - every step of the way. Even if you've never tried this type of project before, you'll be able to put your Spitfire together in easy stages, learning the skills as you go.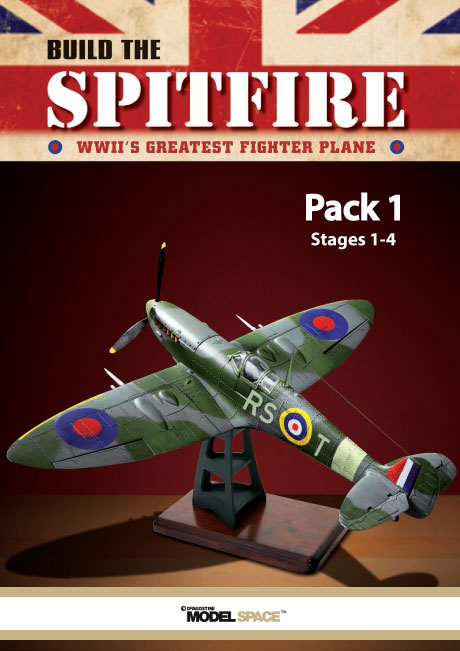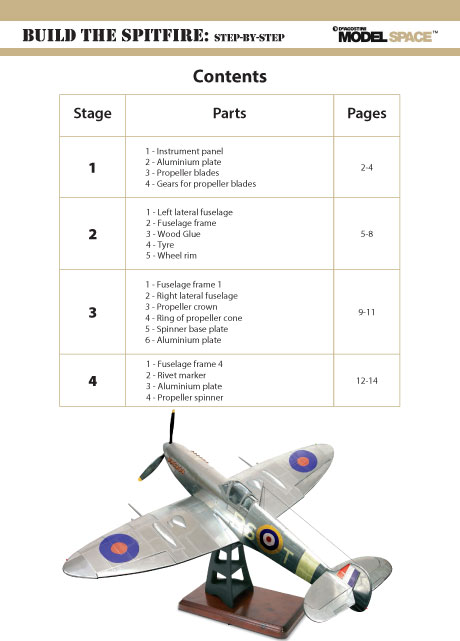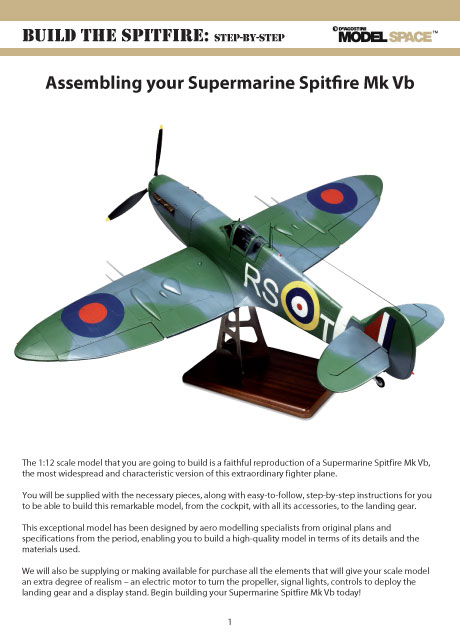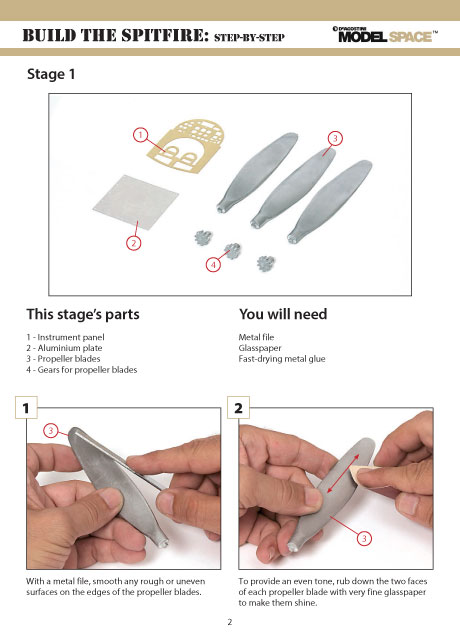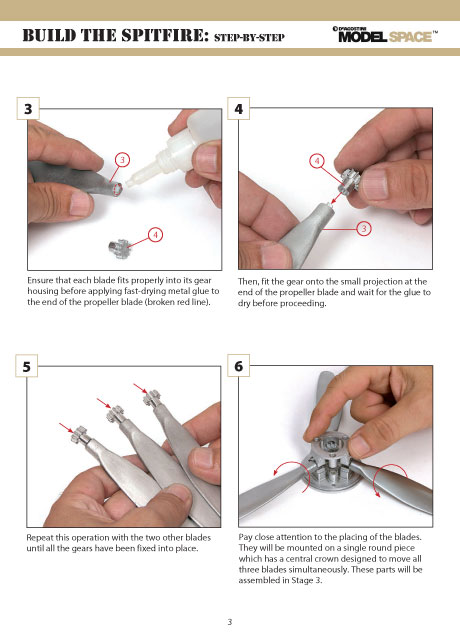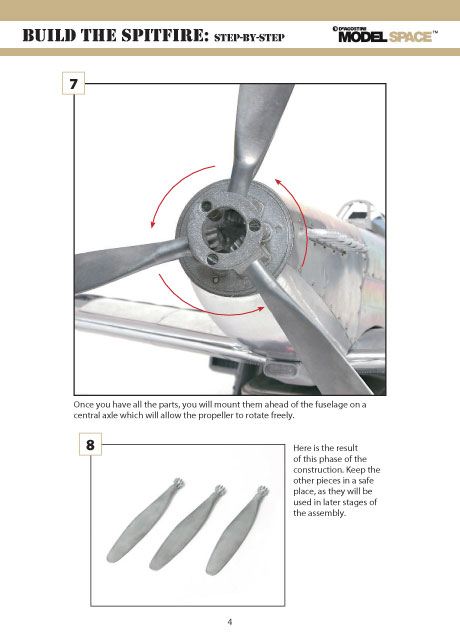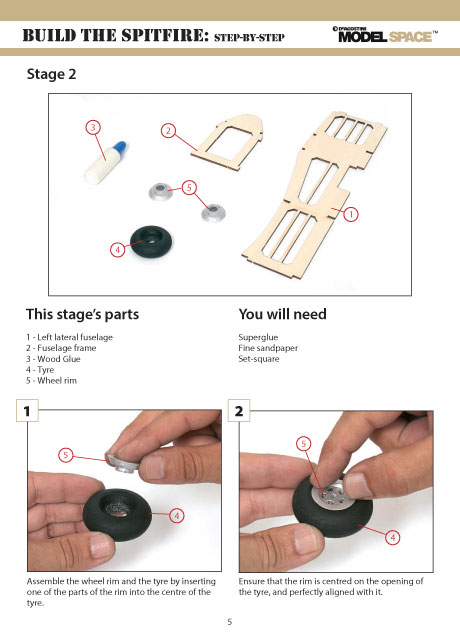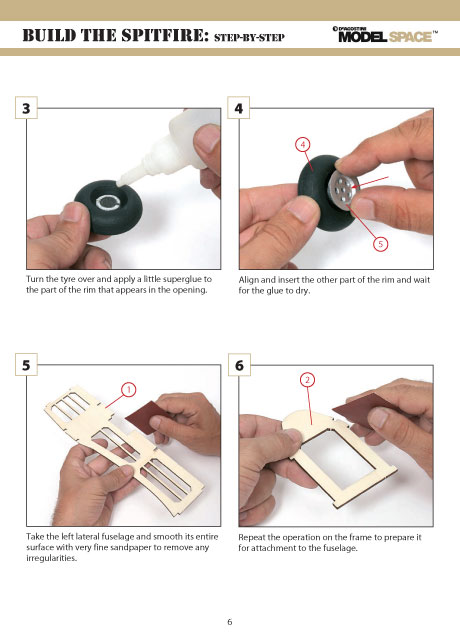 Through your building experience, you will have help from our experts with the easy-to-follow step-by-step assembly guide. You can also watch our Official Video Build Diary on Youtube or take a look also at our exclusive Spitfire Forum and discuss with fellow modellers.
Even as a model-making novice, you can build this unique 1:12 scale model together in easy stages, learning the skills as you go.
Build Diary, Pack 1, Stage 1
Build Diary, Pack 1, Stage 2
Build Diary, Pack 1, Stage 3
Build Diary, Pack 1, Stage 4
2015-03-20 16:15:25

Where are the option features listed for sale ?

2014-10-04 16:32:52

Well, firstly such an Iconic aircraft. This collection and end resulting model must therefore be of the finest quality. I have built 20 issues of the 40 ish I`ve received and the part quality is" BRILL". You will need some very basic woodworking tools (no major outlay), so should appeal to anyone with the most basic skills. That said, the instructions supplied are of a very good standard, with written instructions that are easy to follow and step by step pictures to aid part identification and assembly. Will update this review at a later date. If you want to build one of Britain`s most Iconic pieces of history, then this should be on your "wish list" Regards Derek

2014-10-03 18:01:33

For anyone wanting an introduction to working with wood and metal then I highly recommend DeaGostini's "Build the Spitfire". The step by step build sequences and quality of laser cut parts make this 1/12 scale Iconic fighter a joy to build Whatever your experience in model making. When you build the fuselage and wings you will learn the art of creating the lines that gave this stunning fighter its place in history.

2014-10-02 19:35:22

The Spitfire, a truly iconic fighter that has been a favourite of many modellers all over the world and of all ages. This kit is truly fabulous in its design, construction and overwhelming detail right down to the rivets on the panelling. The frame is constructed using quality wooden parts to which aluminium panelling is fixed, this can either be polished to give a quality shine or if you prefer painted in its customary livery. Instructions for completion are very easy to follow, designed to appeal to beginners and experienced modellers alike. There are multiple members diaries available on the Modelspace forum packed full of tips and techniques to bring this model to life. There is also an Official Build Diary that will take you through each and every stage of the build, this diary is available not only in its written format, complete with pictures but also in the form of video clips for every stage... The 1:12 scale really brings out the best of the detail this kit has to offer and at a very affordable monthly subscription..... Would recommend this kit as a must have item for any modeller and doubt any purchaser would be disappointed with the quality on offer.. Good luck to all who decide to build this iconic fighter kit.. Regards Alan
The first pack of your order / complete kit will be delivered to you FREE of charge within approximately 5 working days from the date your order has been confirmed. If you don't like your first pack/complete kit, you can return within 14 working days of receiving the first delivery from us with any seals and shrink-wrap intact. Please contact us to find out our return address and how to send your first pack back to us for a refund
We believe that you will be 100% satisfied with your scale model but in some cases, you might need to cancel your subscription. There is no commitment and so no obligation to continue your subscription. If you wish to cancel your subscription at any time after the 14 working days following receipt of your first pack, you are free to do so at any time. However, we would advise that you provide us with 28 days notice of cancellation as otherwise pack/s may already be on their way to you and we will be unable to prevent the delivery. Please let us know by contacting us for cancellation of your subscription.