Suzuki Hayabusa GSX 1300R | 1:4 Model
Suzuki Hayabusa GSX 1300R | 1:4 Model
Build the world's fastest production motorbike the Suzuki GSX 1300R Hayabusa in 1:4 scale. This superbly finished scale model is a perfect miniature replica of the ultimate sports bike.

The Hayabusa's combination of power and super-efficient aerodynamics enabled it to hit a top speed beyond 300km/h, making it the fastest production motorcycle of the millennium.

Choose your option: Pay-as-you-build or buy the full kit!
Free Gifts
TOOLBOX AND SCREWDRIVER - Part of your collection will include a specially-designed Suzuki Tool Bag & screwdriver. The perfect partner to assist with your build, included with your 4th delivery.
Key Features of the Suzuki GSX 1300R Hayabusa
Every detail of the engine, frame, suspension and other components is faithfully matched to the original Suzuki motorcycle
A sleek black display base will complement your model. It contains electronic circuitry and controls for the lighting
A sound chip and speaker to give sampled authentic engine sounds from the actual bike
Your Hayabusa has fully functioning miniature lights (including turn indicators) controlled from the display base
Part of your collection will include a specially-designed Suzuki Tool Bag & screwdriver
Model Details
1:4 scale | Made of ABS, HIPS and die-cast metal | High-quality parts | Officially licensed replica | Weighs over 7kg.
Overall Dimensions
Length 535mm | Height 290mm | Width 185mm
Clear step-by-step instructions show how to assemble and finish the parts - every step of the way. Even if you've never tried this type of project before, you'll be able to put your Suzuki GSX 1300R Hayabusa together in easy stages, learning the skills as you go.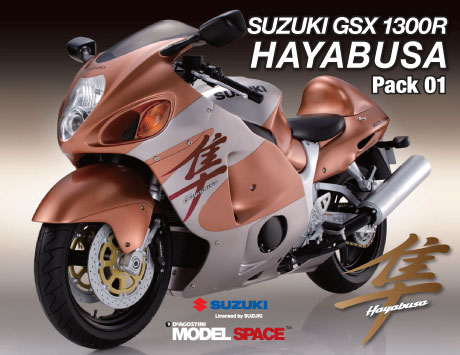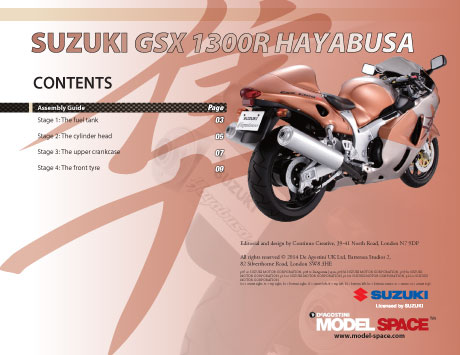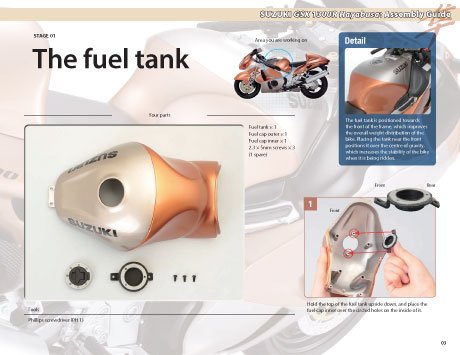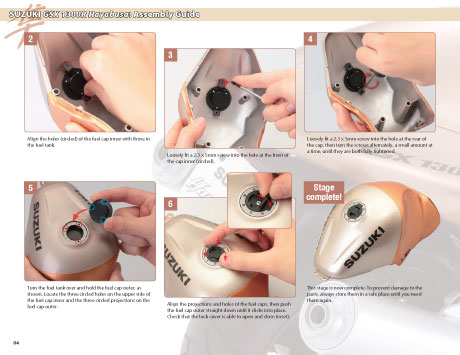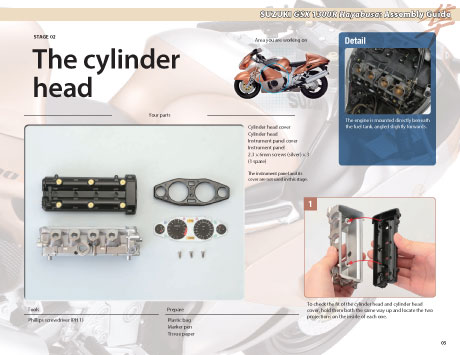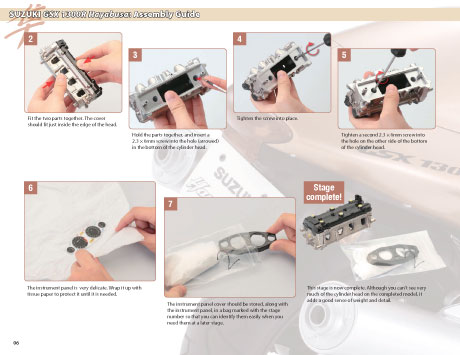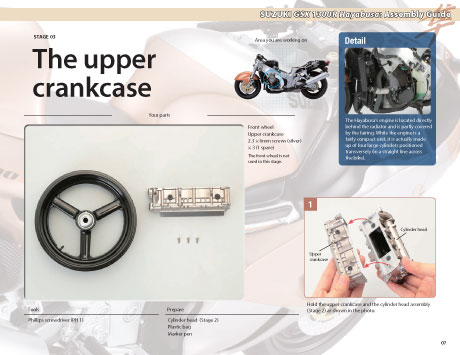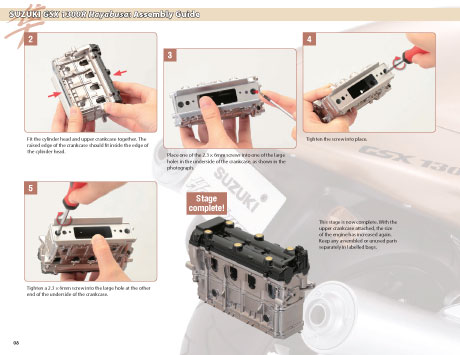 Through your building experience, you will have help from our experts with the easy-to-follow step-by-step assembly guide. You can also watch our Official Video Build Diary on Youtube or take a look also at our exclusive Suzuki GSX 1300R Hayabusa Forum and discuss with fellow modelers.
Even as a model-making novice, you can build this unique 1:4 scale model together in easy stages, learning the skills as you go.
Build the Suzuki Hayabusa
Build Diary, Pack 1, Stage 1
Build Diary, Pack 1, Stage 2
Build Diary, Pack 1, Stage 3
Build Diary, Pack 1, Stage 4


Your Build consists of 24 Packs. Each Pack has 3-4 stages. CLICK HERE for more details.

2017-01-24 16:42:56

When I first saw this kit I was impressed, but once I started receiving the parts I was blown away by the quality and how much detail it had. The instructions were simple to follow and once completed the model looks awesome.

2015-03-20 15:58:13

If there was ever a bike that deserves to be in this scale then it has to it. What an amazing kit it is at that, the detail is outstanding and the feel of the quality parts are some of the best I've ever seen on something of this scale. If your in to your bikes then you have to add this iconic super bike to your collection.

2014-10-04 11:45:06

The quality of this partwork looks phenomenal, if you take a look at at the parts close up in the official build diary for instance then you would be forgiven for thinking they were the real thing. There is no better modern bike build - Take a minute to picture the overall size and weight of this one...7kg, 535mm long...it's a beast :-)
The first pack of your order / complete kit will be delivered to you FREE of charge within approximately 5 working days from the date your order has been confirmed. If you don't like your first pack/complete kit, you can return within 14 working days of receiving the first delivery from us with any seals and shrink-wrap intact. Please contact us to find out our return address and how to send your first pack back to us for a refund
We believe that you will be 100% satisfied with your scale model but in some cases, you might need to cancel your subscription. There is no commitment and so no obligation to continue your subscription. If you wish to cancel your subscription at any time after the 14 working days following receipt of your first pack, you are free to do so at any time. However, we would advise that you provide us with 28 days notice of cancellation as otherwise pack/s may already be on their way to you and we will be unable to prevent the delivery. Please let us know by contacting us for cancellation of your subscription.