Jaguar E-type | 1:8 Scale | Full Kit
Jaguar E-type | 1:8 Scale | Full Kit
Build your very own 1:8-scale reproduction of the Jaguar E-type, the world's best-loved classic.

Since its introduction, the E-type has been a classic symbol of luxury, performance and style, an object of desire for pop stars, Hollywood legends and racing drivers alike. Now, with the Build the Jaguar E-type magazine collection, you too can own a piece of this legend.

Now available as a Full Kit!


KEY FEATURES OF THE JAGUAR E-TYPE
Your model exactly reproduces every detail of the classic 1963 Jaguar E-type
Quality Materials and Finish
All the car's metal and plastic parts are prefinished with an authentic British Racing Green paint – or real chrome plate.

Tires
The model's intricately detailed wire wheels have individual spokes that accurately replicate the original pattern, and feature the classic knock-off hub caps.

Working Lights
The E-type's distinctive faired headlights, rear lights, brake lights and flashing indicators are all fully operational.

Opening Doors
Finely engineered door hinges allow access to the superbly detailed interior, revealing accurately reproduced controls, instruments, seating and upholstery.

Functioning Suspension
The independent suspension is replicated in miniature, with pivoted moving parts and springs that reveal the secret of the original car's legendary roadholding.
OVERALL DIMENSIONS
Length: 556.6mm | Height: 153.2mm | Width: 207.2mm | Scale: 1:8
Clear step-by-step instructions will show you how to assemble and finish the parts - every step of the way. Even if you've never tried this type of project before, you'll be able to put your Jaguar E-Type together in easy stages, learning the skills as you go.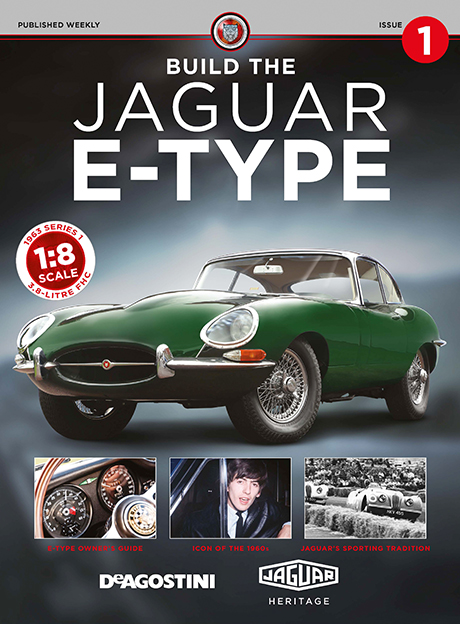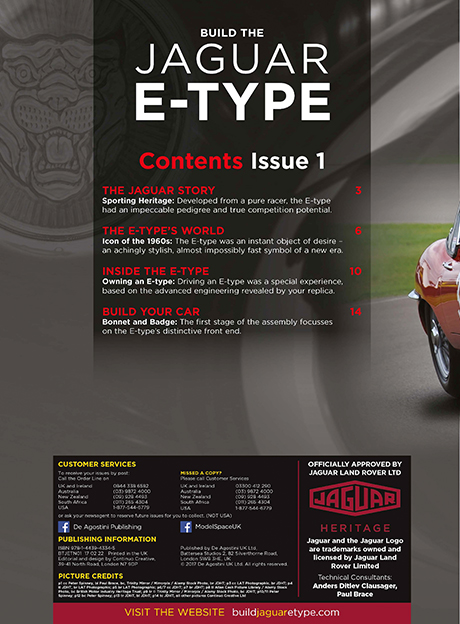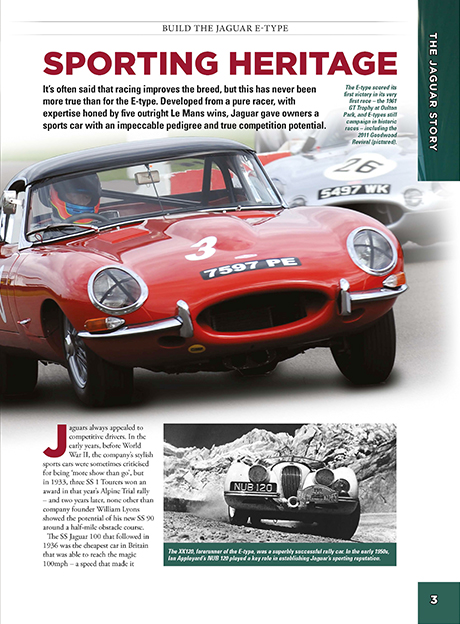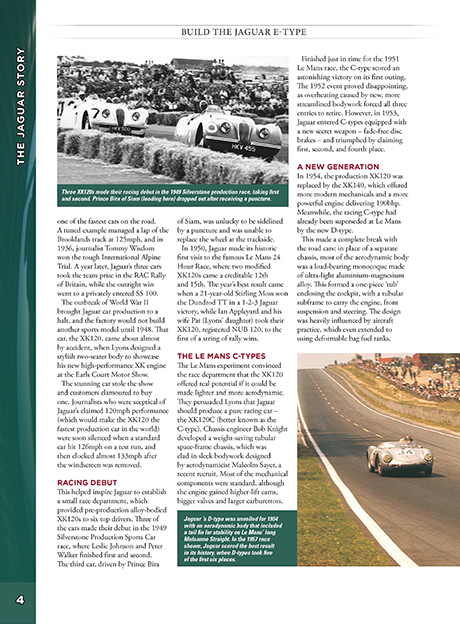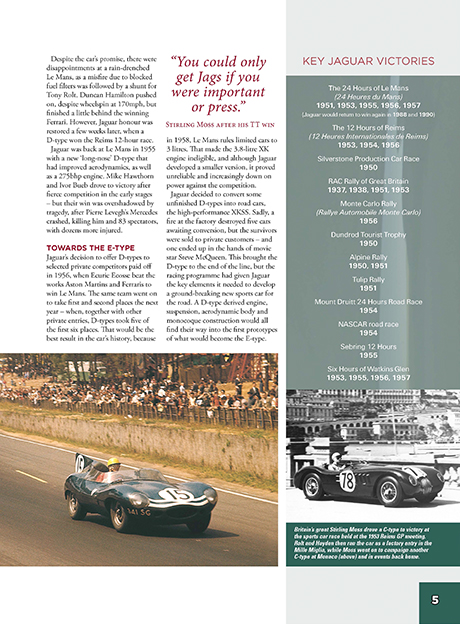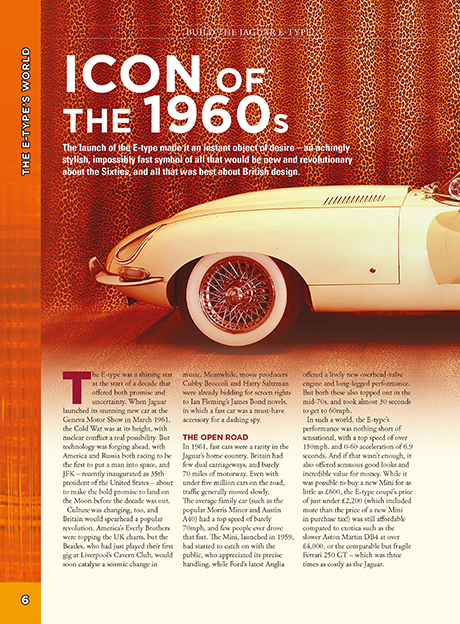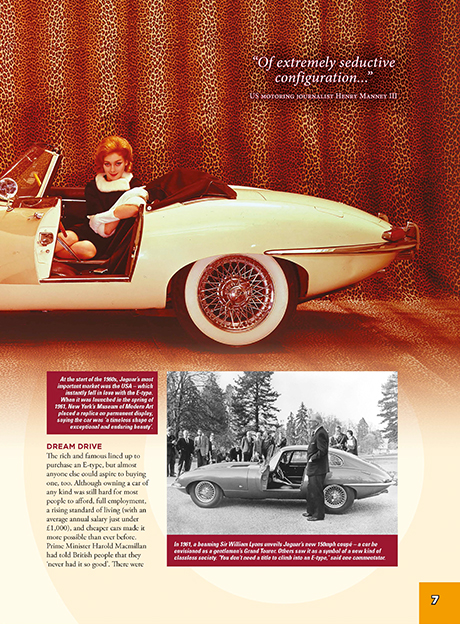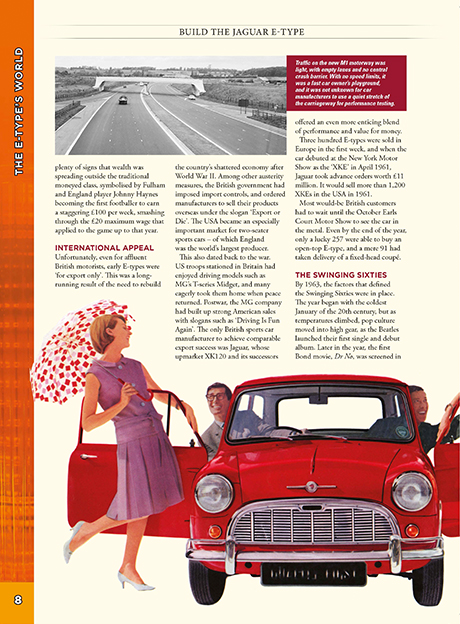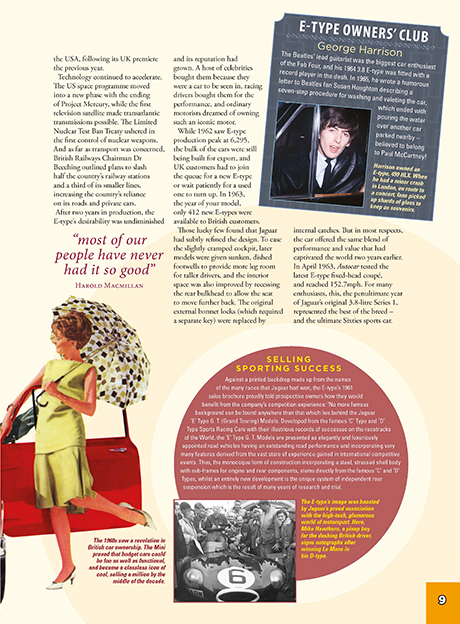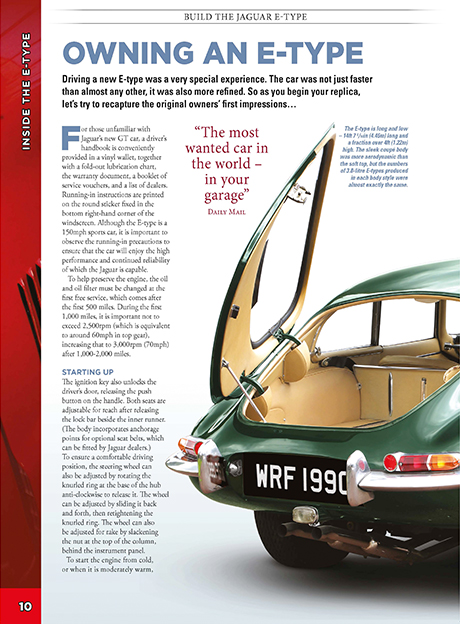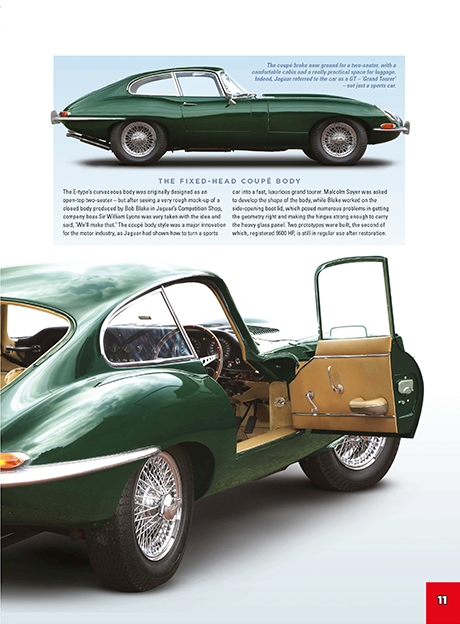 Through your building experience, you will have help from our experts with the easy-to-follow step-by-step assembly guide. You can take a look also at our exclusive Forum and discuss with fellow modelers. Even as a model-making novice, you can build the Jaguar E-Type together in easy stages, learning the skills as you go.

Where can I find the "Expert Tips" for building the wheels?

The wheel-building method used to build the spare wheel in stages 4 and 5 is a slightly simplified version of the actual spoking pattern used by Jaguar on the actual E-type. The visual differences in the finished wheels is almost imperceptible, but confident modellers who want added authenticity may wish to try the more complex 3-spoke spoking arrangement. This is demonstrated in detail in the issue 5 section of the build diaries thread on our forum, which you can find HERE.

DOWNLOAD THE PRODUCT OVERVIEW
The first pack of your order / complete kit will be delivered to you FREE of charge within approximately 5 working days from the date your order has been confirmed. If you don't like your first pack/complete kit, you can return within 14 working days of receiving the first delivery from us with any seals and shrink-wrap intact. Please contact us to find out our return address and how to send your first pack back to us for a refund
We believe that you will be 100% satisfied with your scale model but in some cases, you might need to cancel your subscription. There is no commitment and so no obligation to continue your subscription. If you wish to cancel your subscription at any time after the 14 working days following receipt of your first pack, you are free to do so at any time. However, we would advise that you provide us with 28 days notice of cancellation as otherwise pack/s may already be on their way to you and we will be unable to prevent the delivery. Please let us know by contacting us for cancellation of your subscription.