Build R2-D2 | 1:2 Scale | Full Kit
Build R2-D2 | 1:2 Scale | Full Kit
This magazine series celebrates the amazing technology of STAR WARS SAGA. Follow in the footsteps of the master film prop designers and assemble a MOVIE-ACCURATE, HALF-SIZE REPLICA of the most famous astromech in the galaxy.

Your R2-D2 is also an ADVANCED, AUTONOMAOUS DROID, with interactive intelligence, and multiple modes and functions.

Batteries not included
Order the Full Kit now!

Key Features of your R2-D2 Astromech Droids
Scale: 1:2
One-piece metal dome: R2-D2's real metal dome spins just like the original, enabling him to turn to face his owner, look around his environment and point his camera and projector in any direction without moving his body.
Dual mode: You can switch R2-D2 to operate under command or in autonomous 'AI' mode, when he will behave like the willful astromech in the movies.
Video/Still Camera: The video/still camera in R2-D2's head allows him to take snapshots and short video clips, which can be stored on your mobile device. You can turn his head to focus on any person or object in his field of vision, and his programming includes the ability to detect human faces.
Wi-fi enabled: Wi-fi receiver and transmitter, communicating with a tablet or smartphone.
Communication: via authentic chirps, whistles and colored light displays.
Projector: Just as in the Star Wars movies, R2-D2 is able to display holographic messages using a projector which can beam images of Princess Leia and Luke Skywalker onto any nearby flat surface.
Realistic Droid Movement: R2-D2 travels around through powerful drive motors in his feet, which allow him to move forward or backwards or spin on his axis, just like the droid does in the movies. His third leg provides stability, and he has sensors which are programmed to avoid obstacles and stairs.
Remote-control app-enabled: You can control R2-D2 directly from your Android or iOS smartphone or tablet. Steer him at will, see what he sees, and activate all his special features – including the pop-up lightsaber!
Pop-up lightsaber: As in Return of the Jedi, R2-D2 has a 'hidden extra' – Luke Skywalker's lightsaber, which will pop up on demand from the pneumatic ejection tube in his head.
Rechargeable battery: Inside R2-D2's chassis is a high-energy battery pack that stores power for his drive motors, robotic mechanisms and internal electronics. He comes with his own charging station which hooks up to his external coupling – and when his energy levels become low, his warning lights will indicate the need to recharge. Battery not included with series.
Status displays: Including malfunction/diagnostic warnings.
Microphone and speaker: R2-D2 is able to react to his human owner's voice commands. R2-D2 is programmed to respond to trigger words (such as 'good morning' or 'wake up') and he understands a number of simple voice commands that control his key functions. The droid will respond to his owner's requests with a realistic range of reactions.
Extending arms: As in the movies, R2-D2 can extend his spacecraft linkage and control arms on command, and they also operate when R2-D2 is in autonomous 'AI' mode. The flaps on his body conceal hidden droid manipulator arms and probes, which you can extend at will.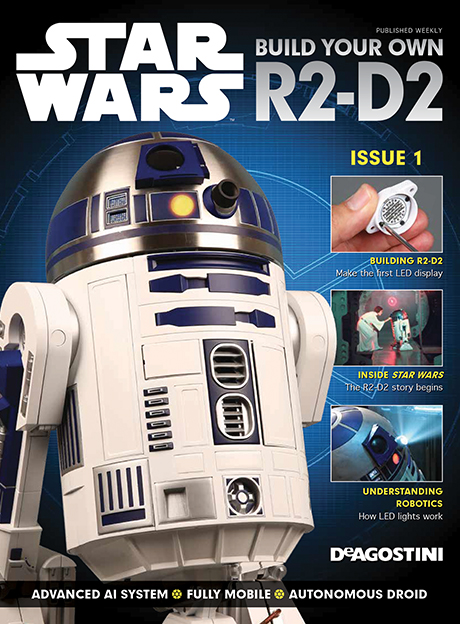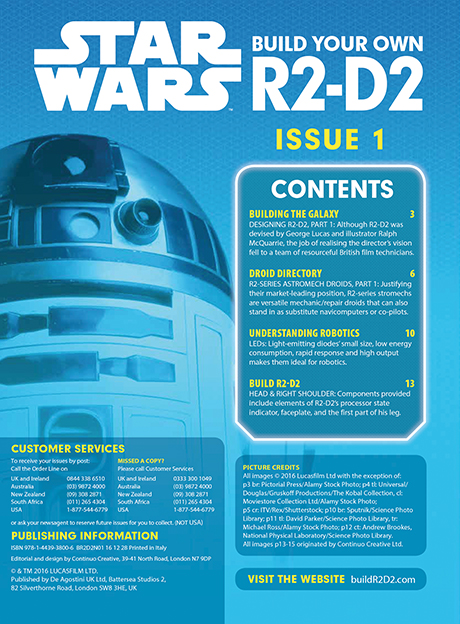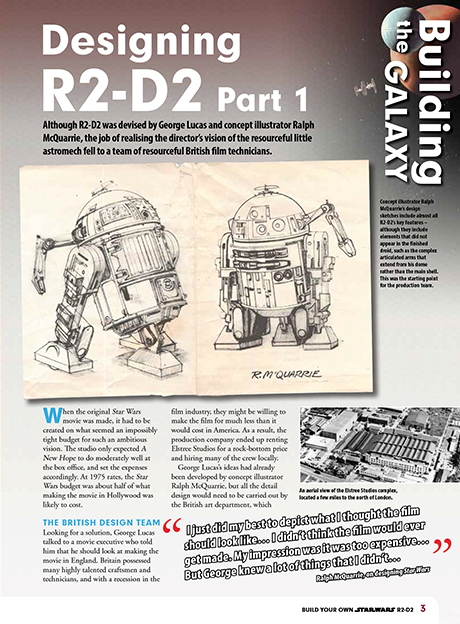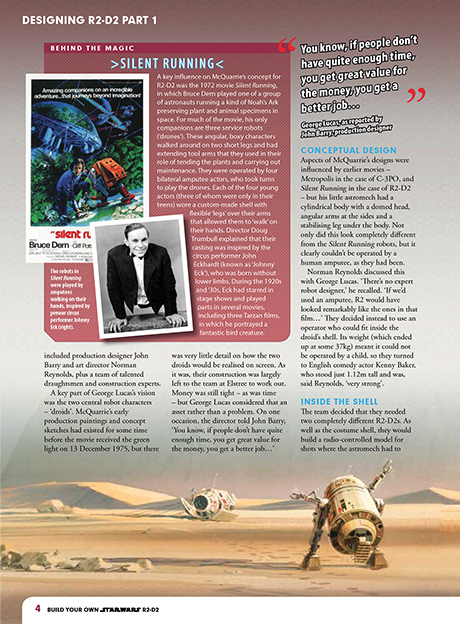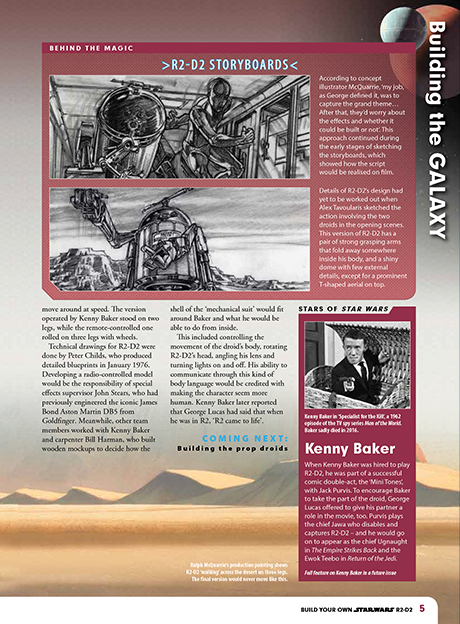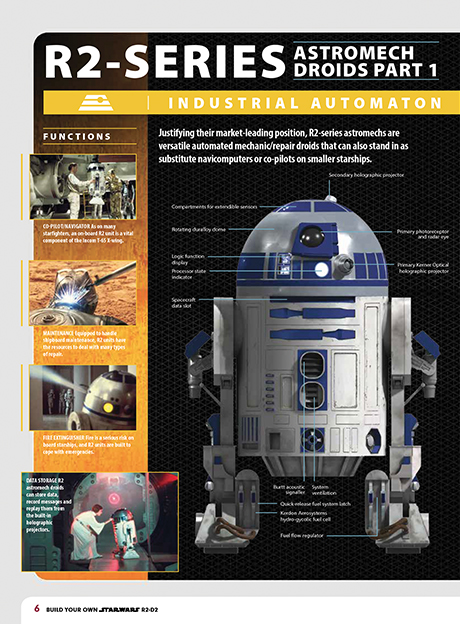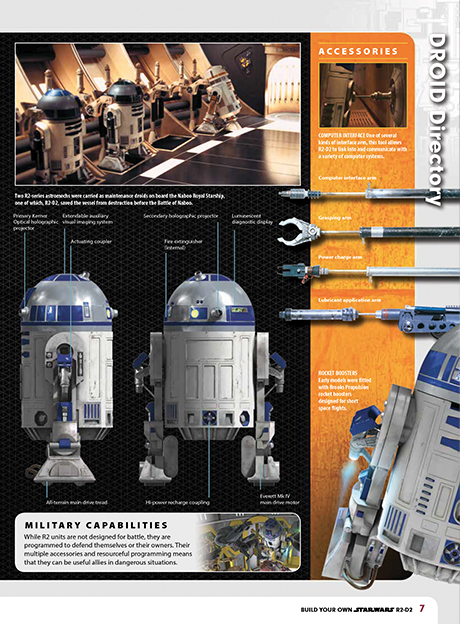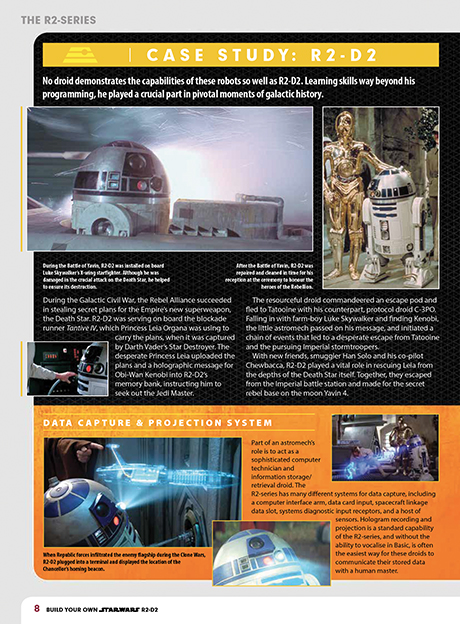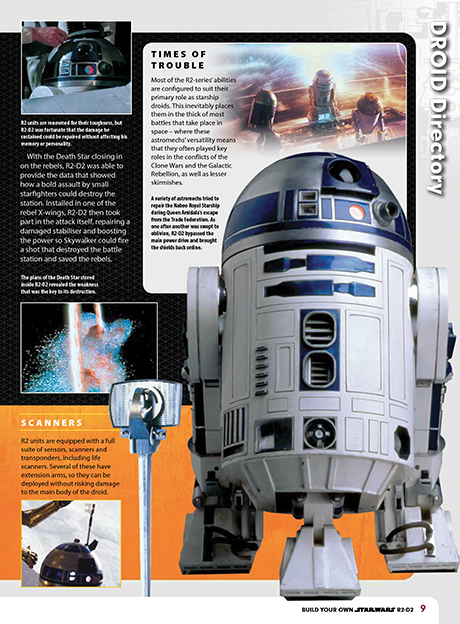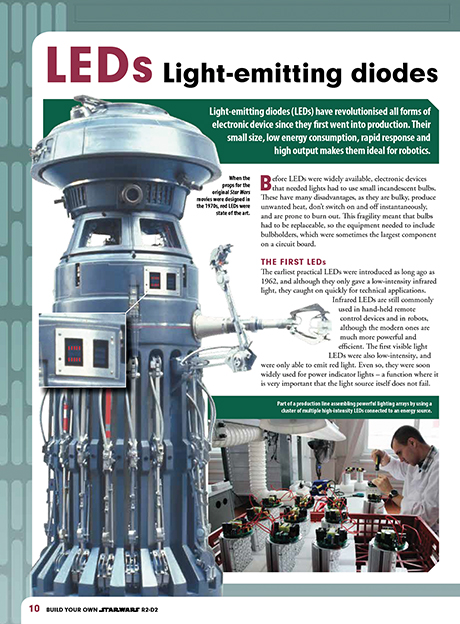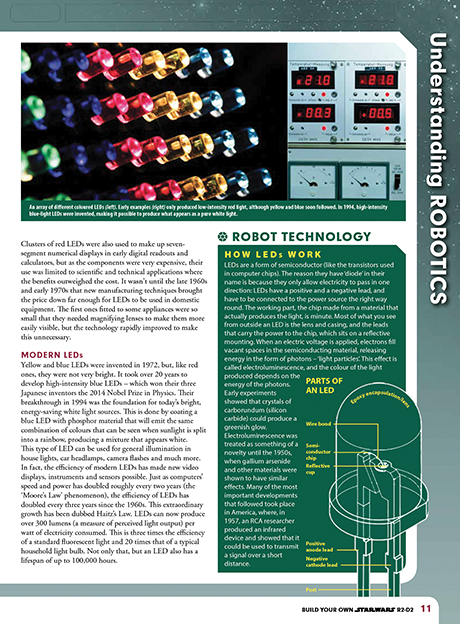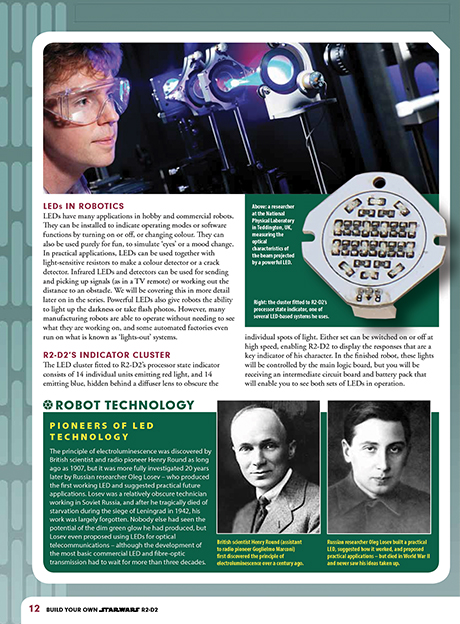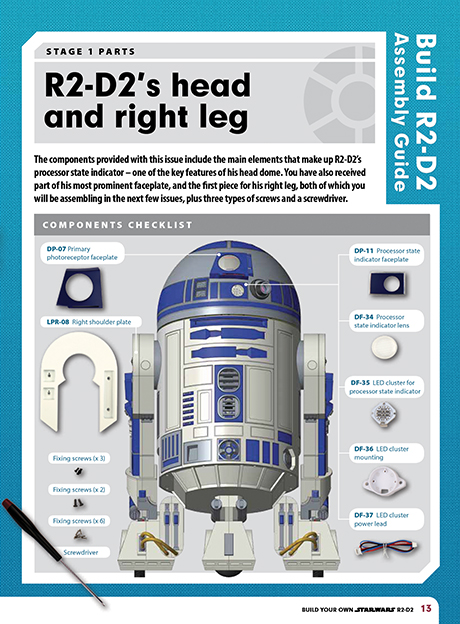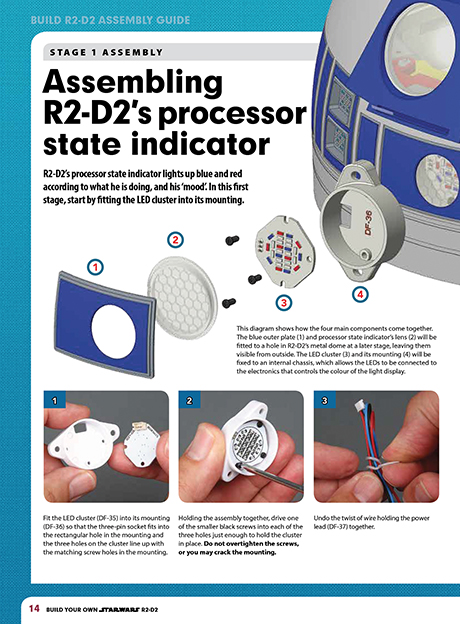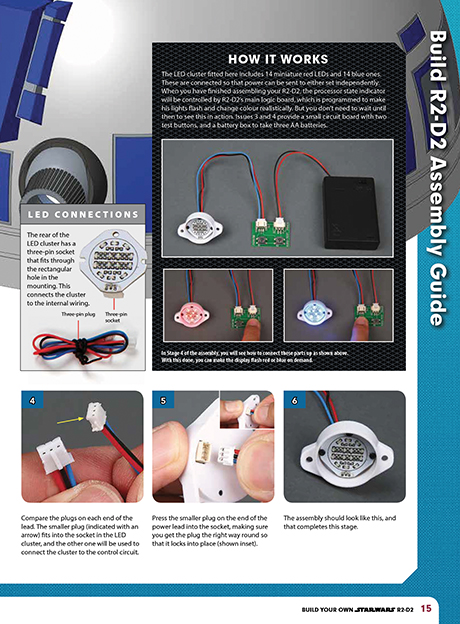 You will build your R2-D2 from components engineered to look just like the original Star Wars props – plus state-of-the-art modern electronic components. Taking inspiration from the remote-controlled film prop, your fully functioning half-scale model R2-D2 is engineered in the same way, and has been authentically detailed based on the droid seen on screen. Once assembled, you can choose whether to retain the factory-fresh finish, or give your astromech a weathered, 'used' appearance as in the movies.

When your R2-D2 is complete, you will be able to download the special control app to your smartphone or tablet. Then fit the rechargeable batteries, switch on and connect R2-D2 to your wi-fi network. With his sensors, camera, microphones, sophisticated logic boards and powerful motors, R2-D2 can interact with his owner, move and behave just like the astromech from the Star Wars movies.
R2-D2 Droid Control App
The R2-D2 Droid Control App is now available to download on the following App stores:
Google Play - https://play.google.com/store/apps/details?id=com.bullb.r2d2
App Store - https://itunes.apple.com/gb/app/r2-d2-droid-control/id1403826626?mt=8

Please note this app is only for use with a mobile phone with the following system requirements:
- Apple iPhone 5S or later running iOS 11 or higher.
- Android smartphones running OS 4.4 KitKat or higher.
- Apple iPad running iOS 11 or higher.

If you have an android tablet and encounter a problem with the app on your device, please contact our customer service team with the details of your device, its Operating System ( iOS / KitKat ) and the problem you are experiencing in order to provide the relevant fix. customercare@deagostini.co.uk

Once it is installed on your device, please refer to the online User guide in our downloads section for detailed instructions on using it to control R2-D2.

If you need any further advice, please contact customercare@deagostini.co.uk
DOWNLOAD THE R2-D2 DROID CONTROL APP FROM GOOGLE PLAY >>
DOWNLOAD THE R2-D2 DROID CONTROL APP FROM THE APP STORE >>
Batteries for Your R2-D2
These batteries are optimised for use in R2-D2, but other suitable batteries are available from independent suppliers.

Important Do not charge the batteries, attempt to fit them into the battery box, or install them in R2-D2 until instructed, when all the internal wiring is connected up.

Battery Specs Info Sheet >>
Loading up your Batteries – Instructions >>

COMING SOON - a link to order batteries optimised for use in your R2-D2 droid. More information will be available shortly.
The first pack of your order / complete kit will be delivered to you FREE of charge within approximately 5 working days from the date your order has been confirmed. If you don't like your first pack/complete kit, you can return within 14 working days of receiving the first delivery from us with any seals and shrink-wrap intact. Please contact us to find out our return address and how to send your first pack back to us for a refund
We believe that you will be 100% satisfied with your scale model but in some cases, you might need to cancel your subscription. There is no commitment and so no obligation to continue your subscription. If you wish to cancel your subscription at any time after the 14 working days following receipt of your first pack, you are free to do so at any time. However, we would advise that you provide us with 28 days notice of cancellation as otherwise pack/s may already be on their way to you and we will be unable to prevent the delivery. Please let us know by contacting us for cancellation of your subscription.