Douglas DC-3 | 1:32 Model | Full Kit
Douglas DC-3 | 1:32 Model | Full Kit
The legendary Douglas DC-3 is one of the most important aircraft in aviation history. This superb 1:32 scale model is 24 inches long with a wingspan of more than 35.4 inches, and every detail of the original faithfully recreated.

Order your Douglas DC-3 full kit online today and receive everything in one shipment. Comes complete with a beautifully illustrated magazine also tells you the story of the DC-3 and your detailed Assembly Guide.
✔ USA, Canada & Mexico
✔ 6 to 8 working days
✔ Easy return
We accept:

Free Gifts
Riveting tool kit - Free with your order.The riveting tool has a total length of 4.9 inches. It includes a toothed wheel to allow engraving rivets by making it roll on the surface. The diameter of this wheel is 11.75 mm and the distance between every tooth and the next one is 1 mm; this translates in a correct line of rivets for 1/32 aircraft.
Key Features of the Douglas DC-3
Year of manufacture
The DC-3 was produced in a long series of variants in the course of the 1930s and 1940s.
Performance
The propeller-driven Douglas DC-3 had a cruising speed of 207 mph (333km/h) and a range of 1,500 miles (2,4000km)

Engines DC3-A Version
2 Pratt & Whitney Twin Wasp R-1830-S1C3G radial engines 14 cylinders, air-cooled
Design
Designer Arthur E.Raymond (1899-1999), who helped to create the DC-3, became Chief Engineer, then Vide-President of the Douglas aircraft company. He later collaboarted with NAS on the de sing of the Gemini and Apollo missions
Authentic interior
Cutaway sections reveal the authentic interior detailing, such as the seating in the passenger cabin and the cockpit
Pan American World Airways
Decals provided with your parts recreate the livery of a classic Pan Am DC-3
Model Details
Laser-cut plywood, die-cast metal and photo-etched component | Working parts include the landing gear, doors and ailerons | High-quality material | Officially Licensed through Boeing
Overall Dimensions
Length: 24 inches | Wingspan: 35.4 inches | Scale: 1:32
Clear step-by-step instructions show how to assemble and finish the parts - every step of the way. Even if you've never tried this type of project before, you'll be able to put your Douglas DC-3 together in easy stages, learning the skills as you go.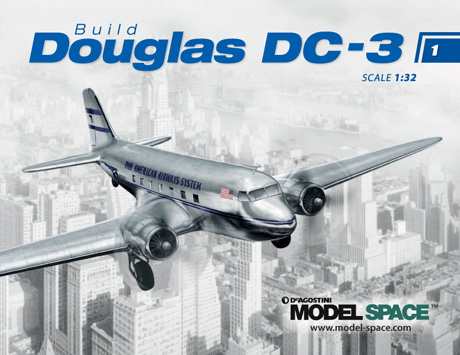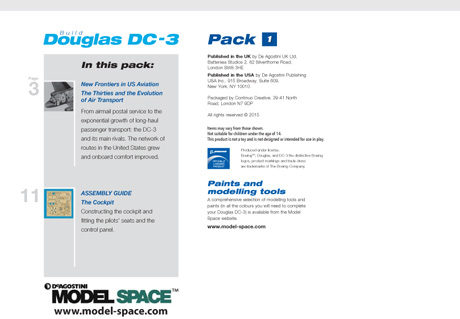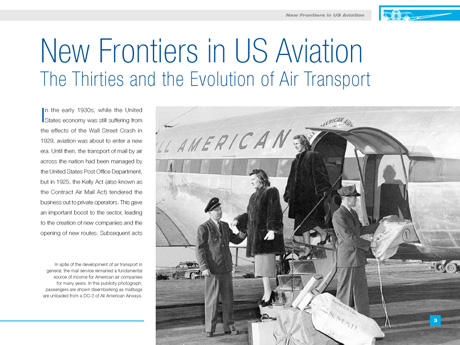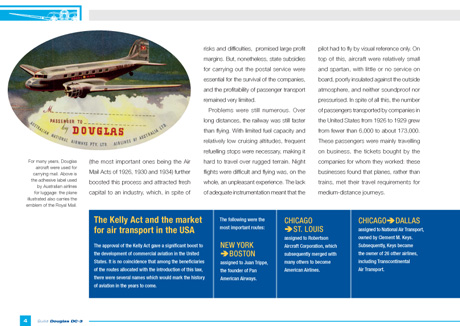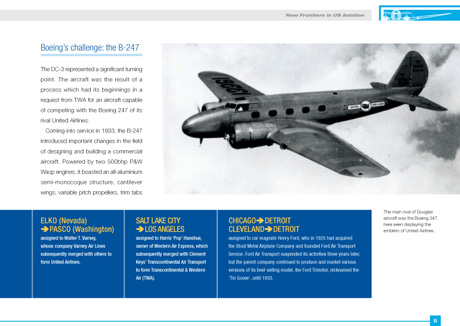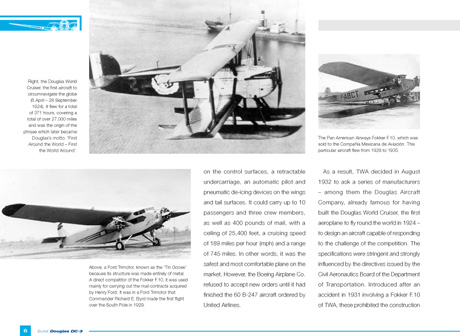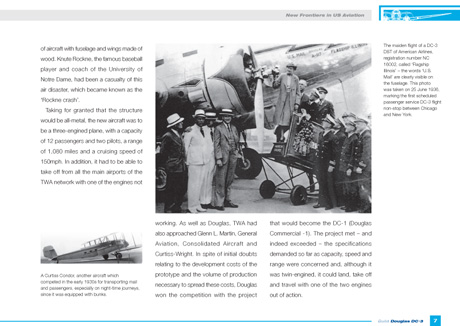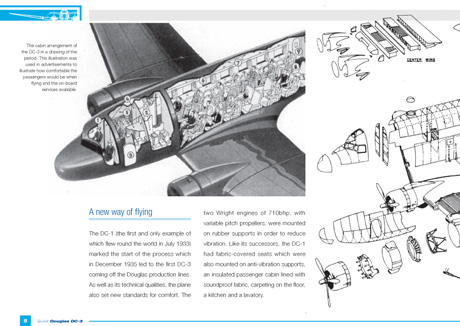 Through your building experience, you will have help from our experts with the easy-to-follow step-by-step assembly guide. You can also watch our Official Video Build Diary on Youtube or take a look also at our exclusive DC-3 Forum and discuss with fellow modellers.
Even as a model-making novice, you can build this unique 1:32 scale model together in easy stages, learning the skills as you go.
Your step-by-step instructions are available to download directly from us under the Download Section. Click here
Build Diary, Pack 1, Stage 1
Build Diary, Pack 1, Stage 2
Build Diary, Pack 1, Stage 3
Build Diary, Pack 1, Stage 4
The first pack of your order or your complete kit will be delivered to you within approximately 6 to 8 working days from the date your order has been confirmed.
We ship to Canada. Shipping costs are the same for Canada as USA.
If for some reason you need to return a shipment please contact customer service at 877-544-6779 or via email at customerservice@deagostiniusa.com to obtain authorization. We will send you via email a prepaid UPS label that you can print and adhere to the shipping box and drop at your local UPS store or UPS drop box.
If you are not completely satisfied and would like to cancel your model subscription please contact customer service at 877-544-6779 or via email at customerservice@deagostiniusa.com. We will refund your latest month subscription pack received in the prior 30 days.