Lamborghini Huracán
The innovative RC model of the Lamborghini Huracán.

Build and Drive this incredible, highly detailed 1:10 scale replica of the Lamborghini Huracán supercar, bringing new standards of design, technology and performance to the world of RC cars.

Choose your option:
12 months subscription: 12 monthly shipments of $109.99 plus $9.99 S&H per shipment
Full Kit: receive your scale model in one shipment of $1,299.99 plus $39.99 per shipment
✔ USA, Canada & Mexico
✔ 6 to 8 working days
✔ Easy return
We accept:

Free Gifts
Exclusive gifts for your RC Lamborghini Huracan
With Pack 3

You will receive a comprehensive tool-kit to assemble your Lamborghini Huracan (1 screwdriver handle, 1 rigid arm, the first flexible arm, 42 different tips)

With Pack 5

The essential Glowstarter (Ni - MH Battery, 1800 mAh, for models in scale 1:8 and 1:10

With Pack 12

A sophisticated 2.4GHz remote control with a double Led battery indicator, a pistol grip, 2 channel TX, a high adherence handwheel, a regulation trim for steering wheel and gas/brake
Key Features of the Lamborghini Huracán
Realistic engine
A unique feature of this engine is that it has a cylinderhead cooling system that reproduces the upper part of the V10 engine mounted in the full-size Lamborghini Huracán.
Four exhaust pipes
The silencer has been specially designed, and it feeds the exhaust gases out through four exhaust pipes projecting from the rear of the car.
Two-speed gearbox
Two-speed automatic transmission for rapid acceleration and impressive top speed.
Belt transmission
The transmission of power from the engine to the front and rear axles is through a series of toothed belts.
Suspension
Each wheel is independently suspended individually , each with its own coil spring and adjustable shock absorbers .
Model details
Scale 1:10 | Engine: Nitro, 3cc | Transmission: Bel | Drive: All-wheel | Gearbox: Two-speed auto | Suspension: Independent | Brake: Single disc
Overall dimensions
15.35 x 7.87 x 6.88 inches | Weight: c. 1,800g | Fuel tank: 70ml

Each pack contains a beautifully illustrated guide to the unmistakable Lamborghini style, revealing the design secrets of classic models from one of the world's leading builders of supercars. To help you get the most from your Huracán, there is a comprehensive technical guide packed with tips and information on adjusting its set-up and perfecting your driving techniques. Finally, the clear, step-by-step assembly instructions will ensure that building your model is an enjoyable and rewarding process.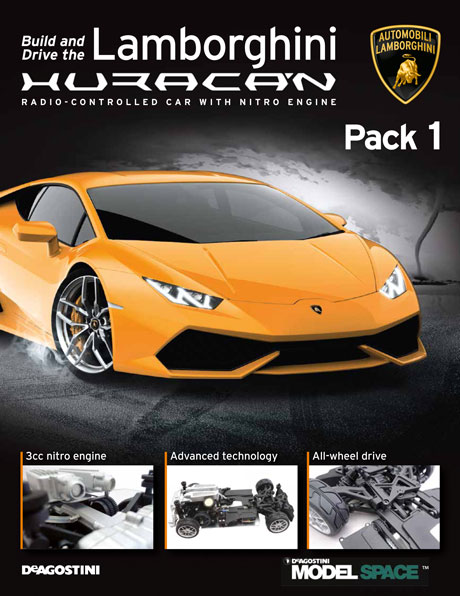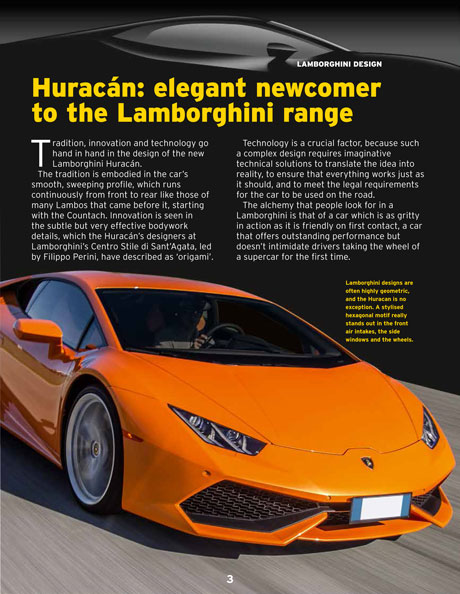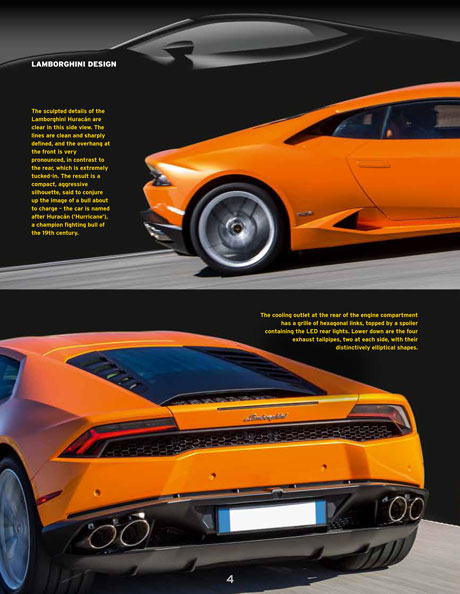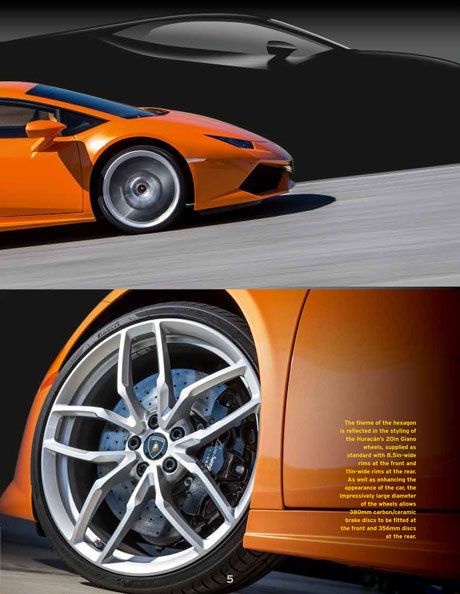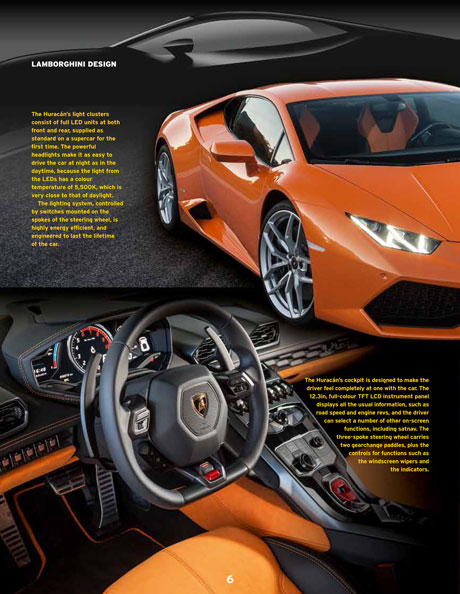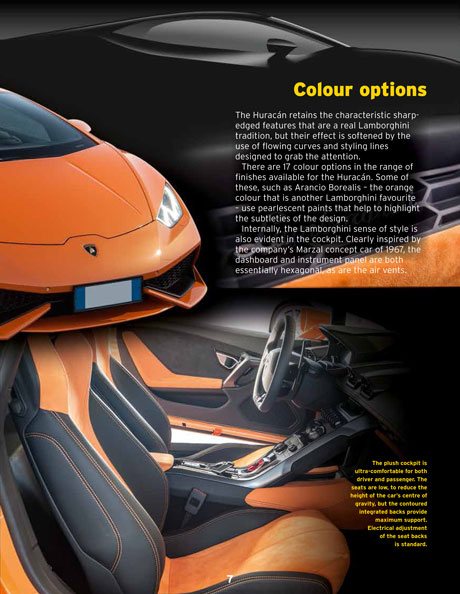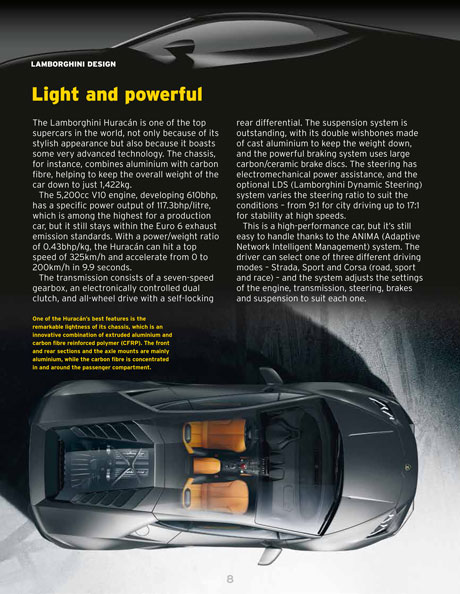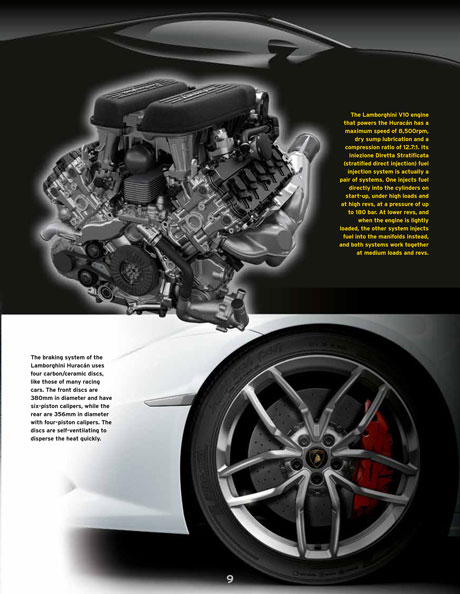 Through your building experience, you will have help from our experts with the easy-to-follow step-by-step assembly guide. You can take a look also at our exclusive Build the Lamborghini Huracán forum and discuss with fellow modellers.
Even as a model-making novice, you can build this unique 1:10 scale model together in easy stages, learning the skills as you go.
Build & Drive the Lamborghini Huracán
Build Diary, Pack 1, Stage 1
Build Diary, Pack 1, Stage 2
Build Diary, Pack 1, Stage 3
Download more information about the Lamborghini Huracán
The first pack of your order or your complete kit will be delivered to you within approximately 6 to 8 working days from the date your order has been confirmed.
We ship to Canada. Shipping costs are the same for Canada as USA.
If for some reason you need to return a shipment please contact customer service at 877-544-6779 or via email at customerservice@deagostiniusa.com to obtain authorization. We will send you via email a prepaid UPS label that you can print and adhere to the shipping box and drop at your local UPS store or UPS drop box.
If you are not completely satisfied and would like to cancel your model subscription please contact customer service at 877-544-6779 or via email at customerservice@deagostiniusa.com. We will refund your latest month subscription pack received in the prior 30 days.