Build the Millennium Falcon
Build the Millennium Falcon
This official model of the iconic Millennium Falcon is a 1:1 replica of the original Empire Strikes Back movie prop, and also features unique internal details, lighting and movable parts.

Your magazine will include easy-to-follow detailed Assembly Guide plus a fascinating look inside the Star Wars archive with The Starship Fact File, The Guide to the Galaxy and The Secrets of Spaceflight.

Easy to construct but with an unprecedented level of realism, It really is the ultimate Millennium Falcon model.
Choose your option:
12 months subscription: 12 monthly shipments of $129.99 plus $9.99 S&H per shipment

Now also available as Full Kit!
✔ USA, Canada & Mexico
✔ 6 to 8 working days
✔ Easy return
We accept:

Free Gifts
Exclusive Binder Keep your magazines in pristine condition with this specially designed binder, Free with your 2nd Month.
Wall Mount This high quality unit is a specifically designed wall mount that works exclusively with your Millennium Falcon. You may also display your model on its legs as provided in the model build process. Wall mount ships Free with your last monthly shipment.
Key Features of the Millennium Falcon
Era: THE EMPIRE STRIKES BACK (3 ABY)
Scale: 1:1
Length: 31.8 inches
Width: 23.4 inches
Height: 7.5 inches
Weight: Approx. 24 pounds
Power Required: 6 AA batteries or external 9V adapter sold separately
Your magazine will include easy-to-follow detailed Assembly Guide plus a fascinating look inside the Star Wars archive with The Starship Fact File, The Guide to the Galaxy and The Secrets of Spaceflight.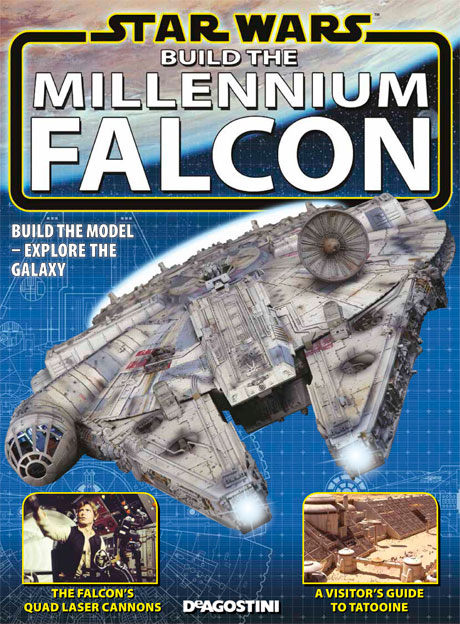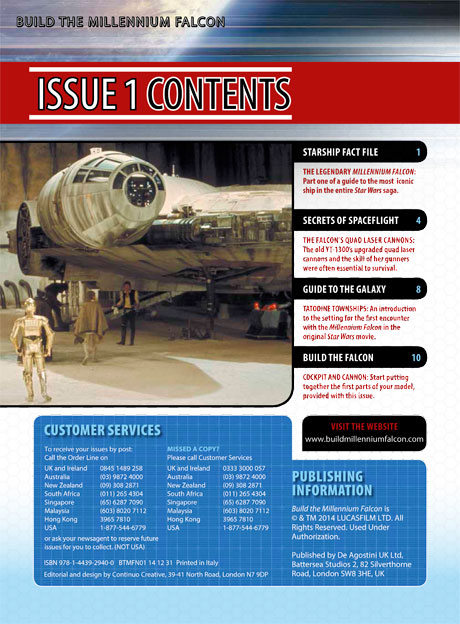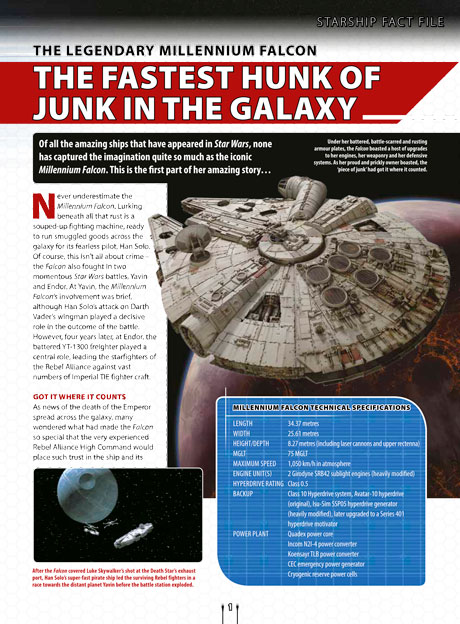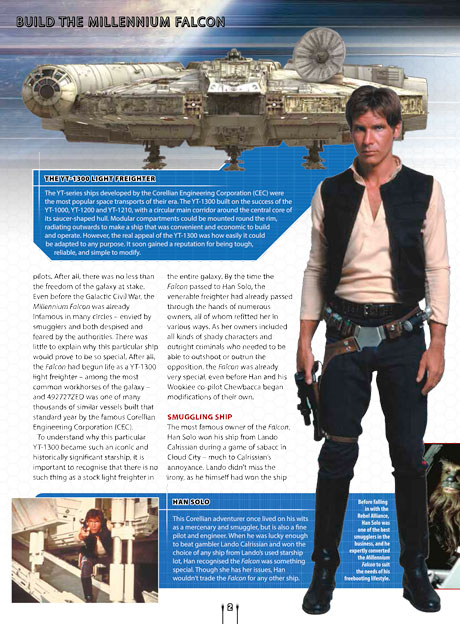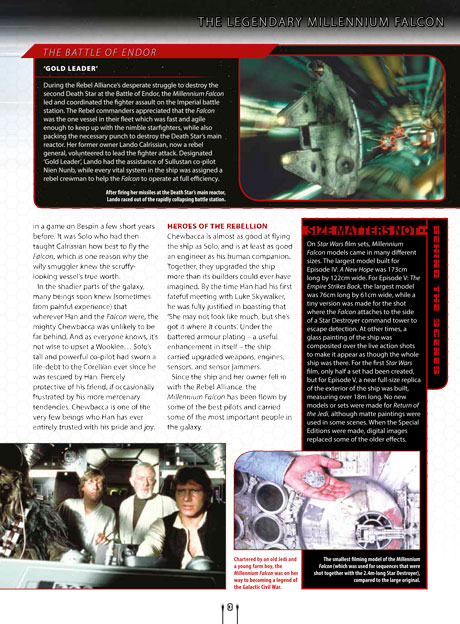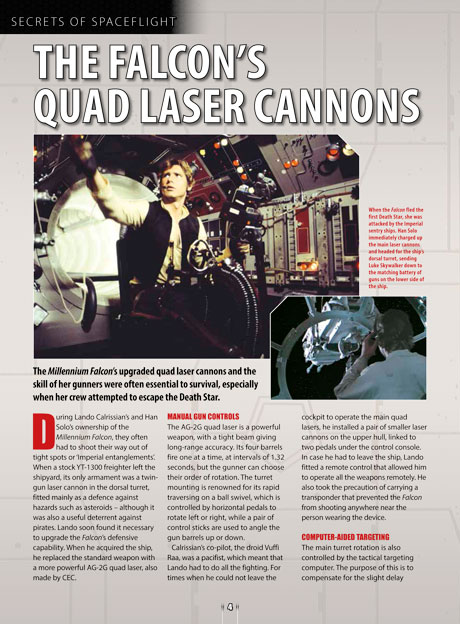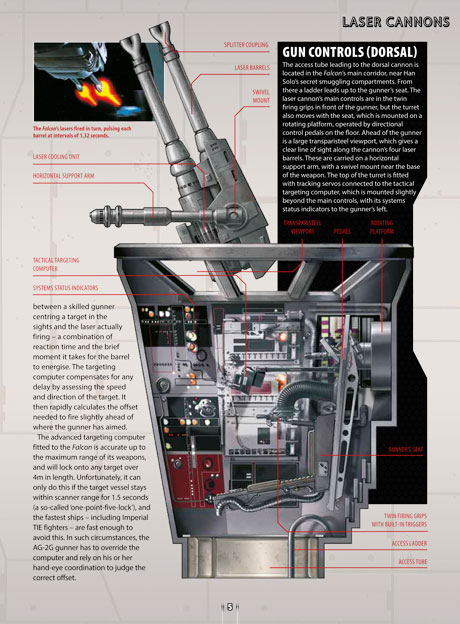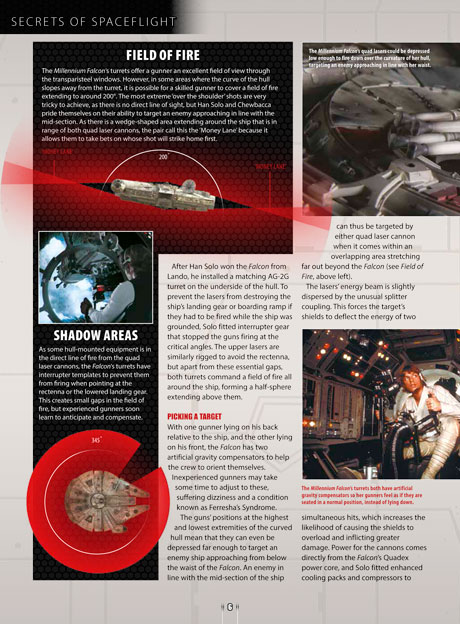 Through your building experience, you will have help from our experts with the easy-to-follow step-by-step assembly guide. You can also watch our Official Video Build Diary on Youtube or take a look also at our exclusive Millennium Falcon Forum and discuss with fellow modelers.
Even as a model-making novice, you can build this unique replica model of the Millennium Falcon together in easy stages, learning the skills as you go.
Creating a replica of the Empire Strikes Back Movie prop
Painting the Millennium Falcon
Official Build Diary - Issue 1
Official Build Diary - Issue 2
Official Build Diary - Issue 3
Download more information about the Millennium Falcon
2015-09-18 17:56:52

This is my life long dream, to have an film accurate Millennium Falcon. If this were my last model to ever build, I'd be happy. The fact that it's studio scale is just a great bonus. If you are truly a Star Wars fan or just Falcon fan, this is a must have. There has never been a more accurate a model than this one. While there are still just a few minor details that are different or missing, they're easily fixed with some styrene and ingenuity. I would wholeheartedly recommend this to anyone.

2015-08-30 01:34:53

I have been building models for a very long time. Have attended and won at the IPMS nationals. I have always been drawn to studio scale stuff in sci-fi and I can tell you, the Falcon model is top notch. In fact, the construction, while easy, can be time consuming, but that is why you receive 4 parts packs a month. The substructure alone is a masterpiece and could probably stand on its own in a unique display. This will be the definitive studio scale build.

2015-04-02 17:26:21

First time model builder here. I am so excited to enter a new hobby. I just received my 1st shipment of issues 1-4 and I am confident I can build this and make it look good. The quality of the pieces are top notch. I can not wait for my next shipment to get here.

2015-03-30 01:56:21

When the Fine Molds Falcon was released it was hailed as the most accurate (even thou it was smaller then the AMT/Ertl Falcon) and it was... I passed by that one because it was $250 at the time... can't find them now anywhere under $600. The MR Falcon came out and even thou it was a pre-built model, it was SUPERB, but at $5000 ($8000 for the Limited Edition Signed one) it too was out of my price range. Now you can't find them anywhere under $10,000... I passed it by! There have been many other Falcons out there, but you have to by extra detail kits or spend bucoo bucks on all the kit-bash kits to make one yourself. Here comes DeAgostini with basically the MR Falcon v2.0... and not only is it better with all the missing broken off pieces replaced from the original model, but this one has a complete interior and a remote control boarding ramp. But the beauty of this one is, it's only $60 a month (for 25 months). You CANNOT beat that price and you cannot be called a Star Wars fan if you let this one pass you by! The detail is AMAZINGLY accurate to the original. If you have never built a model before you can build this with little to no effort and have a beautiful Falcon. If you've got any artistic skills whatsoever, you can build an accurate replica... but if you're a die hard model builder like myself, you can build a MASTERPIECE! Don't let this one pass you by and regret it later! Trust me... it'll be completely worth it!

2015-03-09 22:41:21

I am a Star Wars fan and collecting this model, the detail is fantastic and it is MASSIVE. This is a model that any Star Wars fan needs to own, for non modellers there are full comprehensive and easy to follow instructions that will guide you step by step in the construction of this amazing model.

2015-03-06 21:43:34

This truly is a kit that will make any Star Wars enthusiast go wobbly at the knees. The detail contained in this model is simply stunning with clear instructions on how to put together. Will look fabulous lit up sitting on its landing legs or mounted on a wall and will be a topic of discussion when your friends and neighbours visit.... Another cracker from DeAgostini.....

2015-03-06 15:28:27

Finally we have a studio scale (3 foot) Millenium Falcon kit to build.No more buying hundreds of donors kits and scratchbuilding.The level of detail on this kit is amazing. The interior parts look great and the finish makes this model really look the part.I am sure the wishes of many Star Wars fans have been answered with this kit.

2015-03-05 20:47:24

What a fantastic kit this looks for any Star Wars fan! The detail looks awesome. The wall bracket is also a great idea for a model this size, certainly solves the problem of where you're going to display this monster.

2015-03-05 20:09:55

This has to be THE definitive Millennium Falcon that any Star Wars fan has to have. 32" long with interior details and lighting to bring this amazing model to life.. The parts are crisp and clean and give plenty of scope to add your own painting effects or you can just build it as describe in the weekly magazines and still have an amazing model.

2015-03-05 19:55:06

Stunning detail and size, and will certainly be a head turner in any home when built
The first pack of your order or your complete kit will be delivered to you within approximately 6 to 8 working days from the date your order has been confirmed.
We ship to Canada. Shipping costs are the same for Canada as USA.
If for some reason you need to return a shipment please contact customer service at 877-544-6779 or via email at customerservice@deagostiniusa.com to obtain authorization. We will send you via email a prepaid UPS label that you can print and adhere to the shipping box and drop at your local UPS store or UPS drop box.
If you are not completely satisfied and would like to cancel your model subscription please contact customer service at 877-544-6779 or via email at customerservice@deagostiniusa.com. We will refund your latest month subscription pack received in the prior 30 days.