Spitfire
Experience a fabulous reproduction of the Supermarine Spitfire Mk Vb in 1:12 scale, the most famous fighter plane of World War II. This detailed model is constructed from high-quality aluminum and wooden parts. Build The Spitfire will delight every model aircraft enthusiast, from the beginner to the expert alike.

Choose your option:
12 months subscription: 12 monthly shipments of $109.99 plus $9.99 S&H per shipment
Full Kit: receive your scale model in one shipment of $1,299.99 plus $39.99 per shipment
✔ USA, Canada & Mexico
✔ 6 to 8 working days
✔ Easy return
We accept:

Free Gifts
LIGHT KIT


This light set is a reproduction of the original Spitfire detail. Set includes: Flashlight, Connections, Switch, Battery holder compartment - Free with your

10th (tenth) shipment
Key Features of the Supermarine Spitfire Mk Vb
Year of manufacture
1941
Type
Fighter/interceptor monoplane
Engine
12-cylinder 'V' Rolls-Royce Merlin
Performance
Maximum speed 597km/h at an altitude of 6,096m: ceiling altitude 11,200m
Flying range
760km
Weapons
Two Hispano Mk I/II 20mm cannons; four Browning 7.7mm machine-gun mounted in the wings
Model Details
Aluminium and wooden parts | Signal lights and landing gear lights | High-quality material | Officially Licensed through the Royal Air Force (RAF)
Overall Dimensions
Length: 760mm | Wingspan: 935mm | Scale: 1:12
Clear step-by-step instructions show how to assemble and finish the parts - every step of the way. Even if you've never tried this type of project before, you'll be able to put your Spitfire together in easy stages, learning the skills as you go.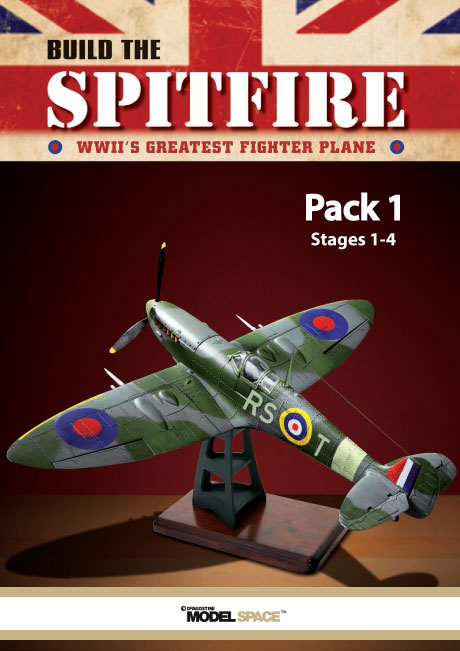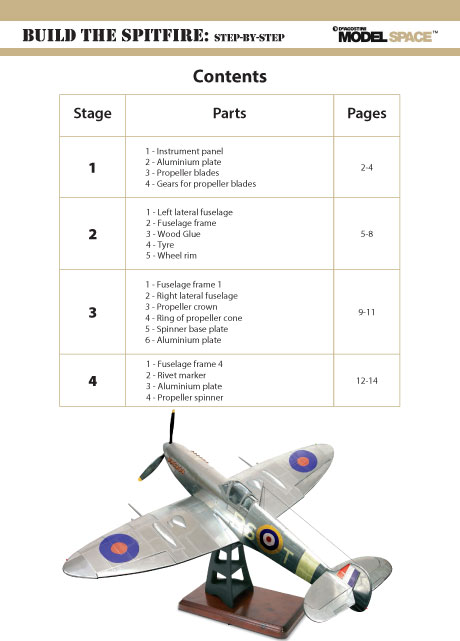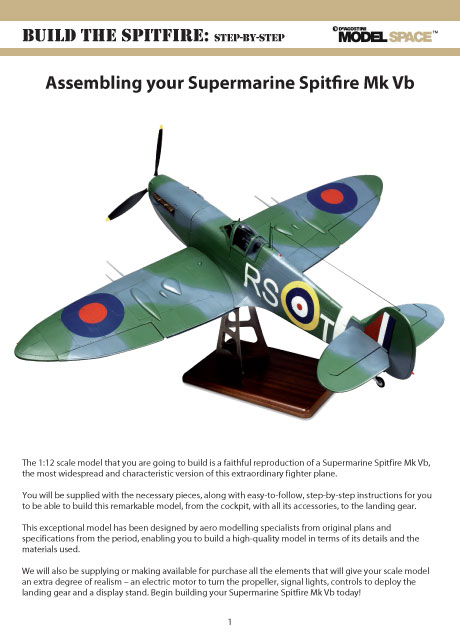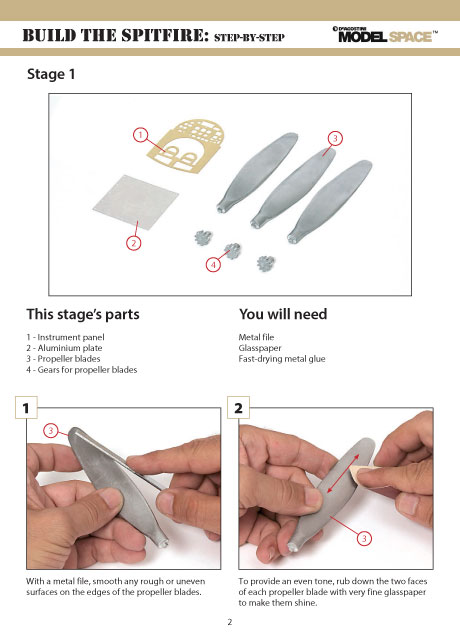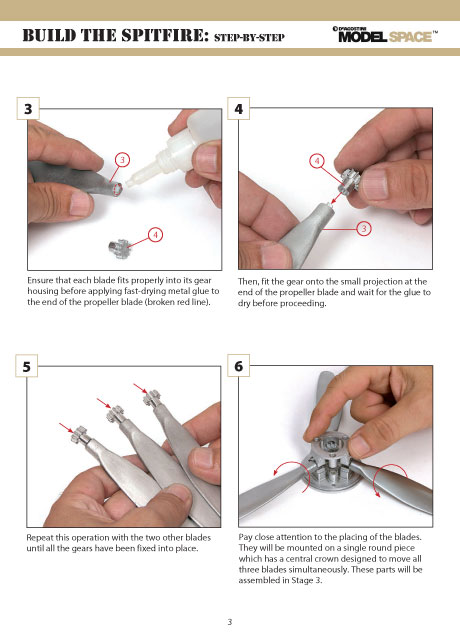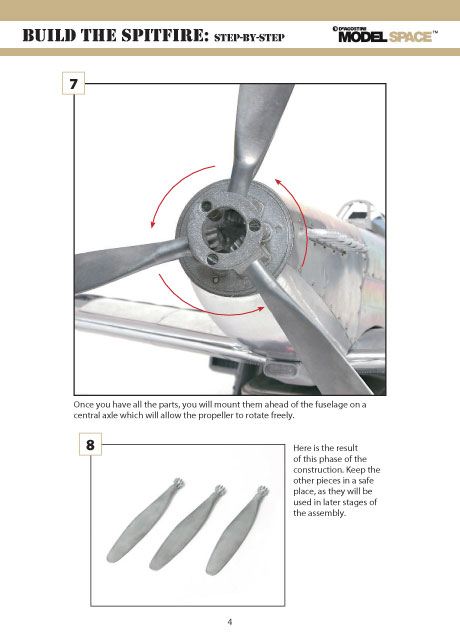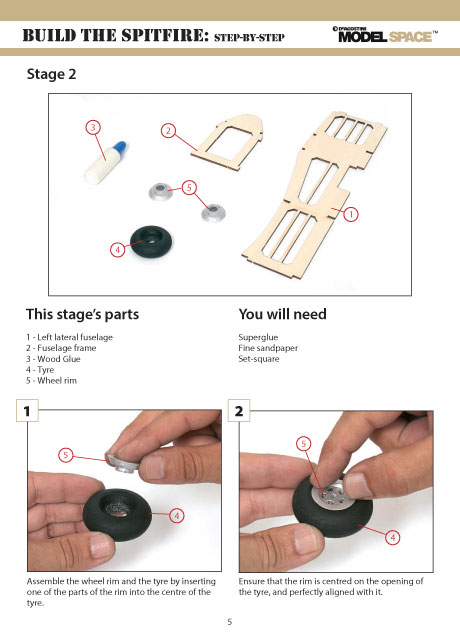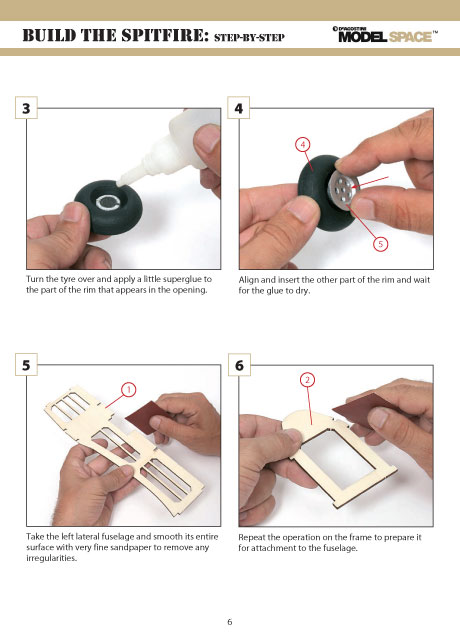 Through your building experience, you will have help from our experts with the easy-to-follow step-by-step assembly guide. You can also watch our Official Video Build Diary on Youtube or take a look also at our exclusive Spitfire Forum and discuss with fellow modellers.
Even as a model-making novice, you can build this unique 1:12 scale model together in easy stages, learning the skills as you go.
Build Diary, Pack 1, Stage 1
Build Diary, Pack 1, Stage 2
Build Diary, Pack 1, Stage 3
Build Diary, Pack 1, Stage 4
Download Step-by-Step Assembly Guide
2018-10-01 16:49:36

First things, company is ok to deal with in regards to admin questions and requesting a replacement part. Parts can take up to two weeks after ordering though. Questions about the build is left up to the forum, so plan on spending time there. The plane, it's pretty detailed and not. They give you a semi detailed cockpit, but the canopy, you're given a flat sheet of clear material to cut out. Seriously, one of the most iconic features of the plane is the bubble canopy. For the price of the model, there should have been a molded part. The rest of the parts are pretty decent. Wood parts are cut nicely an fit well. There will be sanding to have a smooth surface for the metal panels to lay on. Receiving stages and instructions, the stages are out of order as are the instructions. You're given pieces of the plane to put together and then tell you to set it aside. There's little continuity. Example, the propeller is in the first stage. They don't give you all the parts, so they tell you clean and polish what parts are given and then told to set them aside. I believe the next time you'll work with the prop is five months later, why. All in all, it's a nice model.
The first pack of your order or your complete kit will be delivered to you within approximately 6 to 8 working days from the date your order has been confirmed.
We ship to Canada. Shipping costs are the same for Canada as USA.
If for some reason you need to return a shipment please contact customer service at 877-544-6779 or via email at customerservice@deagostiniusa.com to obtain authorization. We will send you via email a prepaid UPS label that you can print and adhere to the shipping box and drop at your local UPS store or UPS drop box.
If you are not completely satisfied and would like to cancel your model subscription please contact customer service at 877-544-6779 or via email at customerservice@deagostiniusa.com. We will refund your latest month subscription pack received in the prior 30 days.