Harley Davidson Fat Boy | 1:4 Model | Full Kit
Harley Davidson Fat Boy | 1:4 Model | Full Kit

Build this magnificent 1:4 scale replica of the original 1990 Harley-Davidson Fat Boy and bring the legend to life - the realism is amazing. The Fat Boy is a major piece of Harley-Davidson history, retaining the company's traditional values while making use of the latest technology.

Order your Harley-Davidson Fat Boy full kit online today and receive everything in one shipment. Comes complete with a fascinating Harley-Davidson Archive magazine and your detailed Assembly Guide.
✔ USA, Canada & Mexico
✔ 6 to 8 working days
✔ Easy return
We accept:

Key Features of the Harley-Davidson FLSTF Fat Boy
Working parts including lights, sounds and indicators
Backlight speedometer
More than three-quarters of the parts being solid die-cast metal
Ignition and switches on the instrument panel
Throttle and horn on the handlebars
The materials and colours are as close as is practical in a model to those of the original Fat Boy
Officially approved by Harley-Davidson
Model Details
1:4 scale | Made of die-cast metal, ignition wiring and rubber | High-quality parts | Officially licensed replica | Weighs 6.8kg.
Overall Dimensions
Length 597mm | Height at Seat 166mm | Height at Handlebars 270mm| | Width at Handlebars 255mm
In your pack, you will receive a CD with full instructions to help you build and learn about your Harley-Davidson Fat Boy. The Assembly Guide section shows how to build your model from the parts provided. The detailed step-by-step instructions will give beginners and experienced modellers alike a clear and easy-to-follow guide to assembling the Fat Boy. The Harley-Davidson Archive gives you all the fascinating history and technical details of the most famous Harley-Davidson motorcycles, starting with the FLSTF Fat Boy.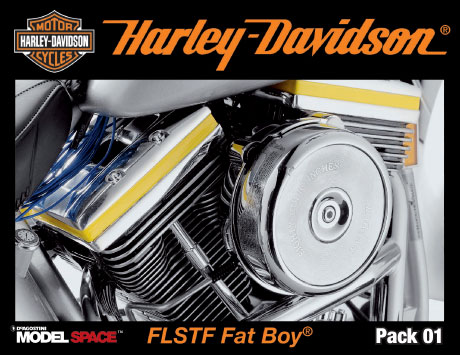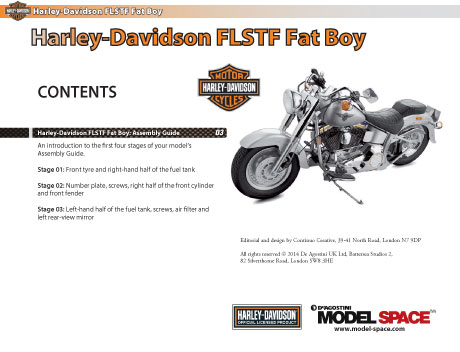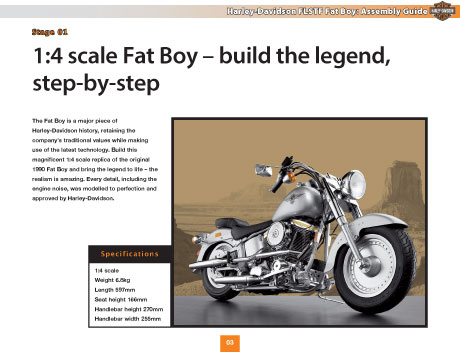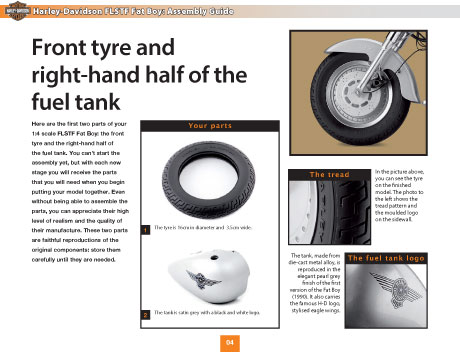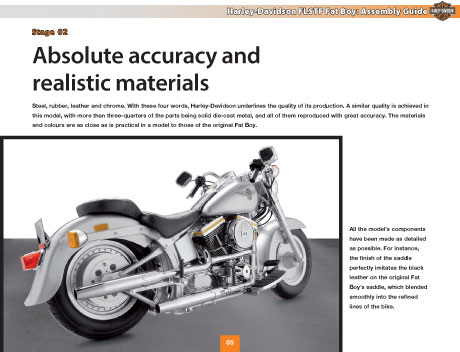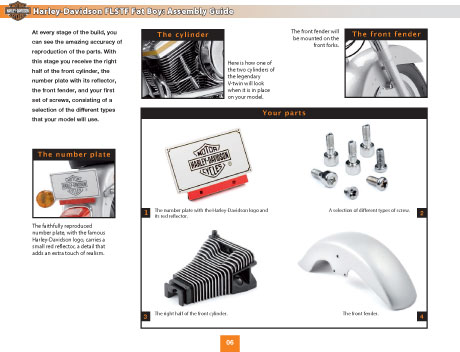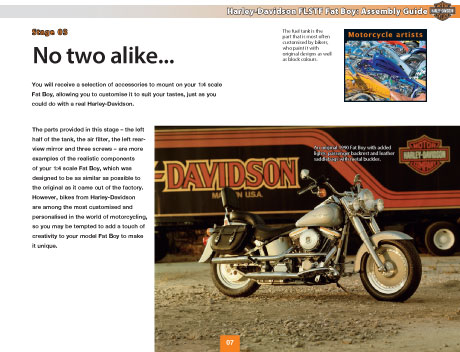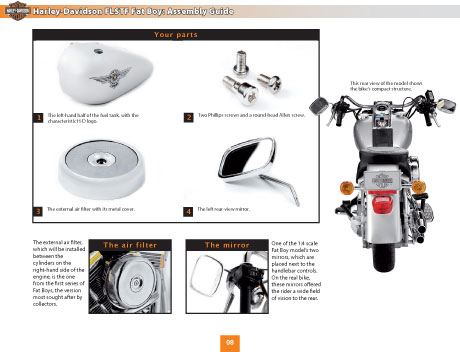 Through your building experience, you will have help from our experts with the easy-to-follow step-by-step assembly guide. You can also watch our Official Video Build Diary on Youtube or take a look also at our exclusive Harley-Davidson Fat Boy Forum and discuss with fellow modelers.
Even as a model-making novice, you can build this unique 1:4 scale model together in easy stages, learning the skills as you go.
Build the Harley-Davidson Fat Boy
Build Diary, Pack 1, Stages 1-3
Build Diary, Pack 2, Stages 4-7
Build Diary, Pack 3, Stages 8-10
Build Diary, Pack 4, Stages 11-13
Your Build consists of 77 stages/issues. CLICK HERE for more details.

The first pack of your order or your complete kit will be delivered to you within approximately 6 to 8 working days from the date your order has been confirmed.
We ship to Canada. Shipping costs are the same for Canada as USA.
If for some reason you need to return a shipment please contact customer service at 877-544-6779 or via email at customerservice@deagostiniusa.com to obtain authorization. We will send you via email a prepaid UPS label that you can print and adhere to the shipping box and drop at your local UPS store or UPS drop box.
If you are not completely satisfied and would like to cancel your model subscription please contact customer service at 877-544-6779 or via email at customerservice@deagostiniusa.com. We will refund your latest month subscription pack received in the prior 30 days.