Build your own 3D Printer idbox!
Build your own 3D Printer idbox!
3D technology is now available for you at home! Turn an idea in your head or on paper into an object you can hold in your hand with this amazing 3D printer, the idbox!
The idbox is a lightweight, compact and stylish machine that is easy to work with, and has a fast modeling speed. Look forward to making your first dynamic three-dimensional works.

USE COUPON CODE: 50OFF to save 50% off your subscription or complete kit

LIMITED TIME ONLY: $1 Shipping on all Models and Accessories over $49.99. Now thru July 31, 2017. No Coupon Code Needed! Simply add to your cart and we will do the rest.

✔ USA, Canada & Mexico
✔ 6 to 8 working days
✔ Easy return
We accept:

Key Features 3D Printer idbox!
MODELING

Modeling method: Fused deposition modeling
Maximum modeling Size: 5.9" (width) × 5.11" (depth) × 3.94" (height)
Nozzle diameter: 0.4mm
Stacking pitch: 0.1mm
Modeling speed: 100mm per second
Filament size: PLA, ABS* each 1.75mm
COMPATIBLE SOFTWARE
Corresponding OS: Windows 7 or more, Mac OS X
Use the software - AutoDesk 123D: Design to create an object or 3D artwork. Before you start, go to AudoDesk 123D and follow the links and instructions to download and install the version of the program suitable for your computer.
Corresponding 3D printing software: Repetier Host is scheduled to idbox customized version. Software is subject to change, but you can use the ones you have customized for idbox!
*When you output in ABS, it is recommended the use of dedicated building sheets. Building sheets will be free to subscribers. Please see the Subscribers Guide for details.
Overall Dimensions
Dimensions 9.84" (width) × 9.84" (depth) × 10.83" (height) mm | Weight 5kg
Your magazine will include...
How to assemble easily the idbox!: Learn how to put together the 3D printer
The step-by-step assembly is described in easy-to-follow photos. The parts are provided every issue, and can be completed without difficulty.
3D printers worldwide: Explore the 3D possibilities of the future
A look at the work of companies and creators worldwide who have taken advantage of the 3D printer. Look into the future to see how 3D imaging software is being used for an endless range of applications!
Basic course: Learn the basics of 3D printing
Learn how to get your 3D printer working - the meaning of various technical terms that you will encounter along the way and the characteristics of the materials being used.
Modelling Guide: Make a 3D shape from basic data
Create the data required for outputting a three dimensional object using the special software, and learn while you work. Starting from the basics, we will guide you step-by-step through the various stages of the operation.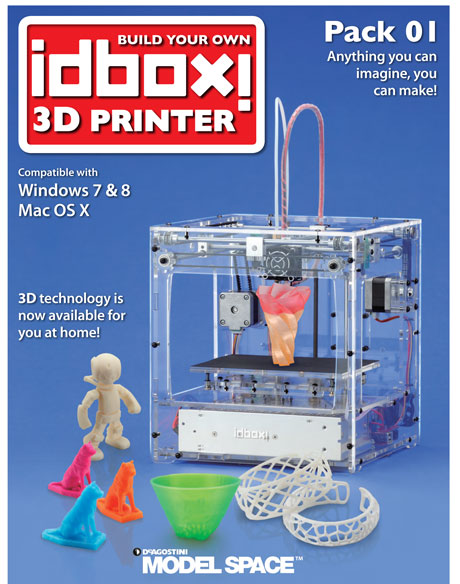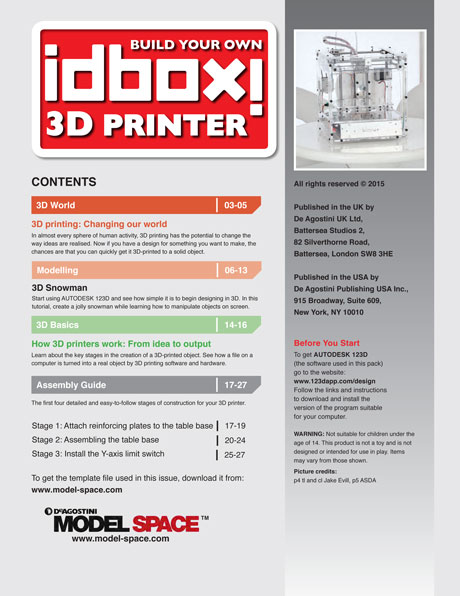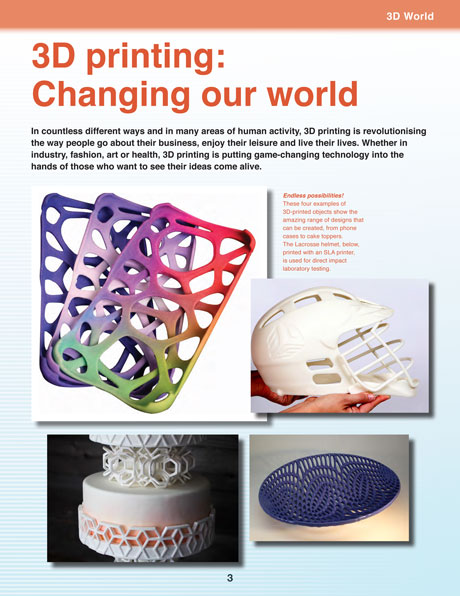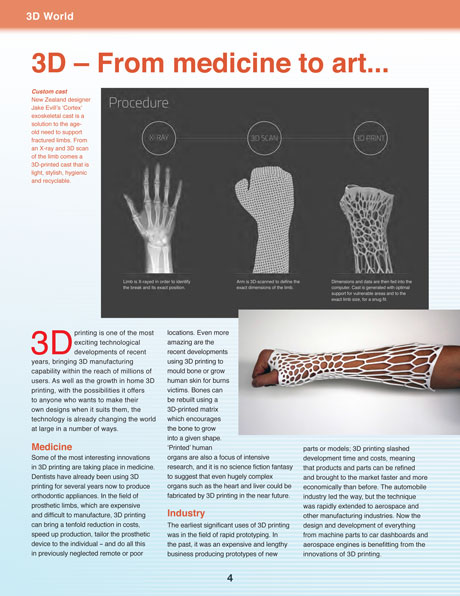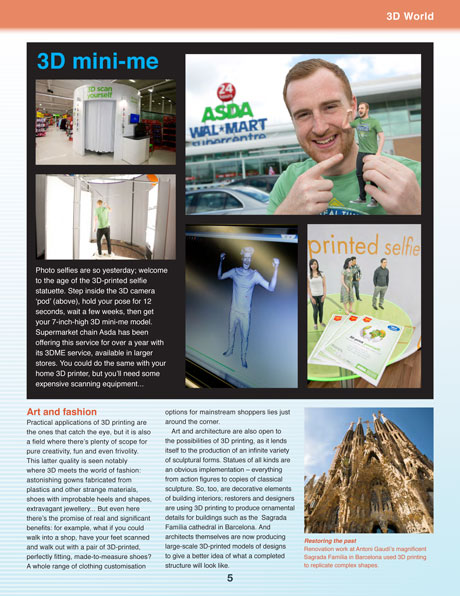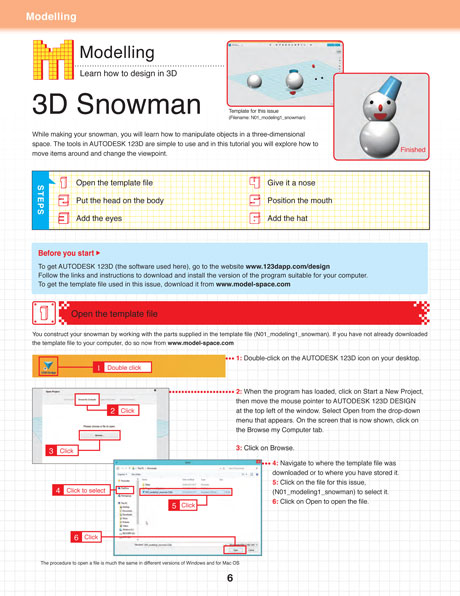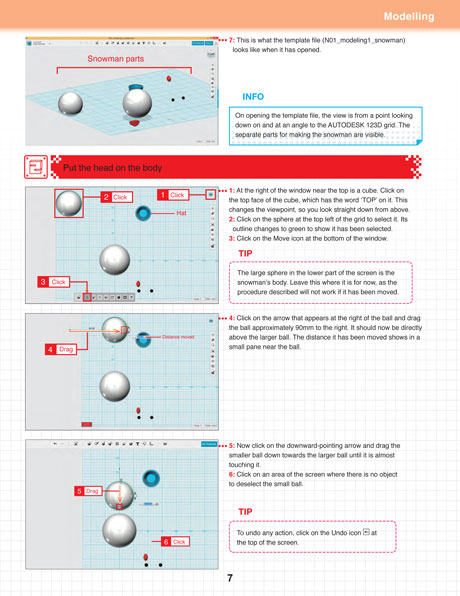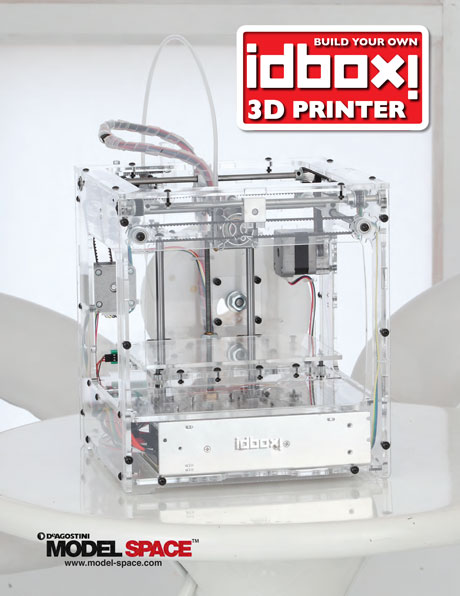 Through your building experience, you will have help from our experts with the easy-to-follow step-by-step assembly guide. You can also watch our Official Video Build Diary on Youtube or take a look also at our exclusive Build your Own 3D Printer idbox! Forum and discuss with fellow modelers.
Build your own 3D printer, the idbox!
Build Diary, Pack 1, Stage 1
Build Diary, Pack 1, Stage 2
Build Diary, Pack 1, Stage 3
Build Diary, Pack 2, Stage 4 - 7
Download Step-by-Step idbox! Assembly Guide
2017-01-24 15:26:42

I bough this as a whole kit and it took me 14 days to build.It looks quite complex, but it is actually not that difficult to build.For anyone looking to get into the world of 3d printing this would be a great choice.As you build the printer you learn exactly how it works.I was really impressed with the quality of the prints from this printer.
The first pack of your order or your complete kit will be delivered to you within approximately 6 to 8 working days from the date your order has been confirmed.
We ship to Canada. Shipping costs are the same for Canada as USA.
If for some reason you need to return a shipment please contact customer service at 877-544-6779 or via email at customerservice@deagostiniusa.com to obtain authorization. We will send you via email a prepaid UPS label that you can print and adhere to the shipping box and drop at your local UPS store or UPS drop box.
If you are not completely satisfied and would like to cancel your model subscription please contact customer service at 877-544-6779 or via email at customerservice@deagostiniusa.com. We will refund your latest month subscription pack received in the prior 30 days.