Senna McLaren MP4/4 | 1:8 Model | Full Kit
Senna McLaren MP4/4 | 1:8 Model | Full Kit
Get ready for a remarkable first-class modeling experience with the latest Formula One model kit from ModelSpace. Build your own 1:8 scale model of Ayrton Senna's famous McLaren MP4-4 Formula 1 car. This is a beautifully crafted rendition of the car that has been hailed as the finest in Formula One's history.

Order your McLaren MP4-4 full kit online today and receive everything in one shipment. Comes complete with a fascinating magazine profiling the life of a sporting icon and your fully illustrated Assembly Guide.
✔ USA, Canada & Mexico
✔ 6 to 8 working days
✔ Easy return
We accept:

Key Features of the McLaren MP4/4
The finest details of the McLaren MP4/4 racing car are accurately reproduced, using the highest quality Kyosho parts to reflect the original.

Cockpit
The seatbelt is faithfully reproduced. The steering wheel is removable, just as with the real car. The front tyres move in accordance with the steering.
Disc brakes
The calipers, pads and disc are reproduced to match those of the actual vehicle. It is possible to remove the wheels even after the model is complete.
Engine unit
The highly detailed and authentically reproduced Honda V6 turbo engine can be removed from the rest of the model to display as a stand-alone piece.
Offical replica
Officially endorsed and licensed with the Ayrton Senna Institute.
Model Detail
1:8 scale | Made of ABS, HIPS and die-cast metal | High-quality Kyosho parts | Official replica
Overall Dimensions
Length 552mm | Height 124mm | Width 268mm
Clear step-by-step instructions show how to assemble and finish the parts - every step of the way. Even if you've never tried this type of project before, you'll be able to put your Sennas McLaren MP4/4 together in easy stages, learning the skills as you go. Each magazine has 5 detailed sections including The Senna Story - Racing the MP4/4 - Senna's World - Senna's Cars and your easy to follow step-by-step Assembly Guide.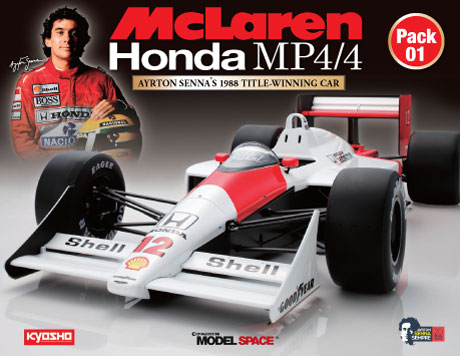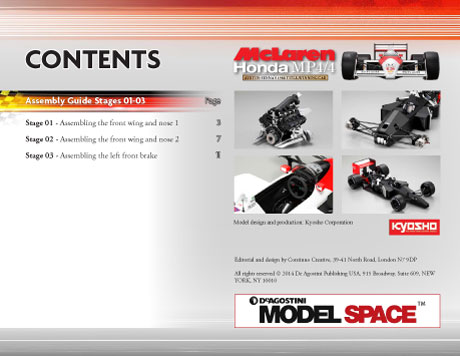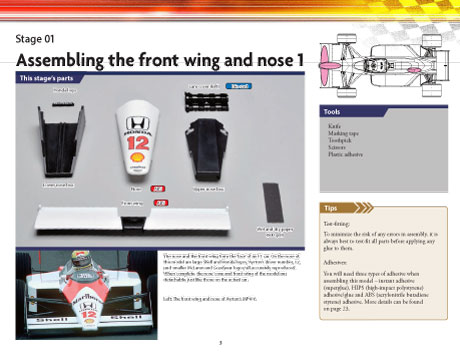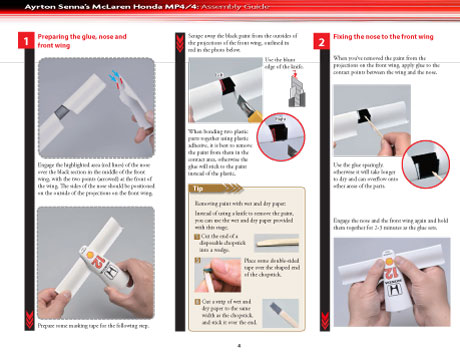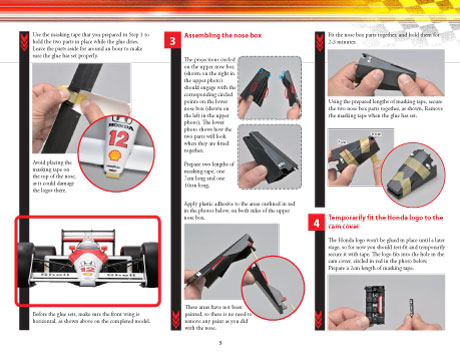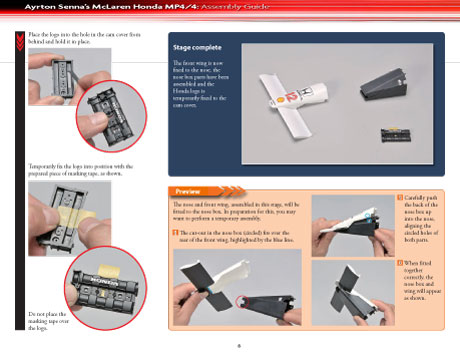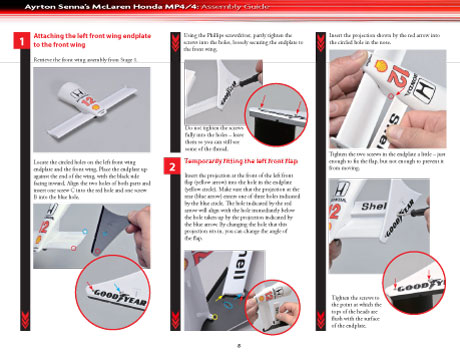 Through your building experience, you will have help from our experts with the easy-to-follow step-by-step assembly guide. You can also watch our Official Video Build Diary on Youtube or take a look also at our exclusive Senna McLaren MP4/4 Forum and discuss with fellow modelers.
Even as a model-making novice, you can build this unique 1:8 scale model together in easy stages, learning the skills as you go.
Build Ayrton Senna's McLaren MP4/4
Build Diary, Pack 1, Stage 1
Build Diary, Pack 1, Stage 2
Build Diary, Pack 1, Stage 3
Build Diary, Pack 2, Stage 4
Your Build consists of 70 stages/issues.

Your step-by-step instructions are available to download directly from us under the Download Section. Click here
2017-01-24 15:12:01

The MP 4/4 is one of the most beautiful F1 cars ever and this kit captures the style and grace of this iconic car. Construction is very simple and the parts are of outstanding quality.The finished model is very impressive and there is a lot of great information in the magazines about this iconic car and its most famous driver Ayrton Senna.
The first pack of your order or your complete kit will be delivered to you within approximately 6 to 8 working days from the date your order has been confirmed.
We ship to Canada. Shipping costs are the same for Canada as USA.
If for some reason you need to return a shipment please contact customer service at 877-544-6779 or via email at customerservice@deagostiniusa.com to obtain authorization. We will send you via email a prepaid UPS label that you can print and adhere to the shipping box and drop at your local UPS store or UPS drop box.
If you are not completely satisfied and would like to cancel your model subscription please contact customer service at 877-544-6779 or via email at customerservice@deagostiniusa.com. We will refund your latest month subscription pack received in the prior 30 days.